This bright-orange, savory Moroccan roasted carrot hummus combines the rich flavors of harissa spices with roasted carrots and garlic.
Make your own simple harissa with the directions in the recipe below, or use your favorite harissa seasoning for a delicious Mediterranean flavor to this dip.
Health benefits of garbanzos or chickpeas
Chickpeas are a regular part of our diet, from curries or a hummus dish. They are delicious, though mild enough to be the basis for many different types of hummus.
Beans are inexpensive and filling, and are important for vegan and vegetarian diets. They are high in fiber with good amounts of protein, though not high enough for them to be part of Paleo or Keto diets.
Vitamin K2, which is essential for absorption of Vitamin D and is often included in supplements with D, is extracted from chickpeas.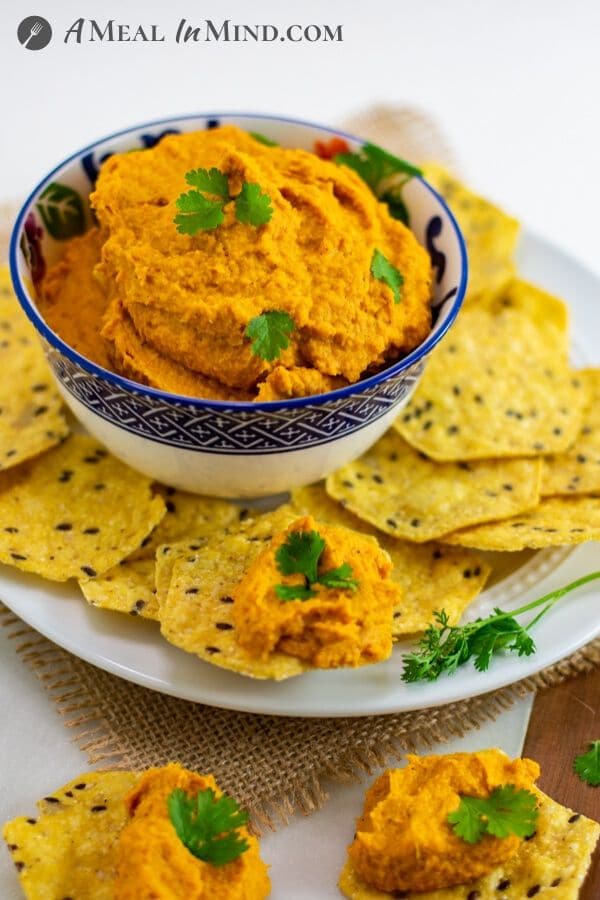 One of many hummus recipes
I bought a lot of dried chickpeas in April - I figured I'd want to make hummus about once a week during the stay-at-home period of the coronavirus outbreak. Though cases of the virus are relatively low in Honolulu, we are still in stay-at-home mode when possible.
With that many batches of hummus to enjoy, we decided that even though we love my standard spinach-artichoke hummus, there's no reason not to explore a bit further. I hope you'll try my beetroot hummus, too, which is not as different as this one from my standby. And I recommend you check out a purple sweet potato hummus recipe a fellow blogger has shared on her site Cooking with Nart - it looks so good!
Moroccan roasted-carrot hummus is so delicious with its Moroccan flavors we'll be making it again often. The flavors of the roasted carrots and garlic plus the harissa are pretty addictive. And I loved finding this simple harissa blend with ingredients I could find in my regular shopping spots. I hope you will enjoy it as much as we did.
We served this hummus with multi-grain chips and just a little cilantro. I often serve hummus with carrots, but that seemed a little redundant here.
Of course, hummus is always great with pita, a traditional accompaniment in Mediterranean cuisine, and I certainly recommend it if you include breads in your diet.
Steps in this recipe
There are three parts of making this recipe, the last two of which I usually do at the same time.
Start with cooked chickpeas or garbanzos, either canned or homemade - here are directions for three ways to cook them.
Coat the cut carrots and garlic cloves with olive oil and roast
Prepare the quick harissa while the vegetables are roasting - see directions in the recipe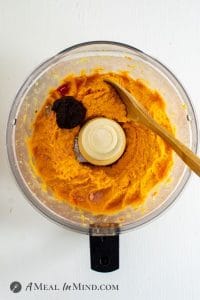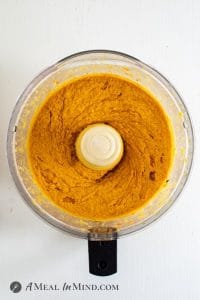 If you have a chance to make this recipe, please leave me a comment so that I know how it went.
Enjoy,
Beth
Other dip recipes on A Meal In Mind
Green Chile Black Bean Dip Vegan
Baba Ghanoush Dip and Salad Dressing
Tahini-Garlic Dressing: 7-Ingredients
Shop Moroccan Roasted-Carrot Hummus
I enjoy making my own seasoning blends because I can very the spices and save money. One pre-packaged brand I have enjoyed before is Frontier Co-Op, which sells an all-organic mixture. It's not currently available through Amazon, however, though I've included the link here for when it is.
I buy this Once Again tahini through Whole Foods, which if course means it's available through Amazon. It's a mild tahini - sometimes tahini can have a bitter aftertaste, especially the less expensive brands.
Links to products for purchase are affiliate links. If you click on a link and make a purchase, I may earn a small commission on the sale at no additional cost to you. This helps me with the costs of blogging, and I thank you! You can find my 'shop' page here.
Moroccan Roasted Carrot Hummus
This bright-orange, savory Moroccan roasted carrot hummus combines the flavors of harissa spices with roasted carrots and garlic. Make your own simple harissa with the directions in this recipe, or use your favorite harissa sauce for a delicious Mediterranean dip.
Ingredients
1

pound

carrots

chopped into 1-inch chunks

3-5

whole cloves of garlic

peels left on

4

tablespoons

extra virgin olive oil

divided

1 ½

cups

1 15-ounce can cooked chickpeas, cooking liquid (aquafaba) reserved

¼

cup

tahini

2

tablespoons

fresh lemon juice

or more

¼

cup

aquafaba

the cooking liquid from the beans + more to thin if necessary

2

tablespoons

marinade from marinated artichoke hearts

see note, or 1 extra tablespoon lemon juice

1

tablespoon

fresh ginger

grated

1

tablespoon

or more of simple harissa

Fresh cilantro

minced, for garnish
Simple Harissa
1

garlic clove

pressed

1

tablespoon

tomato paste

1

teaspoon

fresh lemon juice

1

tablespoon

chili powder

such as ancho, see note

1

tablespoon

smoked paprika

¼

teaspoon

cayenne

¼

teaspoon

ground cumin

¼

teaspoon

caraway seeds

coarsely ground in a mortar

½

teaspoon

pink sea salt

or to taste

1-2

tablespoons

extra-virgin olive oil
Instructions
Hummus
Preheat the oven to 425°F. Toss the chopped carrots and whole garlic cloves with 2 tablespoons of olive oil. Scatter evenly on a baking sheet lined with a baking liner (silpat) or parchment and roast in the oven until the carrots are tender and lightly browned, 18 to 20 minutes. 

While the carrots and garlic are cooling, stir together the simple harissa. 

Once the garlic cloves are cool enough to handle, squeeze them out of their peels.

In the bowl of a food processor, combine roasted carrots, roasted garlic, chickpeas, tahini, lemon juice, ginger, aquafaba (or water) and the 1 tablespoon of the harissa mixture. With the motor running, drizzle in the remaining 2 tablespoons of olive oil. 

Process the hummus until smooth, scraping the sides down with a spatula if needed. Taste and adjust seasonings, adding extra salt or harissa if desired. If the hummus is too thick, add a little more aquafaba or oil and process until it's the consistency you like.

Garnish with minced cilantro and serve with your favorite vegetables, chips and/or crackers.

Store the hummus in an airtight container in the fridge for up to 5 days.
Quick Harissa 
Use a garlic press or mince the garlic finely.

In a small bowl, stir together the pressed garlic, the tomato paste and lemon juice.

Add the chile powder, smoked paprika, cayenne, cumin and caraway. Gradually stir in the oil and season with salt.
Notes
The key to the flavor of this quick harissa is the flavor of the chili powder. The fresher the better. I used medium-roast chili powder from my food co-op, which was aromatic without being too spicy. 

Although I didn't add marinated artichoke hearts to this recipe, I did use some of the marinade. We usually have a jar open, one of the large ones we buy at Costco, and the marinade is a combination of vinegar, olive oil and herbs such as oregano and basil. The easiest substitute is extra lemon juice, but you could experiment with a mild vinegar such as white wine vinegar.

The carrot-harissa hummus is based on this recipe
The quick harissa is based on this recipe
Please pin for later!