Beetroot-artichoke hummus is a delicious and striking blend of chickpeas, beets, artichoke hearts, tahini and seasonings. It's easy to throw together, though it looks fancy because of the pink color.
When I was still attending potlucks in the pre-coronavirus days, this dip was a popular potluck offering because it is so beautiful. I liked it because I only had to dump the ingredients in my food processor, puree them, season and serve.
Canned or home-cooked chickpeas?
You can use canned chickpeas or prepare your own from the dry beans. I prefer to cook my own beans, and now use the Instant Pot to cook my chickpeas, especially if I am planning to make hummus. I want them to be thoroughly cooked so that the hummus will be creamy. I have not been able to achieve that creaminess consistently when I cook chickpeas in the slow-cooker.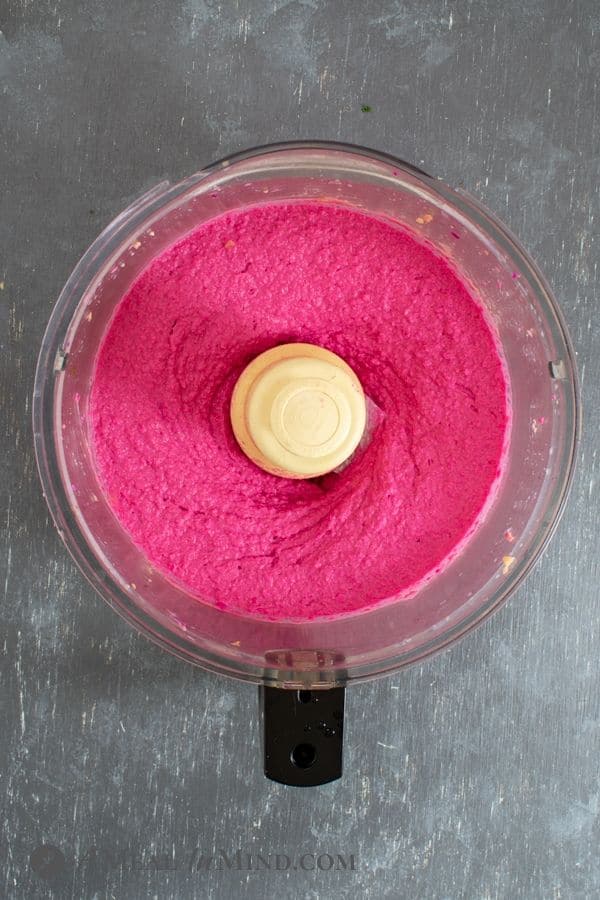 In either case, use the extra liquid from the can or from cooking to adjust the hummus to the thickness you want. It can be a little thinner if people are dipping mostly chips or pita, or thicker if it's going to be mostly vegetables.
The liquid from cooking chickpeas, also known as garbanzos, is called aquafaba. Aquafaba is a great emulsifier to add to salad dressings, and we save some of ours in the freezer between batches of cooking the beans.
Adding beets to hummus
This recipe calls for red beets to get the pink color, but you can use golden beets for a slightly golden color. The amount of color a golden beet gives is pretty subtle.
Beetroot hummus is actually a simple variation on my spinach-artichoke hummus. The main difference between that recipe and this one is to use beets here instead of spinach. This dip tastes just a bit sweeter than the spinach version, in my experience, because smaller beets can be a bit sweet. The color of the dip will depend on how deep a purple your beet is.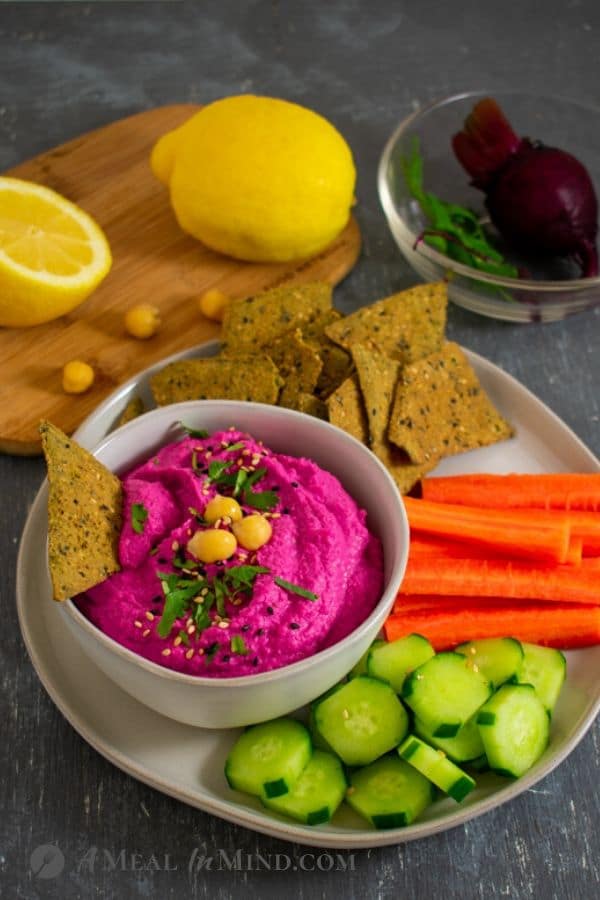 Adding salt, lemon or olive oil
When you taste your hummus, if you think it could use a little salt, remember that if you add lemon juice it will bring out the salty flavor of a dish. So try that first, unless the dish is already tart enough for you.
The olive oil is optional - you can substitute additional aquafaba instead - but hummus is typically drizzled with olive oil in Mediterranean restaurants. The oil adds a wonderful flavor if you use a good quality olive oil, and it doesn't take much.
If you make this recipe, please leave me a comment so I know how it went!
Enjoy, and please share!
Beth
Other dip recipes you may enjoy
"Cheesy" Green Chile Black Bean Dip Vegan
Baba Ghanoush Dip and Salad Dressing
Links to products for purchase are affiliate links. If you click on a link and make a purchase, I may earn a small commission on the sale at no additional cost to you. This helps me with the costs of blogging, and I thank you! You can find my 'shop' page here.
Beetroot Artichoke Hummus
This beet-artichoke hummus is a delicious and striking blend of chickpeas, beets, artichoke hearts, tahini and seasonings. An easy gluten-free side or snack!
Ingredients
1½

cups

cooked chickpeas

cooking liquid and a few beans reserved *

1

medium

2-3 inch beet, boiled, peeled and chopped

½

cup

jarred artichoke hearts plus about 2 tablespoonfuls of the marinade

2

cloves

garlic

pressed

3

tablespoons

tahini

2

tablespoons

olive oil

optional, see note

1-2

tablespoons

lemon juice

½-1

teaspoon

salt

to taste
Instructions
Place the drained chickpeas and garlic into a food processor and blend until smooth, about 1 minute.

Add the beet, the artichoke hearts and their marinade, and the tahini and blend until a uniform color. 

Add lemon juice, salt and the optional olive oil. If needed to thin your hummus, pour in 1 tablespoon (or more) of chickpea cooking liquid and blend to mix.

If the hummus is too thick, add more cooking liquid. To adjust the seasonings, add more lemon juice or salt.

Garnish with extra chickpeas, sesame seeds and a sprinkle of minced parsley, basil or cilantro. Serve the hummus with pita or chips or fresh vegetables.
Notes
If you prefer, drizzle the olive oil on top of your hummus before serving - or leave it out altogether.
I haven't included the cooking time for either the chickpeas or the beet in this recipe, since that will depend on your preferred cooking method; or you might buy precooked beets or beans.
Pin for later!