Savory, tender hoisin salmon is air-fried in 10 minutes, so it's quick enough for a weeknight dinner. It's so good -- full of the tangy and distinctive Asian flavors of hoisin sauce, sesame oil, garlic and ginger.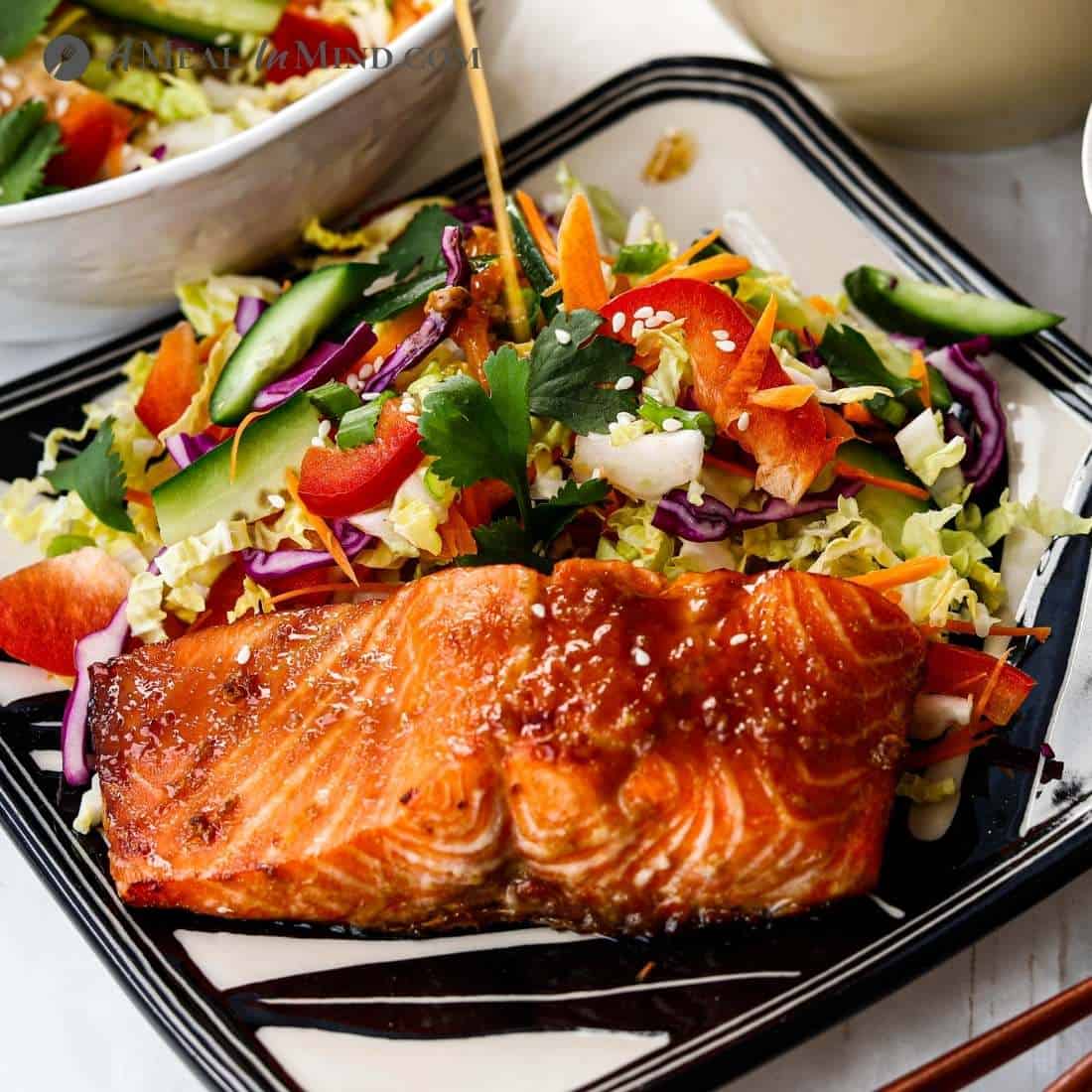 Part of the genius of Asian cuisines is the variety of sauces and seasonings that give umami to the dishes. Soy sauce (or tamari, or coconut aminos). Sesame oil. Mirin and rice vinegar.
Hoisin sauce is a tangy, sweet, salty condiment or sauce that I liked the first time I tried it as part of a stir-fry in the University of Hawaii cafeteria. That was in the 80's - that's a long time to be in love with a sauce!
Hoisin is used to glaze meats and fish, add to dipping sauces and stir-fries. Its name in Cantonese translates to "seafood" but, as it contains no seafood, the name likely refers to the fact that it's used in sauces for dipping seafood.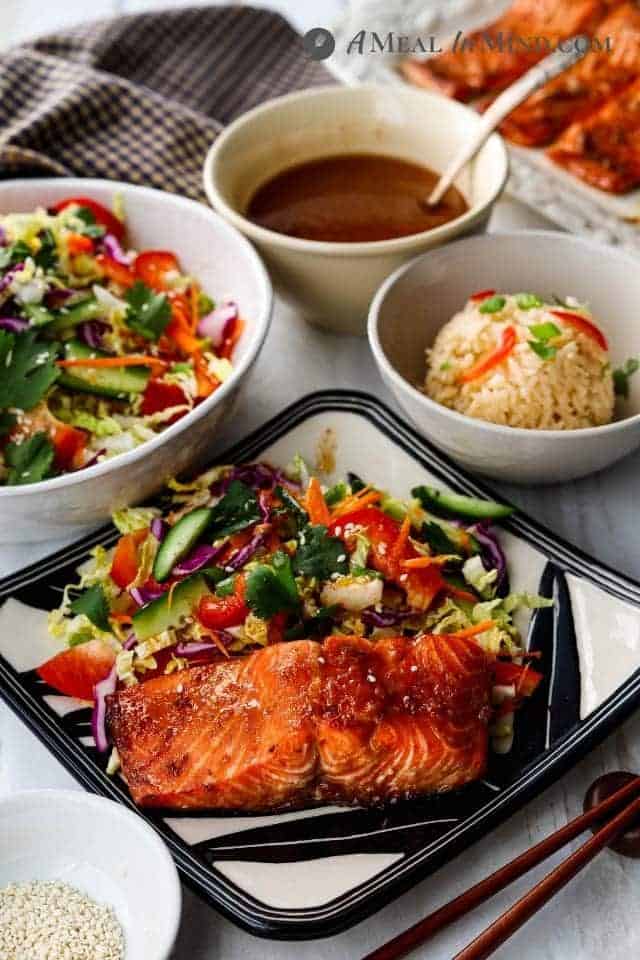 Though hoisin sauce is only one component of the coating for this salmon, it lends its delicious umami for a tasty meal. Hoisin alone can be intense, and that flavor is easily adjusted with soy sauce, sesame oil, garlic, ginger and other flavors like miso.
Steps in making air fryer hoisin salmon
This is the selection of ingredients that I keep on hand for this hoisin sauce as well as the dressing for my Asian slaw, which I am serving as a side for this meal.
There are several gluten-free alternatives to soy sauce, including Bragg's Liquid Aminos, tamari or coconut aminos.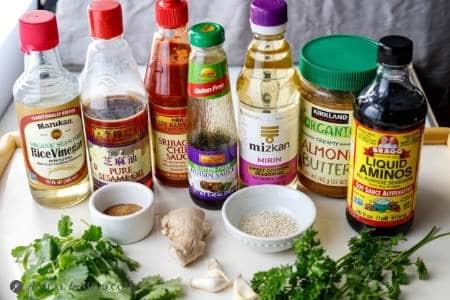 Kitchen tip: To cut the fillets easily from a larger piece of fish on a cutting board, use a sharp knife to slice down through the fish to the skin. Then use kitchen scissors to cut the skin.
This is the silicone cutting board I got for Christmas - such a great size and weight -- see my post on gifts for gluten-free cooks for details!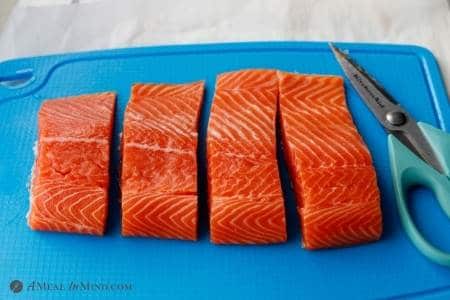 Kitchen tip: If you don't have a grater for ginger (they are often sold in Asian grocery stores), use a lemon zester.
Once you stir the sauce ingredients together you will find that the sauce thickens, making it easy to spread onto the fish.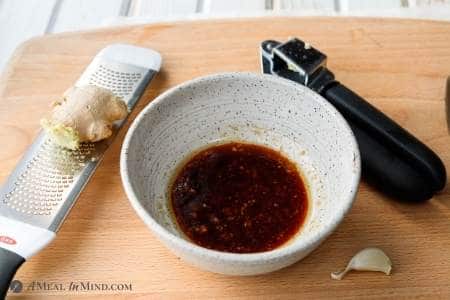 Brush the sauce onto the exposed surfaces of the salmon fillets.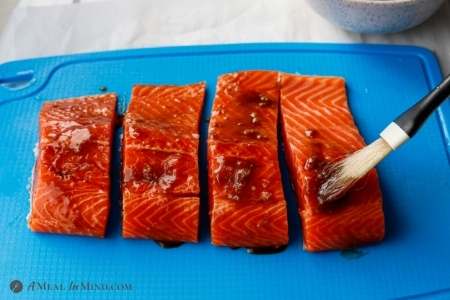 Last step: It only takes 10 minutes in the air fryer! Check to be sure that the fillets are done enough to your taste.
For us they are perfect at this doneness but if you prefer your salmon quite firm, or if your air fryer typically takes longer to cook other dishes, 12 minutes might suit you.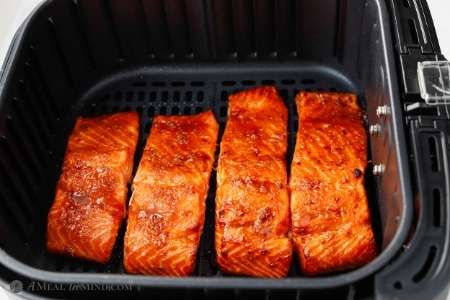 Remove the fillets to a platter for serving.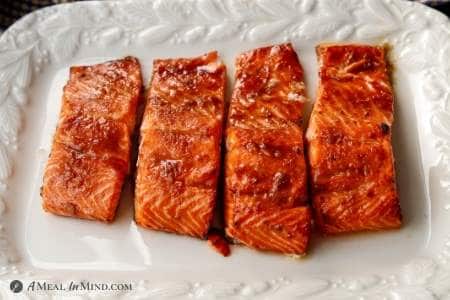 What is hoisin sauce made from?
Some hoisin sauce ingredients include starches such as sweet potato, wheat and rice, and water, sugar, soybeans, sesame seeds, white distilled vinegar, salt, garlic, red chili peppers, and sometimes preservatives or coloring agents.
The gluten-free hoisin sauce that I used, by Lee Kum Kee USA, contains: sugar, water, salt, distilled vinegar, soy flour, garlic, modified corn starch, and less than 2% of soybeans, caramel color, sesame oil, xanthan gum, spices and citric acid.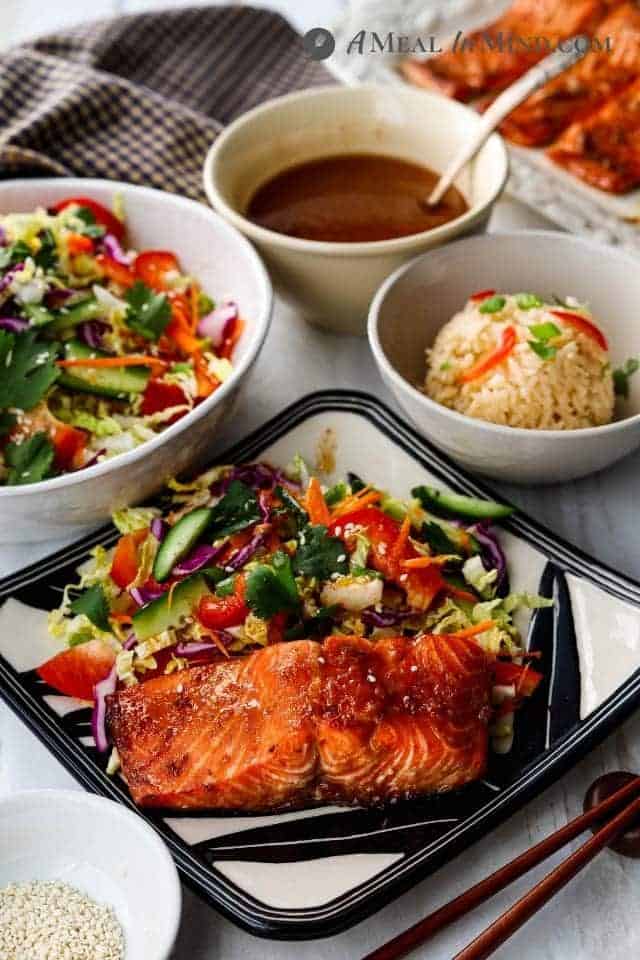 Can I make my own hoisin sauce?
I have not made my own, but I saw several recipes online. This is, of course, the best way to be sure it doesn't contain any ingredients you don't eat.
Nom Nom Paleo has this recipe made from dates, coconut aminos and other ingredients that I hope to try soon!
What can I serve air fryer hoisin salmon with?
Here we served hoisin salmon with coconut milk rice and Asian slaw. The dressing for the slaw has many of the same ingredients as the sauce for the fish, which makes the slaw a perfect side.
Coconut milk rice is rich and flavorful on its own, so it doesn't need the main dish to provide a lot of sauce to flavor it.
Other recipes you may enjoy
Easy Massaman Salmon or Steelhead Curry
Parchment-Roasted Salmon Tacos with Yogurt-Lime Crema
Crusted Pecan-Mustard Salmon with Asparagus
Almond-Crusted Steelhead or Salmon Tacos
Air Fryer Teriyaki Chicken Gluten-Free
Air Fryer Fish Fillets with Harissa Aioli; G F
If you make this recipe, please let me know! Leave a comment, rate it, and don't forget to tag a photo #amealinmind on Instagram. I'd love to see what you come up with. Thank you so much!!
Sharing this recipe to Fiesta Friday # 362 this week, co-hosted by Angie @ FiestaFriday and Petra @ Food Eat Love
Beth
Air-Fryer Hoisin Salmon - Gluten-Free
Savory, tender hoisin salmon is quickly air-fried and is full of the distinctive Asian flavors of hoisin sauce, sesame oil, garlic and ginger. 
Equipment
Air fryer

Tongs

Spray

Spatula
Ingredients
4, 5-

ounce

salmon fillets

skin on

pinch

of Redmond sea salt

pinch

of black pepper

1

tablespoon

hoisin sauce

2

teaspoons

tamari or coconut aminos

1

teaspoon

coconut sugar

2

clove

garlic

pressed (½ teaspoon pressed garlic)

½

teaspoon

fresh ginger

grated

1

teaspoon

rice vinegar

for grain-free, use apple cider vinegar

1

teaspoon

roasted sesame oil

½

teaspoon

sesame seeds

optional, for garnish

1 to 2

teaspoons

finely chopped fresh parsley or cilantro

optional, for garnish

Avocado oil cooking spray
Instructions
Preheat your air fryer as indicated - mine requires 400 degrees F for 5 minutes.

Season the salmon fillets lightly with sea salt and pepper to taste.

In a small bowl, whisk together the hoisin sauce, soy sauce or tamari, coconut sugar, vinegar and sesame oil, then the garlic and ginger.

Brush the glaze over the exposed surfaces of the salmon.

Spray the basket surfaces of the air fryer with cooking spray (I used avocado oil spray).

Place the salmon fillets skin side down onto the basket grates, making sure they're not touching.

Air fry at 390 degrees F for 10 minutes or until the internal temperature reaches at least 145 degrees F.

Sprinkle with the sesame seeds and parsley or cilantro.

Serve with Asian Ginger-Almond Slaw and Coconut Milk Rice or sides of choice.
Nutrition
Serving:
1
fillet
|
Calories:
216
kcal
|
Protein:
28.1
g
|
Fat:
10.2
g
|
Saturated Fat:
1.5
g
|
Cholesterol:
63
mg
|
Potassium:
562
mg
|
Fiber:
0.2
g
|
Sugar:
2.2
g
|
Calcium:
56
mg
|
Iron:
1
mg
Please pin for later!