This Tangy Ginger-Almond Asian Slaw is so easy — the dressing takes only 5 minutes to prep and whizz up in a food processor. It's a perfect blend of tart, sweet, salty and savory. Sriracha sauce gives a kick of heat, and sesame oil and mirin add to the complex flavors.
The dressing keeps for a week or more in the refrigerator since it contains no eggs or dairy to spoil, and is naturally gluten-free if you use coconut aminos.
A fun and customizable recipe
As with my miso marinade (see Miso-Lemon Baked Steelhead) I developed this recipe while living in Honolulu. Over the 30 years I lived there year-round, I'd quiz friends about local dishes they'd bring to potlucks. Sometimes they'd recommend a cookbook and sometime they'd just tell me how grandma made it.
There, every grocery store has at least an entire aisle with the products you need, from azuki beans to rice vinegar! And the island cabbages are fresh and delicious.
But I've been very pleased to find that the larger grocery stores in Denver stock the ingredients for this slaw.
You can vary the ingredients of the slaw according to taste: more red cabbage, or add red onion or shallot, or more carrots. The more color the better to boost your antioxidants! Plus the range of colors gives so much visual appeal it's even more fun to eat.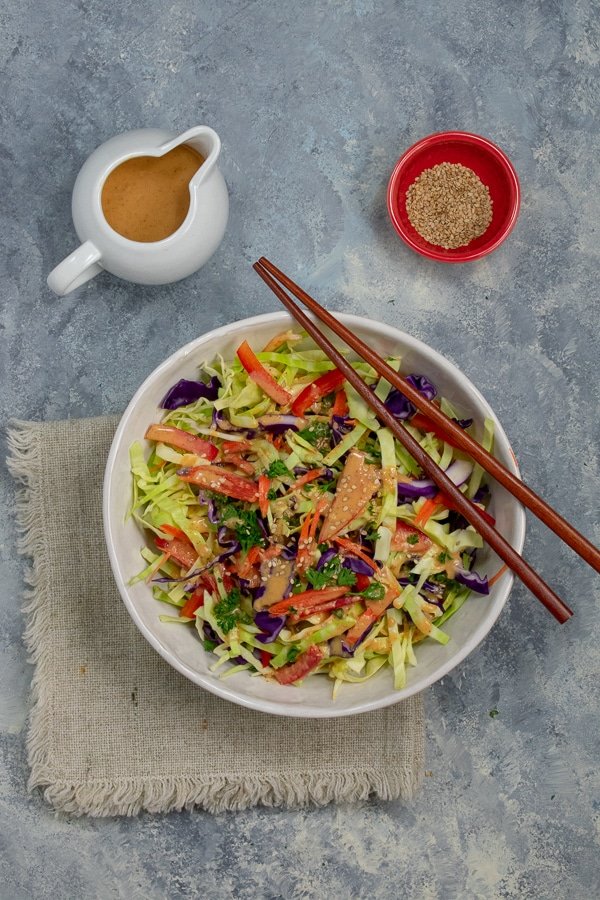 Non-traditional Ingredients
I've used two ingredients that are different from the traditional. Peanuts and peanut butter are more typical for a recipe like this, and I use almond butter instead. This is for anyone who is allergic to peanuts or is concerned about the aflatoxin that is often in peanuts.
Surprisingly, there is little difference in flavor between the two nut butters once added to the dressing. You can certainly use peanuts if you like them or if you're allergic to tree nuts. If I couldn't use either of these, I would try sunflower butter.
For similar reasons, I prefer avocado oil to peanut oil here. Avocado oil has little flavor of its own so doesn't compete with the sesame oil and other distinctive flavors of Japanese cuisine. It blends well into the dressing so that you can use it right out of the refrigerator. Olive oil would work nutritionally but tends to have a distinctive flavor and solidifies when cold.
Kitchen tips
Other than peeling the garlic and ginger, I like to say that the hardest part of this dressing is taking all the ingredients out of your cupboards and refrigerator! It's delicious on any mixture of crunchy greens, including lettuce salads.
If you don't own a food processor, you will need to grate the ginger and press the garlic. Then it's just a matter of whisking all the ingredients together.
You can dress this salad at the table or do so beforehand and let the cabbages, bell peppers and carrots marinate a little to intensify the flavors. The vegetables will hold up well, keeping quite a bit of crunch even a day later, though some of the water will come out of them into the dressing (by osmosis, of course, a retired science teacher can't resist adding that bit).
This is a great complement to my Miso-Lemon Baked Steelhead Trout recipe, which of course I already told you — but it's so good!
Enjoy, and be sure to leave a comment below!
Beth
Other side dishes on A Meal In Mind
Beet-Feta Salad with Garlicky Crispy Walnuts
Coconut Milk Garden Chive Quinoa 4-ingredient
Shop tangy ginger-almond asian slaw
This post contains affiliate links. If you click on a link and make a purchase, I may earn a commission on the sale. This helps me continue my blogging work, and I thank you.
Print
Tangy Ginger-Almond Asian Slaw
Author:

Prep Time:

15 minutes

Cook Time:

0 minutes

Total Time:

15 minutes

Yield:

5

servings

1

x

Category:

Side dish

Method:

Food processor

Cuisine:

Japanese
---
Description
This Tangy Ginger-Almond Asian Slaw is so easy — the dressing takes only 5 minutes to prep and whizz up in a food processor. It's a perfect blend of tart, sweet, salty and savory. Sriracha sauce gives a kick of heat, and sesame oil and mirin add to the complex flavors.
---
Scale
Ingredients
For the ginger-almond dressing:
1/4 cup Mirin
1/4 cup avocado oil
1/4 cup Rice Vinegar
1 tablespoon soy sauce, tamari or Coconut Aminos
1 teaspoon Asian (dark) Sesame Oil
1 tablespoon almond butter
1/2 teaspoon salt (I used Redmond Salt
)
1 teaspoon Sriracha Sauce
1 tablespoon peeled and sliced fresh ginger (or more to taste)
1 large or 2 small garlic cloves, peeled and sliced
For the cabbage mixture:
¼ head red cabbage, shredded (preferably organic)
1 small head green cabbage or Napa cabbage or a mixture, shredded (preferably organic)
1 carrot, julienned or grated
1 red bell pepper, julienned (preferably organic)
4–5 leaves of romaine, shredded (optional if the salad needs to be made ahead of time) (preferably organic)
3–4 green onions, green parts, thinly sliced (optional)
---
Instructions
Blend all ingredients for the dressing in food processor until no visible chunks of garlic or ginger remain. The ginger and garlic will be chopped fine by the food processor blade.

Transfer to a container for serving and storing.

Place all the julienned vegetables into a salad bowl and mix gently.

Drizzle the

Ginger-Almond Dressing

over the shredded vegetables.

Serve with Miso-Ginger Baked Steelhead Trout or other recipe with Asian flavors.
---
Notes
Feeling lazy? A packaged mixture of greens saves time and avoids having leftover cabbage if you are concerned you won't use it up, or if you can't find smaller cabbages. This recipe is popular at our house, though, and leftover cabbage tends to get mixed into another batch pretty soon.
Keywords: cabbage slaw, Asian dressing, Japanese cuisine, easy side dish, under 20 minutes, gluten free, dairy free