This one-pot Thai Massaman curry with beef and potatoes has a gorgeous golden color and mellow flavor. It's also incredibly easy to make in the Dutch oven.
You simply layer the ingredients into the Dutch oven, cover and bake. With amazingly little effort on the cook's part, you can serve up savory, tender beef and potatoes that are creamy without being mushy, and a drool-worthy sauce.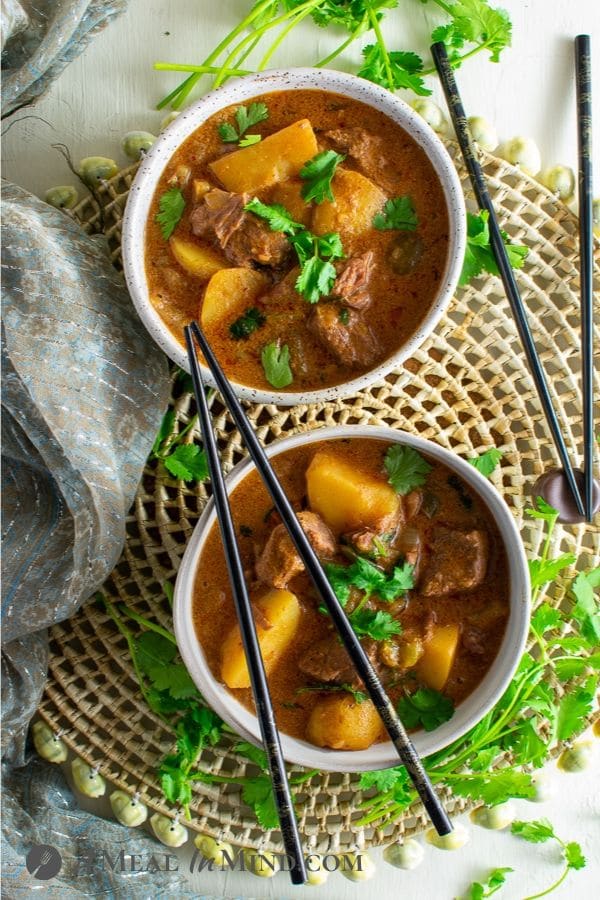 Why make the curry in a Dutch oven?
This is the third recipe I'm posting using the Lodge cast-iron Dutch oven to slow-roast a beef and vegetable dish. In my opinion, the beef comes out more uniformly tender and flavorful than in either the Instant Pot or the slow-cooker.
This may be because the heat surrounds the dish completely, rather than just on the bottom and sides. In any case, I also love not having to sear the meat or saute the vegetables. Lazy? In a good way, in these recipes!
As I have experimented with using the Dutch oven for stews I've increased the cooking time from 6 to 7 hours. Likely that's because I'm at Denver's high altitude, so be sure to check at 6 hours if you are at sea level.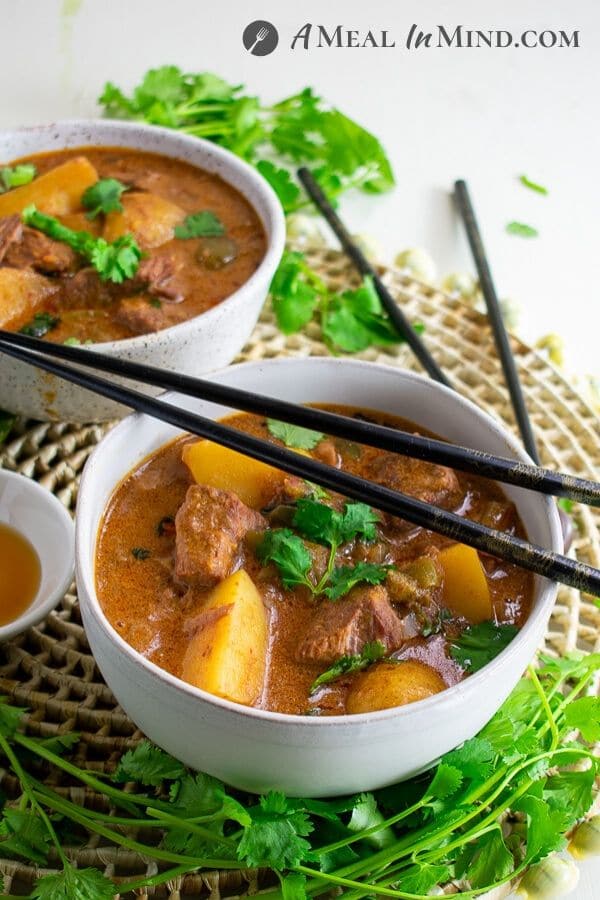 What is special about Massaman curry?
Massaman curry is from southern Thailand, near Malaysia, according to The Spruce Eats. It is slightly sweeter than typical Thai curries. It's also somewhere between yellow and red in color, giving a distinctive golden tone to the sauce. This is the third recipe I've posted using the Mae Ploy Massaman curry paste, and I love its versatility!
As with other Thai curries, you can Increase the amount of curry paste for a spicier kick. Add carrots or more bell peppers if you like.
With the large quantity of potatoes in this recipe, no other thickeners are needed. We often serve it with rice, but it is filling enough without, too.
Enjoy!
Pin for later!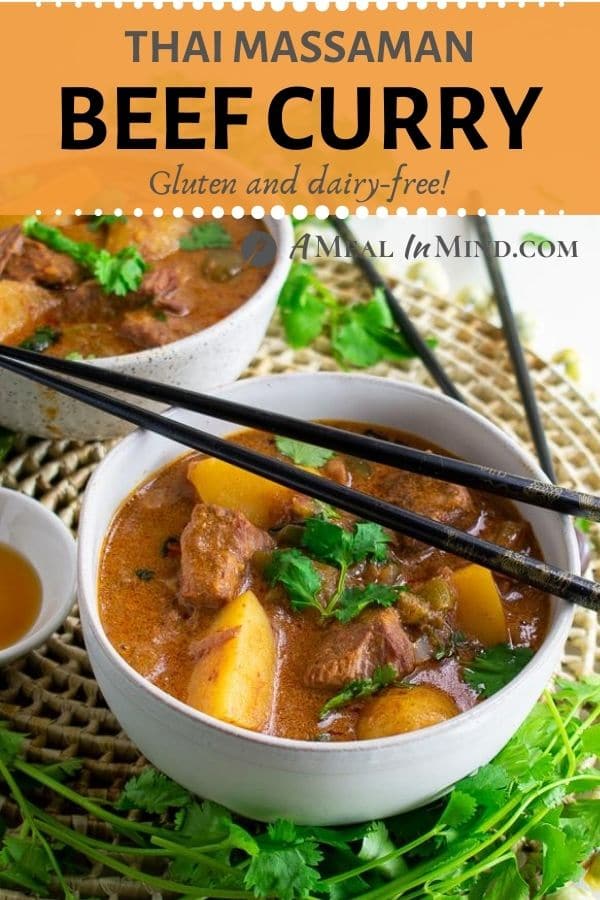 If you make this recipe, please leave me a comment to let me know how it went!
Beth
Other Thai curries you may like
Easy Massaman Salmon or Steelhead Curry
Massaman Curry-Stuffed Sweet Potatoes
Thai Green Coconut Milk Mahi Mahi Curry
Shop Thai Massaman Curry with Beef and Potatoes
Links to products for purchase are affiliate links. If you click on a link and make a purchase, I may earn a small commission on the sale at no additional cost to you. This helps me with the costs of blogging, and I thank you! You can find my 'shop' page here.
Thai Massaman Curry with Beef and Potatoes
This one-pot Thai Massaman curry with beef and potatoes has a gorgeous golden color and mellow flavor. It's also incredibly easy to make in the Dutch oven.
Ingredients
2

lbs.

beef chuck

trimmed and cut into cubes

24

ounces

Yukon gold potatoes

cut into bite-sized pieces

1

large yellow onion

diced

1

green bell pepper

diced

2

cans

14.5 ounces each full-fat coconut milk

¼

cup

water

just to rinse the last traces of coconut milk from the cans, optional

¼

cup

Thai Massaman curry paste

for mild curry; increase to 6 tablespoons for medium heat

2

tablespoons

fish sauce

1

teaspoon

pink sea salt or to taste

½

cup

minced cilantro plus sprigs for garnish
Instructions
Preheat the oven to 275 degrees F. 

Layer the vegetables and the meat into the Dutch oven in this order: potatoes, beef, onions, bell pepper. 

Using a small bowl, stir the curry paste into part of the coconut milk to dissolve it. Add more coconut milk and stir. Pour over the meat and vegetables. Use a little more coconut milk to get the last of the curry paste out of the bowl. Pour the second can of coconut milk evenly over the other ingredients. Sprinkle the fish sauce over everything, and sprinkle with salt. 

Cover the Dutch oven with foil and seal as tightly as you can. Place the lid of the Dutch oven on top of that. 

Place in the oven and roast for 6 or 7 hours.

After roasting, stir the curry and test for salt and spiciness. You can add a little curry paste dissolved in water if you want it spicier. Stir in most of the minced cilantro. 

Serve as-is or over rice. Garnish with additional sprigs or leaves of cilantro. 
Pin for later!