Thai massaman curry-stuffed sweet potatoes feature cauliflower, onions and bell peppers, stewed in a thick aromatic coconut milk sauce. This comforting, flavorful dish is perfect for those evenings you want a hearty, easy dinner or side. Make on the weekend and eat the leftovers during the week!
And of course, it's gluten-and-dairy free.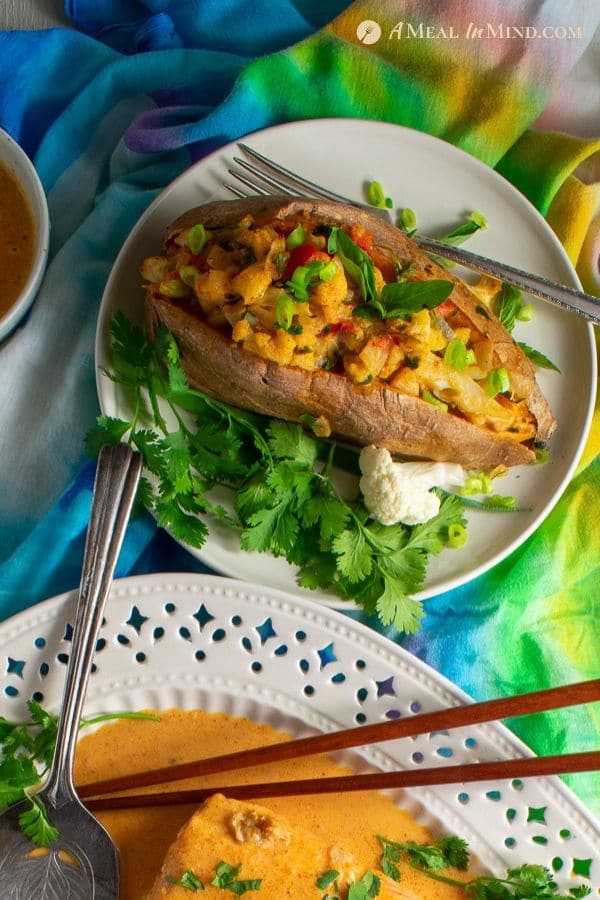 What is Massaman?
According to Wiktionary, it means "uncountable" and "has as much in common with Indian food as with Thai. It's thought to be a southern Thai curry of Muslim origin ... usually containing coconut milk, roasted peanuts, potatoes, bay leaves, cardamom pods, cinnamon, palm sugar, fish sauce, and tamarind sauce."
The uncountable term seems to come from the fact that the curry contains more ingredients than curries in the north of Thailand.
This is a Paleo adaptation of that list of ingredients, using sweet potatoes and almond butter. If I had not been planning to serve these with Massaman curried steelhead trout, I could have added some garbanzo beans to the curry stuffing to make it a main dish.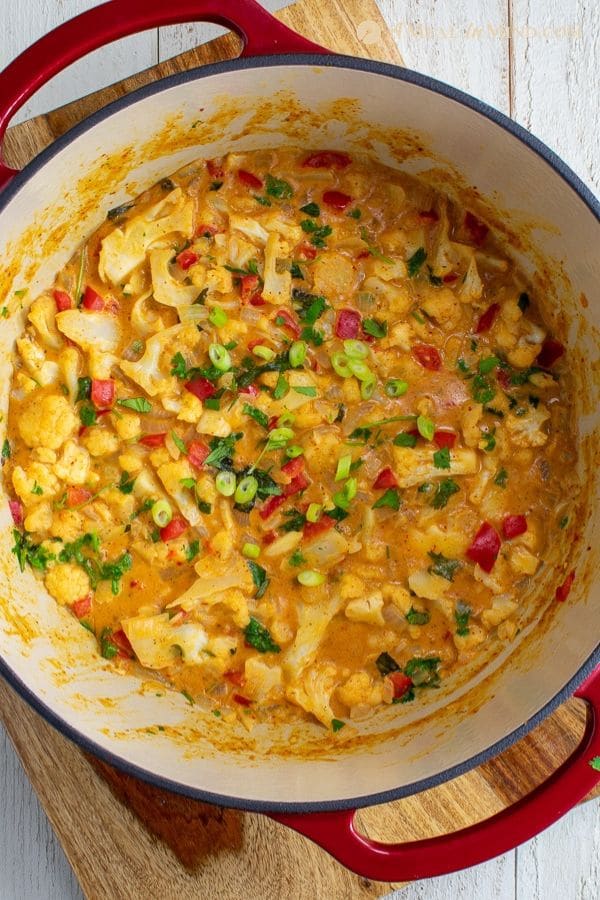 Is Massaman curry vegetarian?
Massaman vegetable curry as served in most restaurants is not vegetarian because it usually contains fish sauce and shrimp paste. If you are good with this, the Mae ploy curry paste is delicious.
To make the vegan version, you could make your own Massaman curry paste as the Healthy Hunter blog describes, or use the Maesri Massaman curry paste, which is vegan.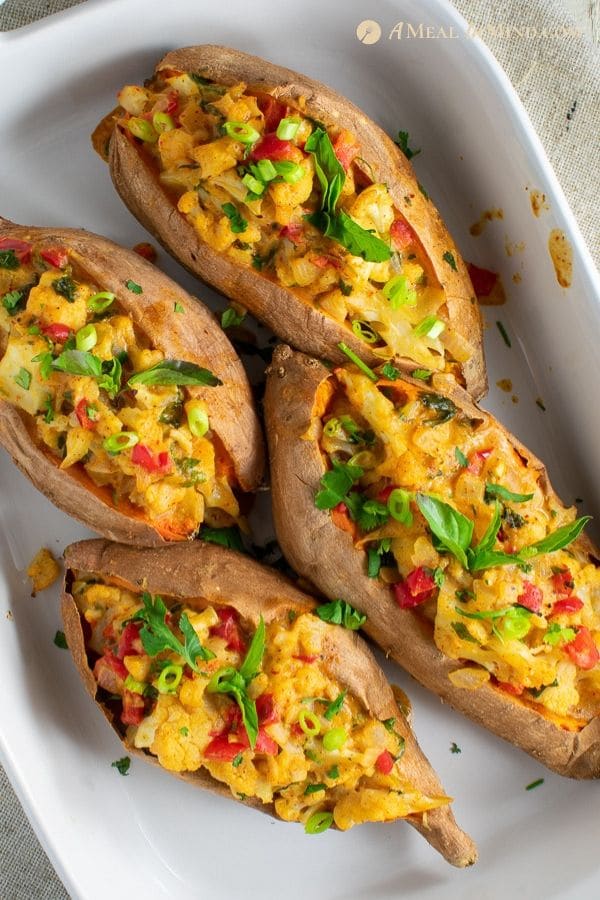 Regarding making your own curry paste, I have made green Thai curry paste once and it was delicious. However, it was also part of a group effort in a Thai cooking class.
Recently I saw in a post by Nart, a wonderful Thai food blogger, saying that her family doesn't make their own curry paste either. Instead, they buy it from a nearby shop. So I feel a little better about using purchased curry pastes.
I like the Mae Ploy pastes because they are so economical. But, that means I buy what often seems like a large container, and the downside of that is having to be sure I have storage space for the leftover paste. Fortunately it freezes well, but the Maesri is a smaller container.
And if I'm going to serve this side dish with fish (which I did -- post coming soon!) or meat, all eaters will be fine with a curry paste like Mae Ploy that contains fish and shrimp. The Maesri curry paste is equivalent in flavor, though, so you will be happy with the richness of either one.
If you have a chance to make this recipe, please leave a note in the comments to tell me how it went!
Beth
Other curry recipes on A Meal In Mind
Thai Green Coconut Milk Mahi Mahi Curry
Instant Pot Beef Coconut Milk Curry
Shop massaman curry-stuffed sweet potatoes
Amazon carries both the Mae Ploy and the Maesri curry pastes I've mentioned in this post in case you don't have an Asian market nearby. Grocery stores near me often have red and green curry pastes but rarely have yellow or Massaman.
My favorite two coconut milk brands right now are Thrive Market and Native Forest. The Native Forest Classic doesn't contain guar gum. Additives to the coconut milk can help it thicken better but if you just want coconut and water, this one is for you. I can use a dozen cans of it in no time! If you are not a member of Thrive Market, they are an outstanding source of all things gluten-free!
Whole Foods' smooth almond butter is creamy and we love it.
California Ranch olive oil is what I cook with, when I'm not using coconut oil.
I love my Lodge Dutch Oven and use it for any soup or stew that I'm not making in my Instant Pot. These oven mitts are essential to move it (and other not dishes) in and out of the oven.
This HIC ceramic baking pan is versatile and attractive, and this 9 x 13 size is perfect for holding four large-ish stuffed sweet potatoes.
Links to products for purchase are affiliate links. If you click on a link and make a purchase, I may earn a small commission on the sale at no additional cost to you. This helps me with the costs of blogging, and I thank you!
Massaman Curry-Stuffed Sweet Potatoes
Thai massaman curry-stuffed sweet potatoes feature cauliflower, onions and bell peppers, stewed in a thick aromatic coconut milk sauce. This comforting, flavorful dish is perfect for those evenings you want a hearty, easy dinner or side.
Servings
4
large servings
Ingredients
4

medium sweet potatoes

scrubbed and roasted until soft but not split

1

tablespoon

extra virgin olive oil

2

tablespoons

Massaman curry paste

Maesri for vegan; or Mae Ploy - up to double if you prefer spicy

1

red bell pepper

seeded and diced

1

medium onion

peeled and diced fine

1 13.5

ounce

can of coconut milk

full-fat

2

tablespoons

smooth almond butter

2-3

teaspoons

tamari or fish sauce

or coconut aminos

1

head of cauliflower

cut into bite-sized florets (or into small pieces for the stalk)

juice of 1 lime

sea salt

to taste (see note)

about ¼ cup each chopped basil and cilantro

finely sliced green onion

basil sprigs and cilantro to garnish
Instructions
If you have not already, roast your sweet potatoes. In my oven at high altitude this takes about an hour at 400 degrees F. This time is not included in the prep time for this dish. 

Heat the olive oil in a dutch oven or other high-sided pan. 

Add the bell peppers and onions and cook for 5 minutes or until the onions have softened slightly.

Stir in the curry paste and cook until fragrant, or 1-2 minutes.

Add the coconut milk and almond butter. Stir to dissolve the almond butter and combine the ingredients. Bring to a boil and then add the fish sauce, tamari or coconut aminos and the cauliflower.

Bring back to a boil and then turn down to a simmer.

Cover and simmer for 15-20 minutes or until the cauliflower is tender and the sauce has thickened. If needed, remove the lid of the dutch oven and simmer uncovered to thicken. 

Stir in the cilantro, basil and lime juice. Adjust the salt.

Gently split your cooled sweet potatoes down the middle, avoiding cutting the very ends. Scoop out a little of the sweet potato flesh if you want to be able to fit more of the curry into them. Save a little of the saucier portion of the curry to top off the potatoes just before serving. 

I like to place the sweet potatoes back in a 300-degree F oven for about 15 minutes for the flavors to meld. The tops dry out a little as they are warming, which is why I save a little bit of the curry sauce to spoon on just before serving.
Notes
The saltiness of this dish will vary with the brand of curry paste and whether you have used fish sauce, tamari or coconut aminos. You may not need to add any sea salt, but prefer to place your salty sauce on the table for individual eaters to sprinkle on.
Please pin for later!