This simple recipe for roasted kabocha with black sesame makes kabocha squash into a fragrant and scrumptious treat. With just four ingredients, this recipe couldn't be faster to put together.
Tip: Pronounce the word kabocha with the accent on the last syllable (ka-bo-CHA) to learn what it's called in Japan.
This side dish was a collaboration with my son, Rob Manshardt. Rob loves all Asian cuisines, especially Japanese, and has an excellent sense for combining flavors both simple and complex. He also co-designs our great pins for Pinterest!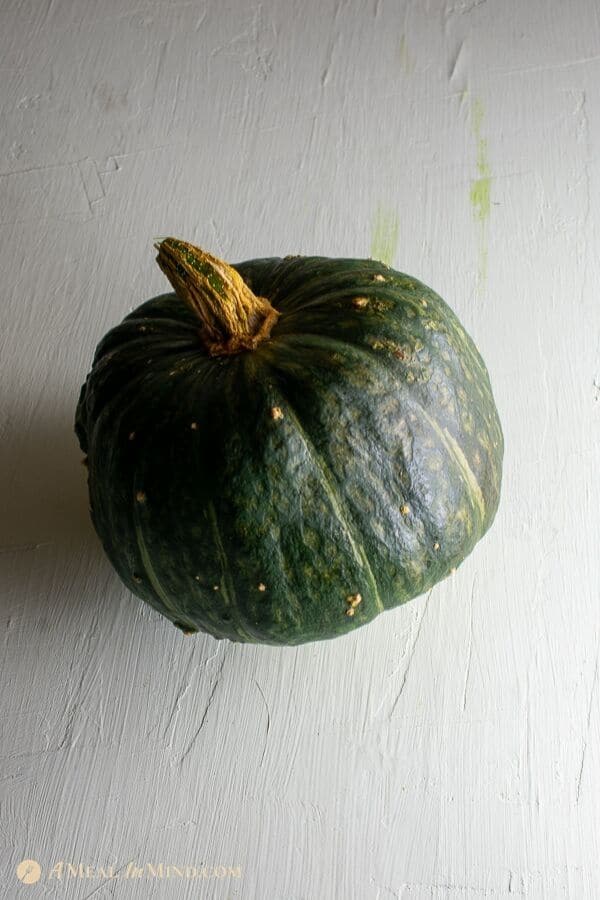 What is kabocha squash?
Kabocha squash is seasonal, and is just now at the end of September becoming available in the Denver area along with all the other squashes. This a great time to try it, because although squashes keep for a long time, they cook up especially creamy when freshly harvested.
The squash shown here is called a kabocha buttercup, and has a slightly turban-like bottom. It is a little drier than a kabocha, but still has that wonderful, almost bread-like texture and rich flavor and color when roasted.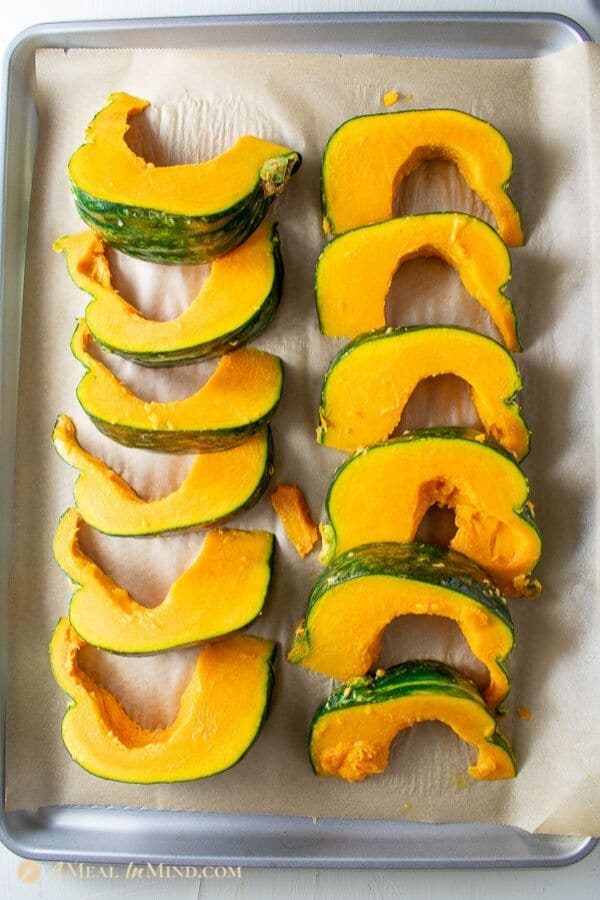 Kabocha is the same green color on the outside as an acorn squash but has a nuttier flavor and creamier texture. You can cut them in half, de-seed and roast them, which I often do with acorn or butternut squashes.
But we like to slice and season these squashes before roasting, which is more likely how you'd see them served in Japan.
How to prepare kabocha
Kabocha has a very thin and edible skin, so be sure to wash them well before cutting so that you can eat it all. In contrast, the stem and blossom ends are very tough and you may wish to cut those off before making your slices.
Make sure you have a knife that is long enough to make the first cut through the kabocha safely, as it takes a fair amount of strength.
Then, after you scoop out the seeds, it's easier to cut the wedges from the inside.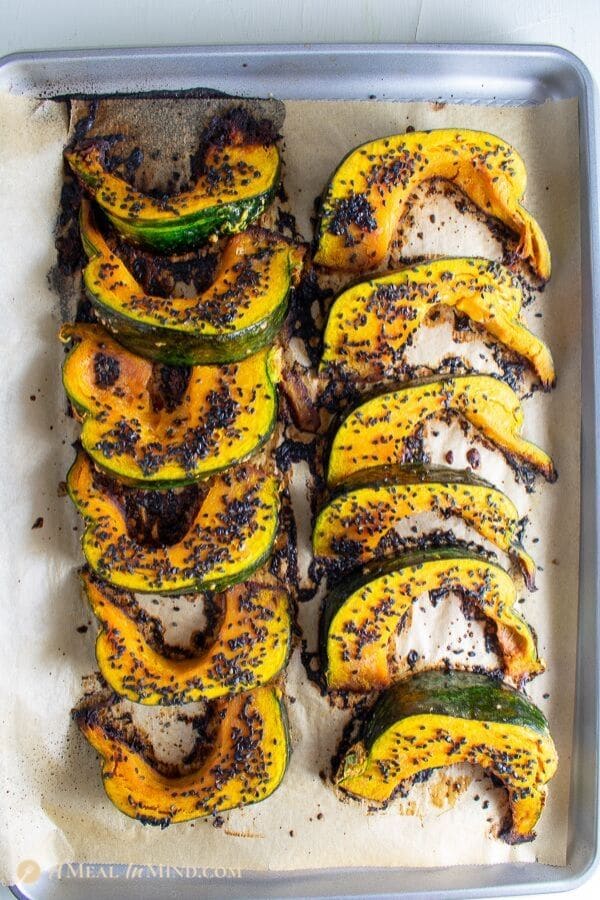 Roasting time will depend on your oven and when the squash was harvested.
The fresher the squash, the shorter the roasting time by a few minutes. The kabocha slices will retain their orange color even if the tamari and sesame oil blacken a bit around the edges. And it smells fabulous!
Sharing is caring - pin for later!
This roasted kabocha is s a wonderful side dish to accompany any Japanese main dish, or any dish that contains soy sauce or sesame oil, or both. We served it with Thai fish curry and with Japanese curry, but I also enjoyed the leftovers with breakfast the next day.
Enjoy, and pin to save for later!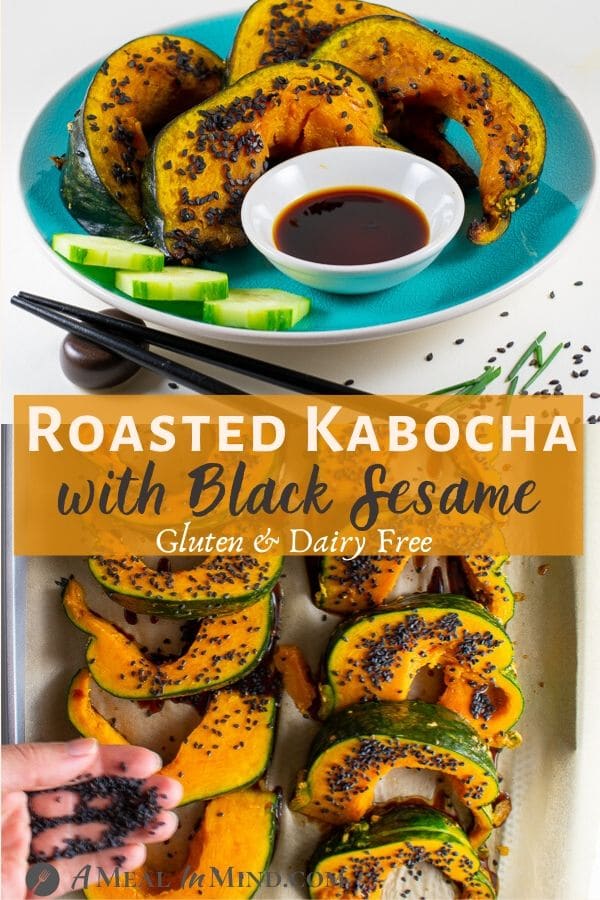 I'd like to acknowledge the wonderful organic produce at Brown Dog Farm of Longmont, Colorado. I purchased this kabocha squash at their stand at the South Pearl Street Farmer's Market in Denver. Check out my recipe for a Roasted Butternut Squash Hash Bowl from a wonderful squash they gifted me!
Please let me know in the comments if you made this, and how it went!
Beth
Other recipes you may like on A Meal In Mind
Japanese Chicken Curry from Scratch
Seared Opah with papaya-avocado salsa
Roasted Shrimp with Broccoli and Cherry Tomatoes One Pan
Shop roasted kabocha with black sesame
I have included kitchenware such as this USA pan baking pan and my favorite Henckels Santoku knife. I used to use a decent french chef knife but the Santoku knife is thinner and more nimble in the hand, with grooves that help prevent food from sticking to the knife blade.
If you are following a gluten-free life style, San-J tamari is what we use for that salty soy sauce flavor but without wheat. Soy-free? Coconut aminos are your go-to seasoning.
Can't find black sesame near you, or it's very expensive? Consider the Anthony's black sesame products I've included in my links.
Use a good Asian sesame oil to get the maximum flavor on your kabocha or any other Asian-inspired dish. Eden Foods has fine-quality organic oils and other seasonings.
Links to products for purchase are affiliate links. If you click on a link and make a purchase, I may earn a small commission on the sale at no additional cost to you. This helps me with the costs of blogging, and I thank you! You can find my 'shop' page here.
Roasted Kabocha with Black Sesame 
This simple recipe for roasted kabocha with black sesame makes kabocha squash into a scrumptious treat. With just four ingredients, this recipe couldn't be faster to put together. 
Ingredients
1

kabocha or kabocha buttercup squash

about 7-8 inches in diameter

2

tablespoons

tamari or coconut aminos

2

tablespoons

dark sesame oil

2-3

tablespoons

black sesame seeds

Fresh chives

chopped fine, optional
Instructions
Preheat the oven to 375 degrees F. 

Cut the kabocha squash in half and scoop the seeds out. Keep the seeds to roast like any pumpkin seeds, or discard. 

Slice the squash into wedges about 1 ½-inches at the widest part (I usually aim for 12 wedges unless the kabocha is very small). 

Cover a rimmed baking sheet with parchment paper and arrange the slices onto the paper. 

Brush the slices with tamari. If you are eating low-salt as we are, brush only one side. If you prefer them saltier, flip the slices over and brush the other side. 

Brush the slices, including the peels, with the roasted sesame oil. I usually only brush the exposed side and peel.

Sprinkle the slices with black sesame seeds. 

Roast in the preheated oven for 25-30 minutes. 

Serve, if desired, with a little dipping sauce made with some tamari and sesame oil for anyone who wants them saltier. If we have fresh chives, as we do in the summer, we chop them finely and add to the sauce.
Notes
As ovens vary in how fast they cook, poke the slices to be sure they are tender. If not, leave them in the oven longer. Sometimes at high altitude as in Denver, they take another 10 minutes! 
Pin for later!