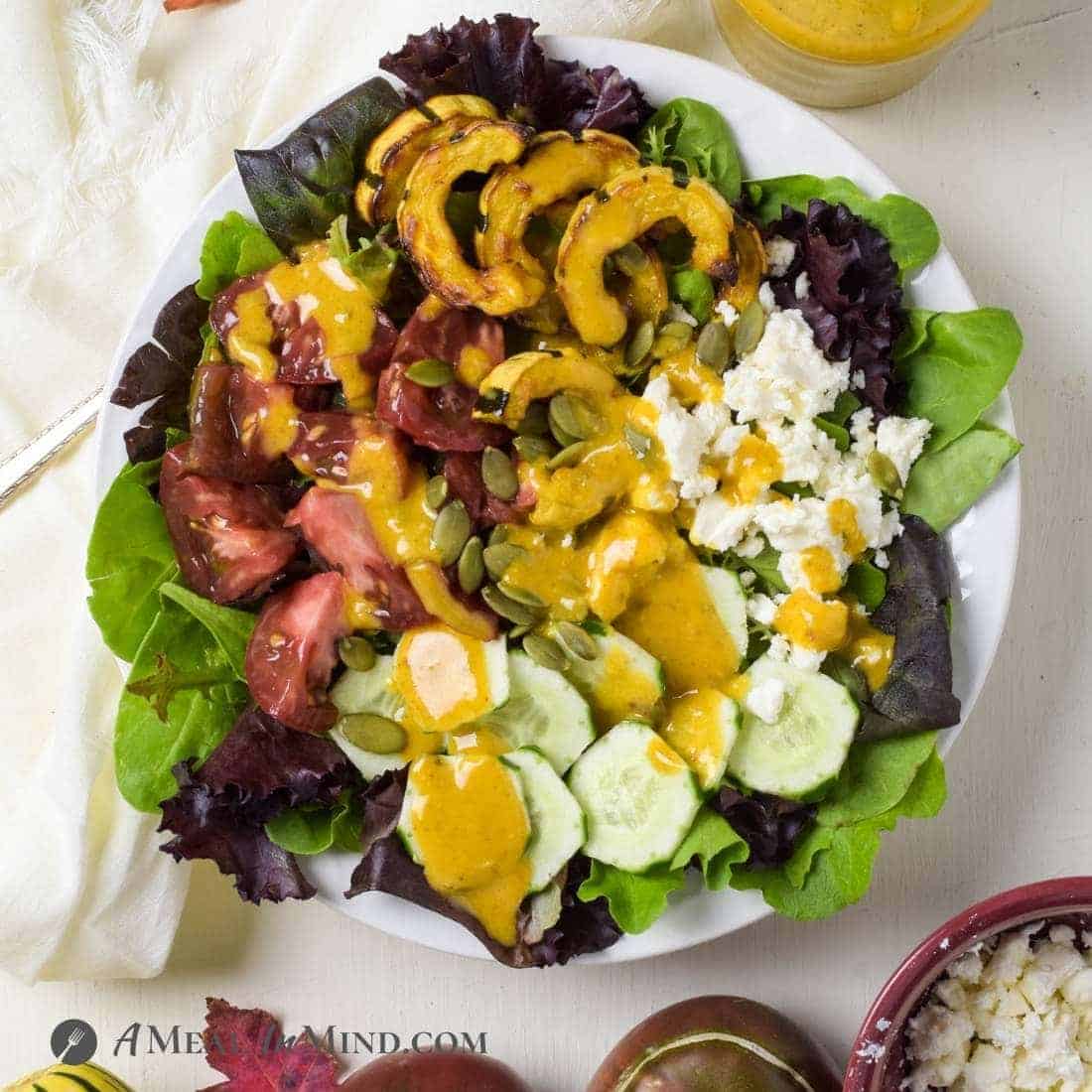 Today I'm excited to share with you my roasted Delicata squash and heirloom tomato salad. Roasted Delicata squash's nutty flavor and Heirloom Tomatoes' sweetness make this salad a fall treat. Naturally gluten-free, this salad can easily be made vegan with dairy-free feta such as Violife.
I look forward to the Heirloom tomato season, and once I find these lovelies at the farmer's market, I buy as many as I can cook or eat. Well, that's not true - I usually buy more than that, and then have to scramble to prepare them while they're at their peak of flavor.
They are so good, it's no trouble munching on tomatoes as if they were apples! And that has led me to recipes like Hatch green chile heirloom tomato salsa, too.
This year for the first time I bought and roasted Delicata squash - new to me, and I don't understand why I've never tried them before. These little squash are so good that I wrote a whole post about how to roast them.
The slices are tasty as an appetizer or snack, plus they look and taste great on this salad!
What salad dressings can I use on this salad?
The Delicata salad recipe combines wonderful, sweet green-and-red heirloom tomatoes with the roasted delicata squash, cucumber slices and feta cheese. The dressing I recommend is my Chipotle Pumpkin Vinaigrette, a must-try any time you can find canned pumpkin or puree your own squash, and want to try a wonderful dressing.
Another great dressing for this mix of nutty and sweet flavors would be my Balsamic Honey Vinaigrette.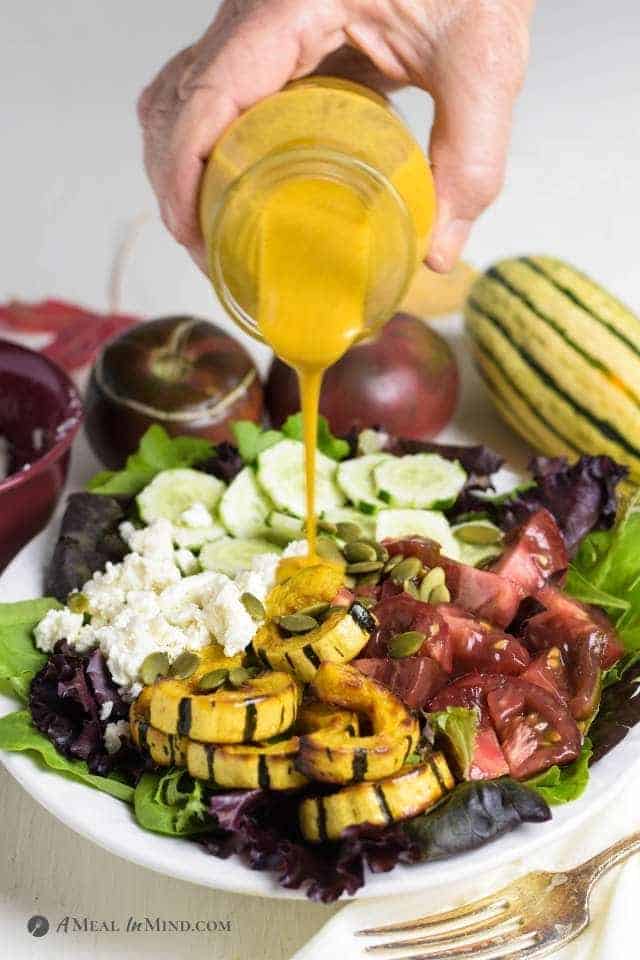 Top with pumpkin seeds for yet more pumpkin-ness, or sprinkle with this delicious pumpkin-sunflower salad topper.
It's a beautiful and hearty salad, all served on a bed of organic spring greens. If you like greens with a stronger flavor, kale or arugula would be delicious too.
To make the salad, first clean, slice and roast the delicata squash as I describe here. You don't need to heat up your big oven - the slices of one delicata will fit onto a toaster oven tray!
You may have seen me say that I've been more or less between kitchens - waiting to move into a small bungalow that I've bought in Denver - so without a stove, I've been exploring recipes that can be made in a toaster oven or Instant Pot, or on a hot plate. Like camping!
Preparing the salad ingredients
Then prepare the vinaigrette while the delicata is cooling. The slices are thin, so you don't have to wait long for them to cool. You could even serve them warm as the weather gets colder.
Once you've prepared the delicata, slice the heirloom tomatoes and cucumbers and crumble the feta. With Heirlooms I don't bother with removing the peels because the skins of heirlooms are not as chewy as in commercial tomatoes. But sometimes when I'm slicing them some of the peel will come off as I cut. Some people really appreciate peeled tomatoes.
Speaking of cutting up tomatoes, I always use a tomato knife or at least a serrated knife. If you don't have one, I've included the link below - it would make a great holiday gift.
That's really it - you can vary the amounts of ingredients, like increasing the amount of greens or seed topper. I hope you will enjoy this fall salad as much as we do.
If you make this recipe, please let me know! Leave a comment, rate it, and don't forget to tag a photo #amealinmind on Instagram. I'd love to see what you come up with. Thank you so much!!
Beth
Other recipes you may enjoy
Fig-Peach Salad with Pecans, Feta and Balsamic Vinaigrette
Heirloom Tomato Salad with Capers and Feta GF and Vegan
Beet-Feta Salad with Garlicky Crispy Walnuts
Roasted Butternut Squash Hash Bowl
Shop Roasted Delicata Squash and Heirloom Tomato Salad

Links to products for purchase are affiliate links. If you click on a link and make a purchase, I may earn a small commission on the sale at no additional cost to you. This helps me with the costs of blogging, and I thank you! You can find my 'shop' page here.
Roasted Delicata Squash and Heirloom Tomato Salad - Gluten-Free
Roasted Delicata squash's nutty flavor and Heirloom Tomatoes' sweetness combine to make this salad a fall treat. Naturally gluten-free, this salad has a vegan option with dairy-free feta such as Violife.
Ingredients
Salad ingredients, per person:
1

cup

spring mix salad greens

⅓

cup

delicata squash

sliced, seasoned and roasted (see how here)

½

cup

heirloom tomatoes

washed and diced

⅓

cup

cucumbers

sliced thin

¼

cup

feta cheese

crumbled

2

tablespoons

pumpkin seeds raw or toasted OR this delish salad topper

¼

cup

Chipotle Pumpkin Vinaigrette
Instructions
Assemble the salad ingredients and top with pumpkin seeds or the salad-topper mixture.

Serve the dressing on the side so that eaters can stir in the amount they wish.
Notes
If you are planning to serve this salad as a vegan option, please note that you will then make the chipotle-pumpkin vinaigrette with maple syrup rather than honey.
Please pin for later!