Fresh figs and peaches shine in this fig-peach salad with pecans and feta. The marinated, toasted pecans and savory feta complement an herbed balsamic honey vinaigrette. Delicious and naturally gluten-free.
When figs are in season in the summer I count on being able to get good peaches at the same time. Figs and peaches complement each other so well! And, they are delicious with this Herbed-Balsamic Honey Vinaigrette, which has a little sweetness from the balsamic vinegar and some from the honey.
The only cooking in this fig-peach salad with pecans and feta is to toast the pecans with some of the dressing. The balsamic vinaigrette caramelizes during the baking process making the pecans truly addictive.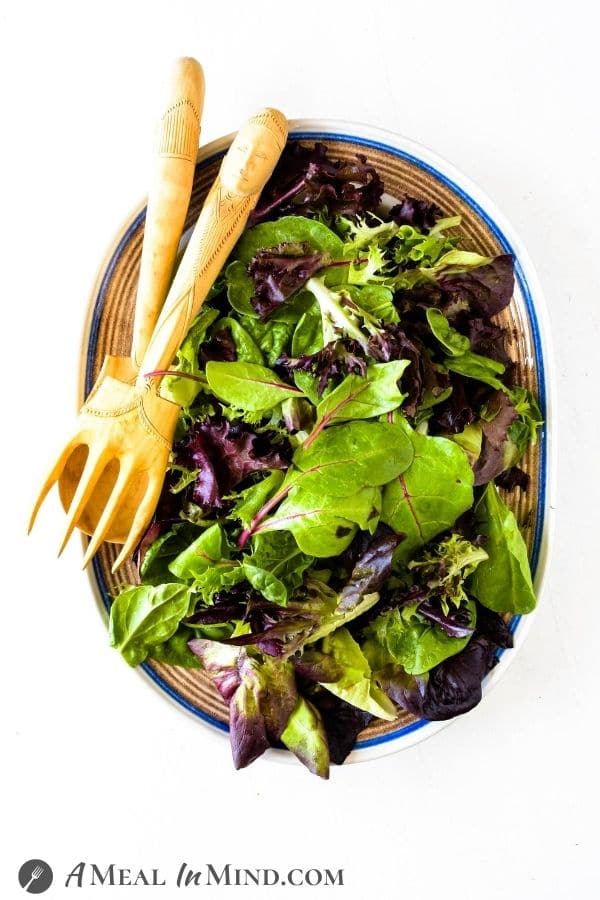 Arrange baby salad greens on a platter, and prepare the feta cheese, sliced bacon (if you are including it), wedges of fruit and dressing. This is also a great excuse for me to show off my salad servers from Bali!
I find that we eat more of a salad if I sprinkle all the toppings onto the bed of spring greens, but if your family prefers to customize their salad, serve everything separately. I promise, though, that the flavors in this salad will make you swoon.
What variations on fig-peach salad with pecans and feta could I make?
For a vegan salad, omit the meat-based bacon and use Violife feta rather than dairy.
For a more substantial salad, add some protein such as the turkey bacon we used here or shredded chicken, or chickpeas.
Tip: If using chickpeas, I suggest marinating them in the salad dressing for an hour before adding them to the salad.
Careful - if you are like us, you might get a little carried away when putting the toppings onto the greens. It all looks so good, it's tempting to just keep layering on more.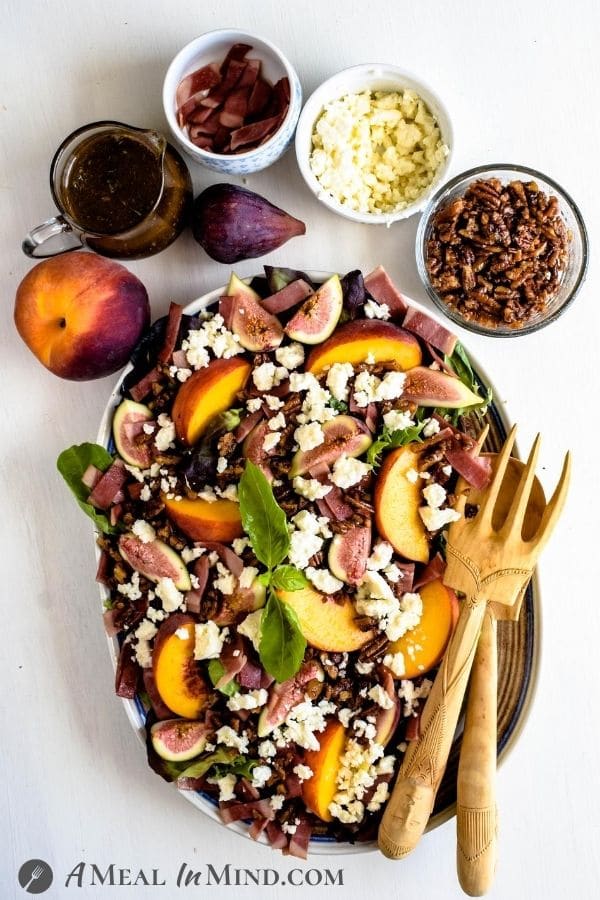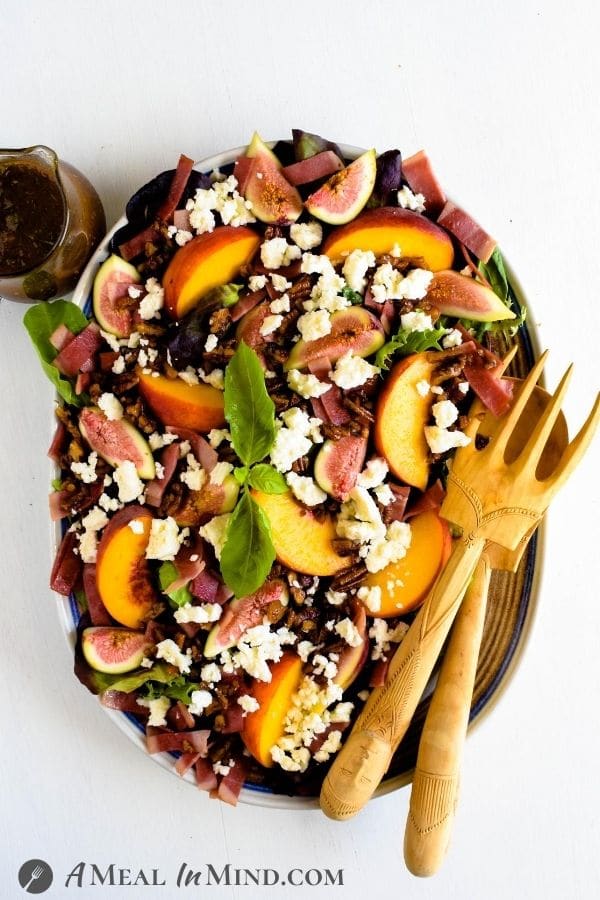 The flavors and textures in the salad are a great balance of sweet, salty, tart, crunchy and creamy. I have estimated the number of servings this amount will provide as enough for two, but it completely depends on whether you are serving the salad with another dish and your own personal preferences.
If you make this recipe, please let me know! Leave a comment, rate it, and don't forget to tag a photo #amealinmind on Instagram. I'd love to see what you come up with.
Enjoy,
Beth
Other recipes you may enjoy
Herbed Balsamic Honey Vinaigrette
Lemony Garlic-Mustard Vinaigrette
Stone Fruit Salad with Citrus Dressing
Marinated 2-Bean and Green Salad
Shop Fig-Peach Pecan Salad with Feta and Balsamic Vinaigrette
Links to products for purchase are affiliate links. If you click on a link and make a purchase, I may earn a small commission on the sale at no additional cost to you. This helps me with the costs of blogging, and I thank you! You can find my 'shop' page here.
Fig-Peach Salad with Pecans, Feta and Balsamic Vinaigrette
Fresh figs and peaches shine in this salad with marinated, toasted pecans, feta cheese and an herbed balsamic honey vinaigrette. Delicious and naturally gluten-free.
Ingredients
For the Salad:
3

quartered figs

1

sliced peach

6

slices

of turkey bacon

optional

2

ounces

of crumbled feta

4

cups

of spring mix salad greens

Basil leaves

for garnish
Instructions
For the Pecans: Preheat the oven to 300 degrees F. Combine the pecans and 2 tablespoonfuls of the balsamic-honey vinaigrette. Allow to marinate in a bowl for 20 minutes while the oven is preheating.

Place marinated pecans in a single layer on a baking sheet in the oven and toast for 15 minutes until just slightly crisped. Allow to cool. 

For the Salad: place the spring greens onto a platter and arrange the figs, peaches and optional turkey bacon on top.

Top off with the balsamic pecans and feta cheese. Garnish with basil sprigs or leaves.

Serve with the balsamic dressing on the side, or dress the whole salad before serving. 
Please pin for later!