This tasty and filling Mexican quinoa bowl is seasoned with cumin and chili powder and a simple vinaigrette that brings out quinoa's nutty flavors. It's a perfect dish to make in a big batch, as it keeps well in the refrigerator and goes with lots of meals.
We like it topped with my pickled red onions, avocado slices and mild white Mexican cheese.
Quinoa is so versatile. Check out some of my other recipes on A Meal In Mind: Mediterranean quinoa salad, coconut milk quinoa and quinoa-chia pudding with fruit. I've even used quinoa instead of oats in my Flourless Pancakes.
And of course, you know it's pronounced "keen-wah" right?
I was inspired to make this variation on my Mediterranean quinoa bowl after reading an excellent Quinoa Bowl Recipe post by my friends at The Food Travelist. I think my Mediterranean flavors are pretty good but I think the flavor relies a lot on the olives - so I had to play with the tart flavors a bit here.
Is quinoa healthy?
Quinoa is a seed rather than a grain, so it is included in grain-free and gluten-free diets. It's relatively high in protein and fiber, so its glycemic index is low enough for me to enjoy.
Be careful not to overdo it on any one food, however. This article suggests that though quinoa is considered a superfood, it contains gut-irritating compounds that are a problem if eaten too frequently.
What I like best about this recipe is that you can vary it quite a lot by changing the vegetables you stir in. For example, here we used red bell peppers, cucumbers and chickpeas as toppers, having already stirred in broccoli and peas. I sprinkle cumin onto the chickpeas to bring them along into the flavor.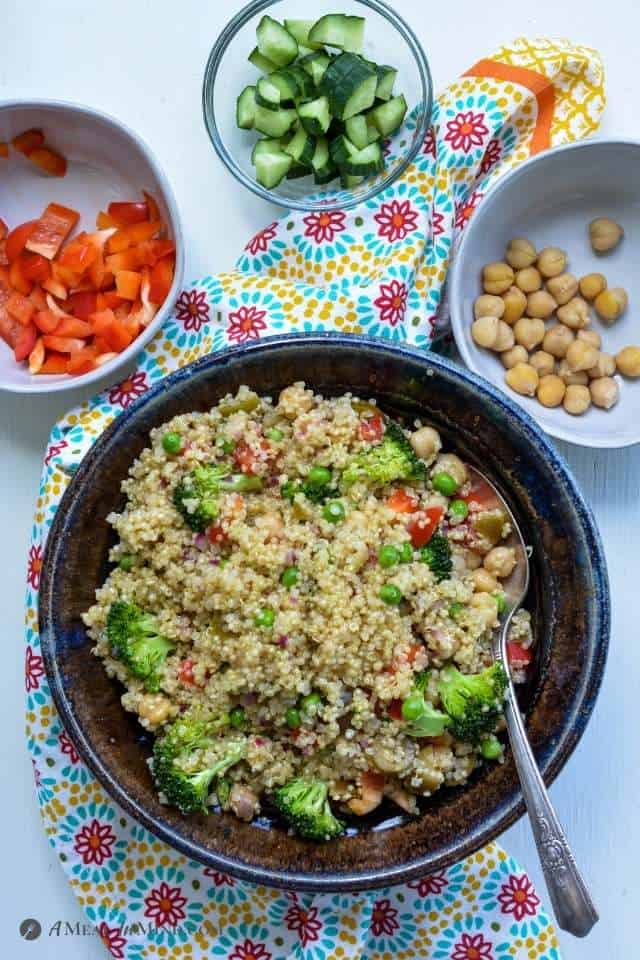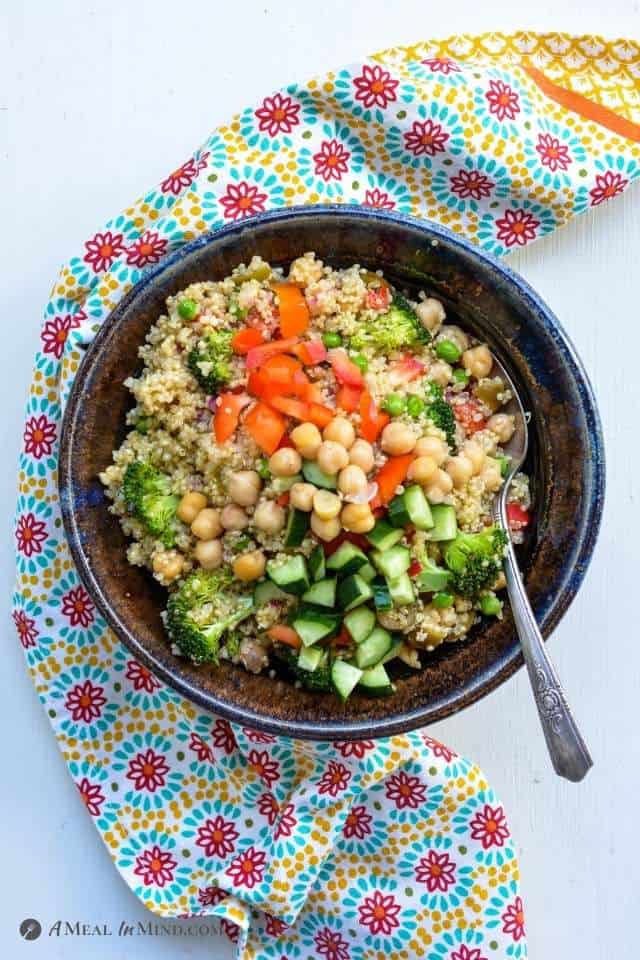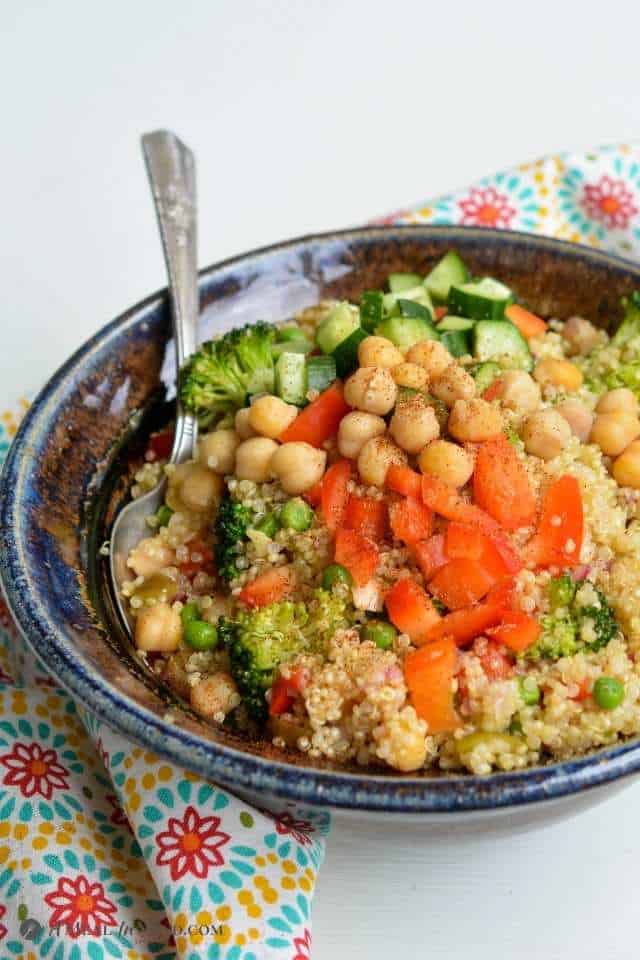 Do you need to rinse or soak quinoa?
There is no need to soak quinoa. In fact, soaking quinoa can result in it tasting bitter. This is because quinoa has saponins on the outside of the seed. The term saponins may remind you of saponification, which is the process of turning fats and oils into soap.
You do need to rinse the quinoa, however, to remove the saponins. I rinse mine in a wire mesh strainer and can see that the liquid is cloudy, especially from the first rinse. I rinse the quinoa twice. That way, in cooking the quinoa you can use water, coconut milk or broth. The cooking liquid is completely absorbed.
Costco sells quinoa on which the package says there is no need to rinse it. I've tried it with and without rinsing, and I believe it tastes better with a rinse.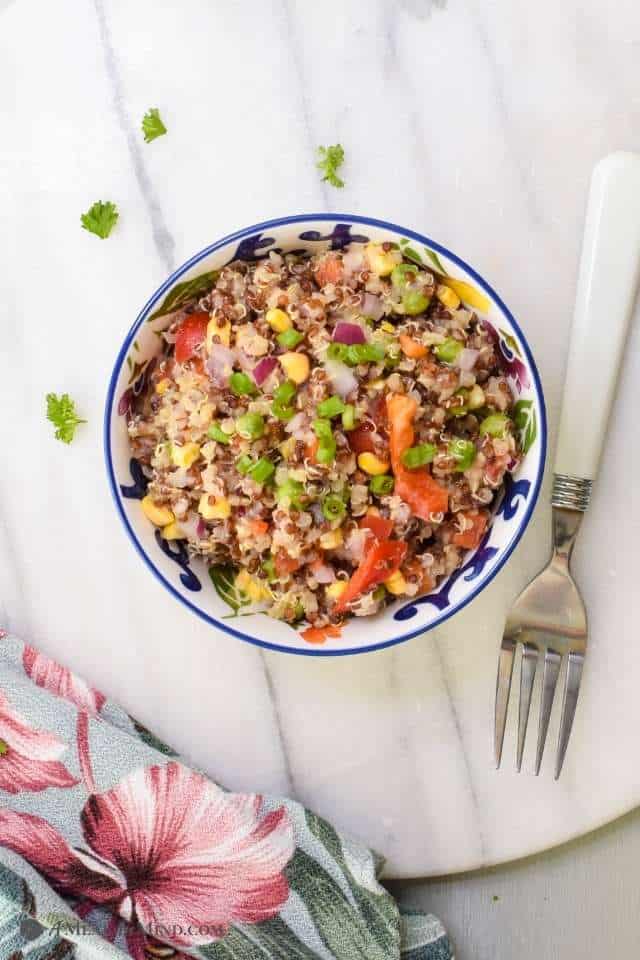 What should I serve this quinoa bowl with?
Though I'm showing a number of ways we made this bowl, the one I feature in the recipe was inspired by our fresh garden corn and cherry tomatoes, a ripe avocado and a grilled bell pepper. We stirred in some pinto beans for protein.
We've enjoyed these quinoa bowls alongside my parchment-baked salmon tacos and air-fryer fish. It's a tasty way to use small bits of vegetables, like peas or corn, that you don't have enough of for a whole side dish. You can vary the seasonings or the amount of lemon juice/vinegar to your taste.
With different vegetables or proteins you can vary this bowl quite a bit! And even without toppings, as you see below, it's just delicious.
Where can I buy quinoa?
I mentioned Costco already, though I typically buy mine in bulk at Natural Grocers. I look for organic, fair-traded quinoa; Costco's is labeled organic, but not fair-traded, though it states the origin as Bolivia so I hope small farmers are being paid fairly. I wanted to find out whether it was as good un-rinsed, and of course now have lots of it to use up.
Steps in making this recipe
Once you have cooked the quinoa you:
season it with chili powder, cumin and coriander to give it a Mexican flavor.
add vinegar and lemon or lime juice for flavor and to enhance the
salt to taste, and I suggest salting it a bit more than you would otherwise to balance the vegetables.
Use the amount of olive oil is to suit your taste - you could add more or reduce it.
Stir in your roasted corn and bell peppers, beans or peas, and tomatoes
Serve your toppers in small bowls on the side.
Please pin for later!
I hope you will enjoy this bowl as much as we do.
If you make this recipe, please let me know! Leave a comment, rate it, and don't forget to tag a photo #amealinmind on Instagram. I'd love to see what you come up with. Thank you so much!!
Beth
Other recipes you may enjoy
Mediterranean Quinoa Vegetable Salad
Baba Ghanoush Dip and Salad Dressing
Slow Cooker Green Chile Chicken Enchilada Soup – Gluten Free
Parchment-Roasted Salmon Tacos with Yogurt-Lime Crema
Shop Mexican Quinoa Bowl
Links to products for purchase are affiliate links. If you click on a link and make a purchase, I may earn a small commission on the sale at no additional cost to you. This helps me with the costs of blogging, and I thank you! You can find my 'shop' page here.
Mexican Quinoa Bowl with Corn and Peppers
This tasty and filling Mexican quinoa bowl is seasoned with cumin and chili powder and a simple vinaigrette that brings out quinoa's nutty flavors. It's a perfect dish to make a big batch of as it keeps well in the refrigerator and goes with many meals. 
Ingredients
For the quinoa
1

cup

quinoa

used red or red and white quinoa

2

cups

water or broth

1

heaping teaspoon chili powder

½

teaspoon

cumin

¼

teaspoon

coriander

1½

teaspoons

pink sea salt

½

teaspoon

black pepper

optional

2

tablespoons

lemon or lime juice

or white wine vinegar

2

tablespoons

red wine vinegar

4

tablespoons

olive oil
For the bowl
3

cups

cooked and seasoned quinoa as prepared above

1

ear of roasted corn

cut from the cob

1

bell pepper

grilled and diced

½

cup

pinto beans or peas

⅓

cup

pickled red onion

½

cup

cherry tomatoes

halved

1

ripe avocado

sliced or cubed

⅓

cup

cilantro leaves

½

cup

white Mexican cheese or feta

2

tablespoons

oregano

minced - fresh if available
Instructions
If there are no directions on your package of quinoa, here's what I do. Place rinsed quinoa and water into a saucepan.

Cover and heat to a rolling boil, then turn down to a simmer.

Check after 10 minutes to see if the water has been absorbed. If not, simmer for another 3-5 minutes depending on how wet the quinoa is. You can take it off the heat when no visible liquid remains. I use a pan with a glass lid so that I can even tilt the pan without removing the cover, to see if any liquid shows up from underneath.

Remove from heat and let sit for five minutes to absorb any remaining liquid. Fluff with a fork and allow to cool. 

While quinoa is cooling, cut and prepare your corn, bell pepper, other vegetables and dressing ingredients. You can increase the quantity of any ingredient to feature it! 

Place the cooled quinoa in a bowl and stir in the dressing and main ingredients. Let it sit for a couple of minutes so it absorbs the seasonings, then taste and correct the salt. I like the black pepper even though the recipe also calls for chili powder, but I've made that optional. 

Place the pickled onions, avocado and extra cheese in separate bowls. Garnish with cilantro and oregano if your family enjoys them. 
Please pin for later!