Beet-Cabbage Borscht Soup is a savory, warming, deep-red soup that's packed with vegetables. It's as good in the summer as it is on a cold winter's day. The key to my favorite way to make borscht is to find beets with really fresh greens, or to use chard greens in a pinch. Simmer beets, onions and cabbage in a rich broth, stir in the greens and simmer some more.
Then, top with creamy yogurt or sour cream. Dairy is the classic but it's just as decadent with non-dairy.
Dill is a classic herb for this dish, but I say, when you have an herb growing in your yard like this rosemary, give it a chance!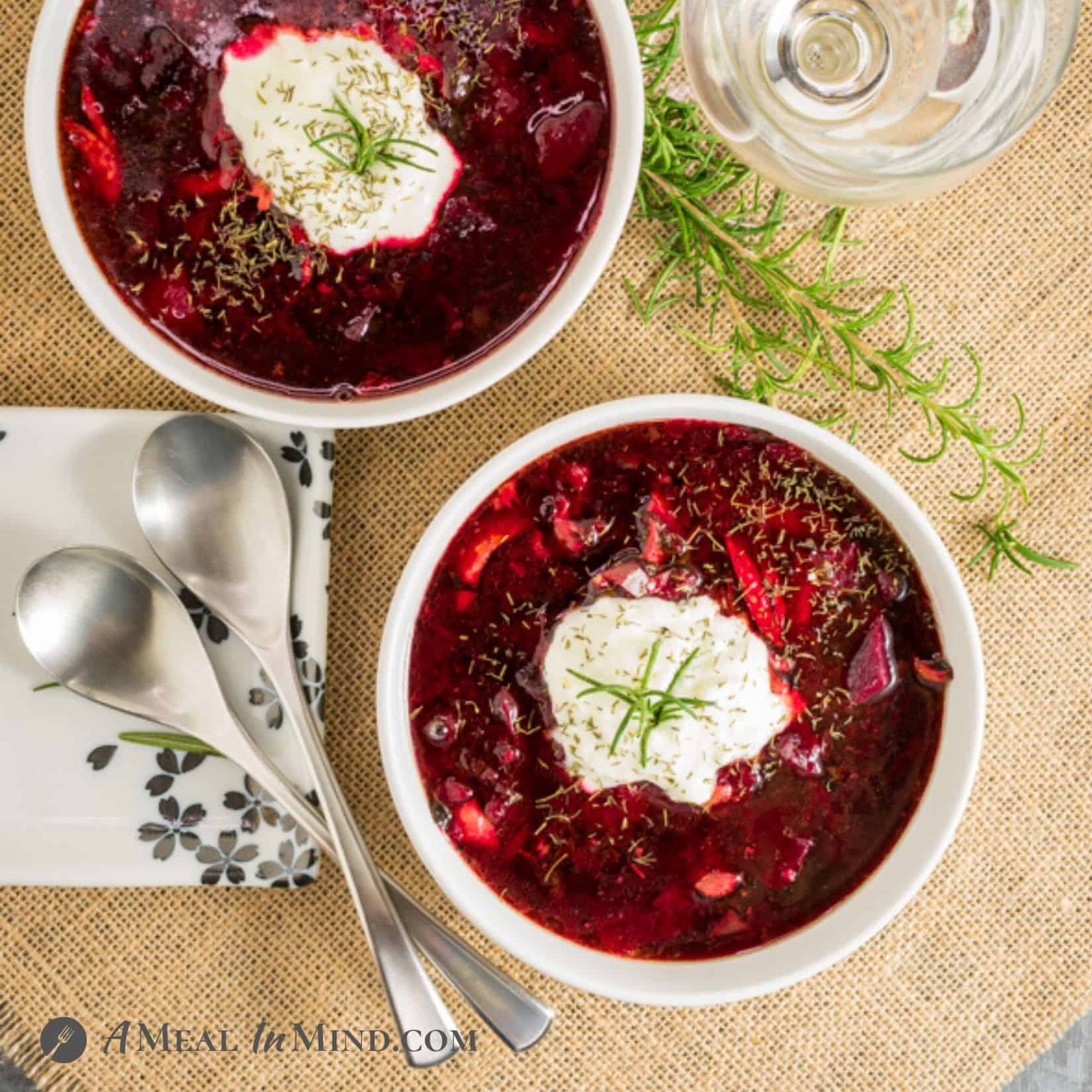 Why use beet greens?
Beet greens are dark leafy greens, high in iron (a higher iron count than spinach) as well as vitamin K, B6, magnesium and potassium. They are also a great source of fiber. And their flavor is a mild yet perfect match to the garlic and caraway in the soup.
The below-ground parts of beets travel much better than their greens do, so when I find a bunch whose greens are fresh and in good condition, I look forward to making a batch of this soup.
Even if the greens have some holes in them (see photo below), as long as the leaves are fresh and you wash them well, they will add a pleasant flavor and a subtle hint of green to the soup.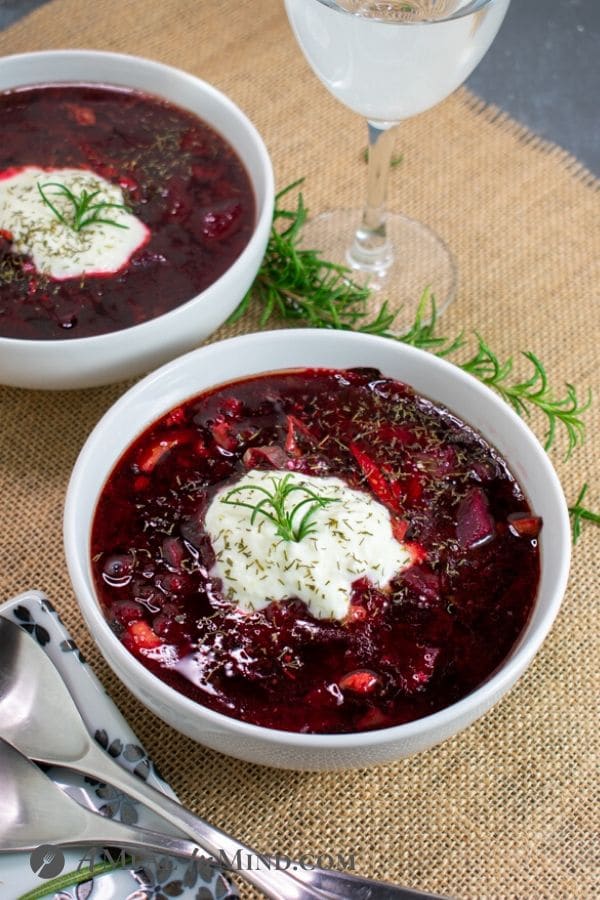 What is borscht?
I associate borscht with Russia, though Wikipedia gives its origin as Ukraine. The soup gets its deep red color from the beets, though in a pinch you can make it with mostly red cabbage. Lemon and beets give the soup a distinctive tartness.
If you want to make the soup but your beets are sold without their greens, I suggest chard rather than kale, as chard has a tenderness similar to beet greens. Cabbage gives a lot of body to the soup, and I prefer red cabbage even though it doesn't give as much red color as you'd think.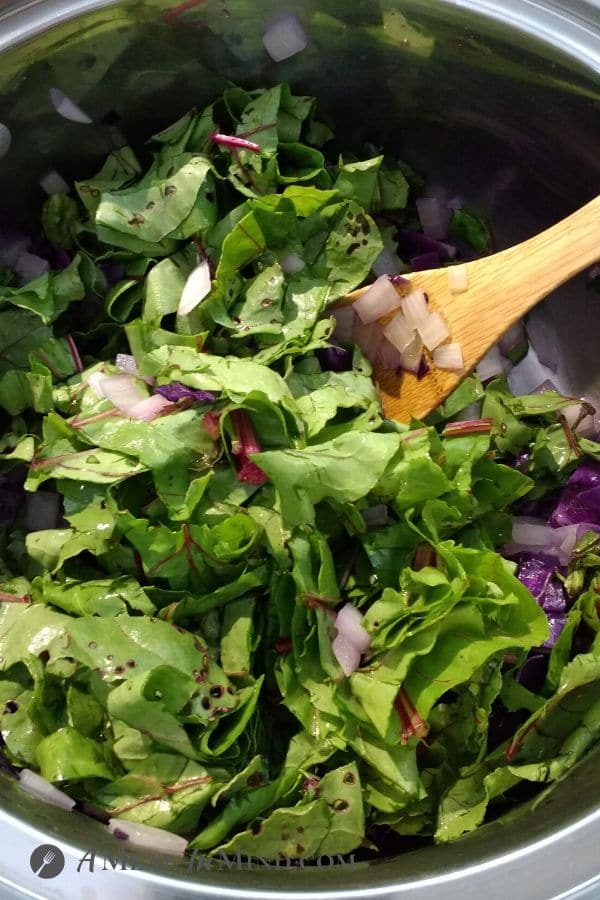 When you first stir the cabbage, then the greens into the pot, it seems like they will never fit - but they cook down quickly.
This can be a meatless meal (see note) but it's also delicious if you have leftover chicken or beef to add once the vegetables are done. The lighter pieces you see in the photos below are chicken shreds. The chicken takes on the gorgeous red of the soup, and is the quickest way to make your meat-eaters happy.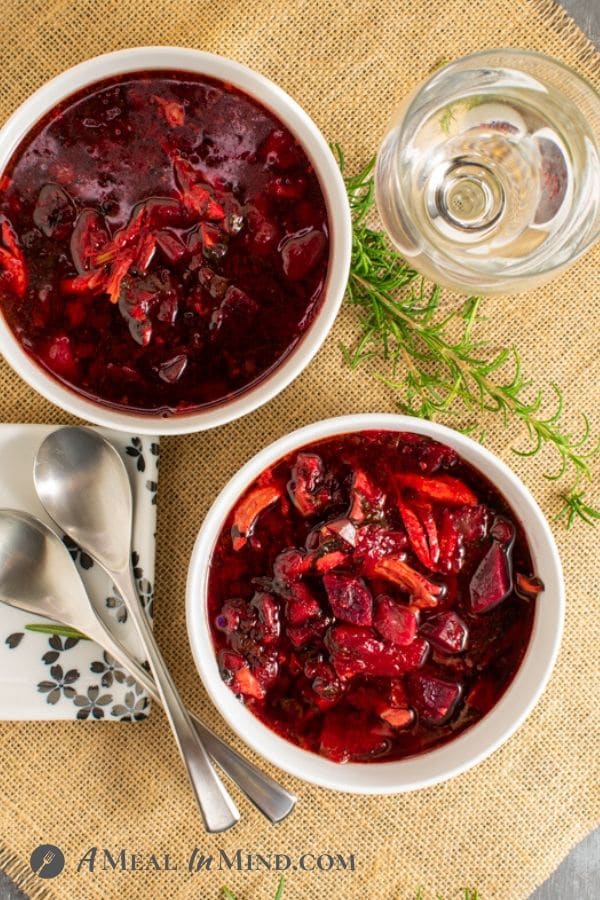 Benefits and cons of beets
Beets naturally contain a little hydrochloric acid - yes, that's the acid that we also have in our stomachs that aids in the digestion of proteins. If you suspect you are having trouble digesting animal protein, a beet soup could be an excellent way to enhance digestion.
More important to your health, though, could be the red pigments, betalains, that are antioxidants.
On the downside, beets are surprisingly sweet, and that's because they do contain some sugar. If you are really watching your blood sugar, use fewer beets - a little gives a LOT of color and flavor.
If you have a chance to make this soup, please leave me a comment so I know how it went!
Beth
Other recipes you may enjoy
Chicken, Black Rice and Zucchini Soup
Roasted Butternut Squash Curry Chicken Soup
Beet-Feta Salad with Garlicky Crispy Walnuts
Shop Beet-Cabbage Borscht Soup
Links to products for purchase are affiliate links. If you click on a link and make a purchase, I may earn a small commission on the sale at no additional cost to you. This helps me with the costs of blogging, and I thank you! You can find my 'shop' page here.
Beet-Cabbage Borscht Soup
Beet-Cabbage Borscht Soup is as good in the summer as it is in cold weather - the key is to find beets with really fresh tops. Gluten-free, dairy optional.
Ingredients
4

large beets

about 2 pounds and their green tops

2

tablespoons

olive oil

coconut oil, or butter

1

large onion

diced

3

cloves

garlic

minced

1

small head red cabbage

cored and diced

2

teaspoons

caraway seeds

1

teaspoon

salt

plus more to taste

6

cups

chicken

beef or vegetable broth

Optional: lemon juice

to taste

2

cups

shredded

cooked chicken, optional

Garnish: Plain yogurt

sour cream, or crème fraîche

Garnish: Chopped fresh herbs: rosemary

dill, parsley
Instructions
Cut the greens off the beets and set in water so they don't wilt. Boil the beets in salted water to cover until you can insert a fork into the center of the largest, about 20 minutes. Drain the beets and let them sit until cool enough to handle.

Peel the beets (their skins should slip off easily after being boiled) and chop them coarsely. Remove the greens from the water and dice them. 

In a large pot over medium heat add oil and the onions and cook, stirring occasionally, until the onions are just turning soft, about 5 minutes.

Add the garlic, and cook until fragrant, about 1 minute.

Stir in the cabbage and cook, stirring occasionally, until the cabbage wilts, 3 to 5 minutes. Add the beet greens and stir until they are just wilted, 1-2 minutes. 

Add the broth and bring to a boil; reduce the heat to maintain a steady simmer, add the caraway seeds and chopped beets, and cook until the vegetables are tender and flavors blend, 15 to 20 minutes.

Add salt and lemon juice, if using, to taste. Serve hot, with a dollop of yogurt or sour cream and a sprinkle of fresh herbs.
Please Pin for Later!