This fragrantly spiced, nutty Walnut-Ginger Pear Bread is nutrient-dense and mildly sweet from the honey and the pears. Easy to mix up in the food processor, and gluten-free. Serve at your next brunch!
Best eaten the day it's baked or the day after, this bread is a wonderful party treat. It's easy to put together using pantry ingredients except for the pears. If you were out of pears, apple slices would be delicious too.
It's best using firm (not yet fully ripe) pears. So I can make this recipe even in April when pears aren't yet in season but they're for sale locally anyway.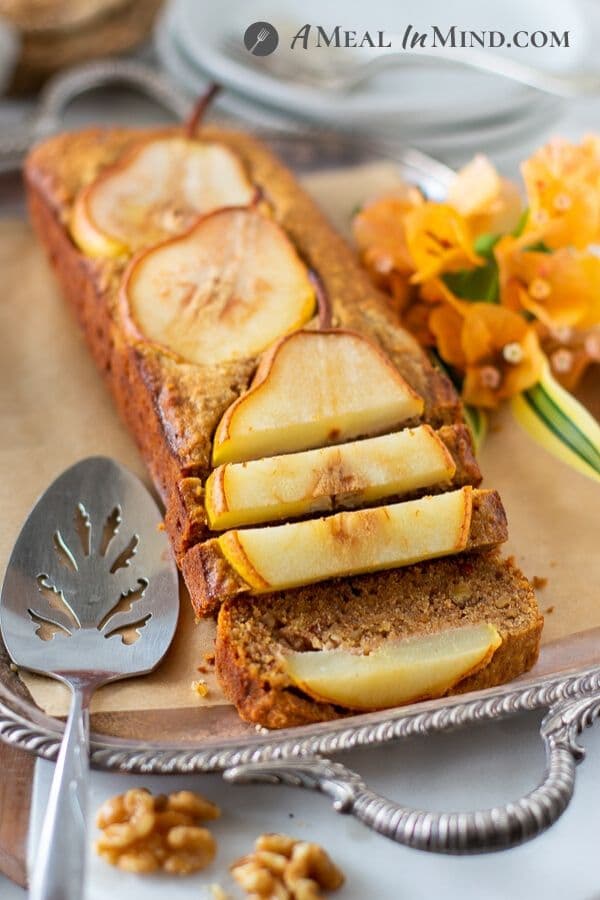 Using the food processor (one of my favorite kitchen gadgets) means that you can grind your own walnuts. Because you are going to chop them fine, you can save on the walnuts and buy broken ones rather than spend extra to get halves. But if you happen to have walnut halves but not fruit, you could use the walnuts as a decoration too.
The first step in making this bread is to grind up the walnuts in the food processor. Walnuts are surprisingly soft, so it only takes a minute (two at the most) to convert them into walnut meal. Don't process too much farther or you'll end up with walnut butter!
Then you will remove the walnuts from the food processor and set them aside while you mix the remaining ingredients. The food processor makes easy work of creaming the butter (or ghee) and the honey together and then the eggs.
Once all the wet ingredients have been blended, you'll stir in the dry ingredients. Don't overmix here - just as with muffins, a sweet, nutty bread like this is better when the ingredients are just mixed. Remove the batter to a mixing bowl and stir in the walnut meal.
Now you are ready to bake!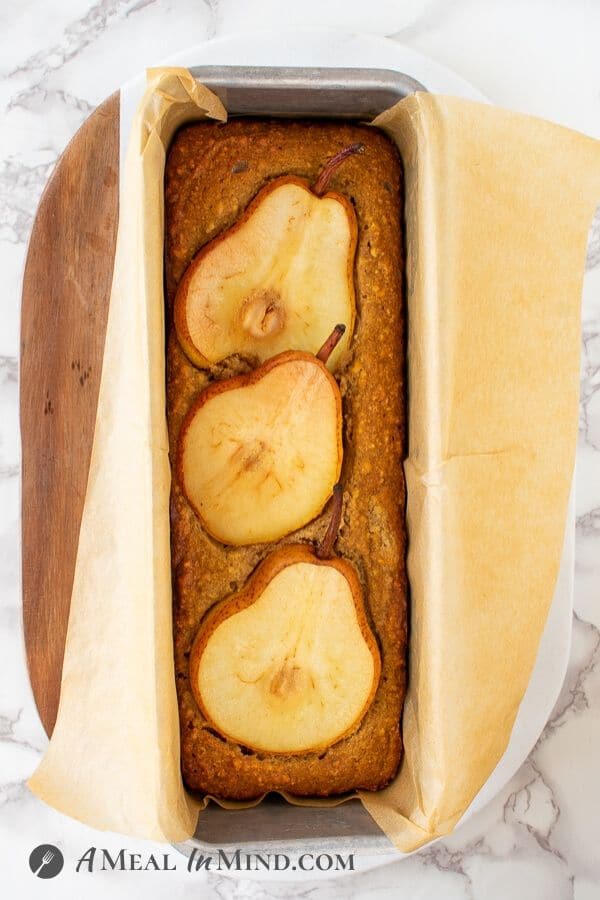 Be prepared that the bread doesn't rise very much, but it still works to use a toothpick to test for doneness. The toothpick should come out clean, and the batter you can see next to the edges of the pear slices should have lost its shininess.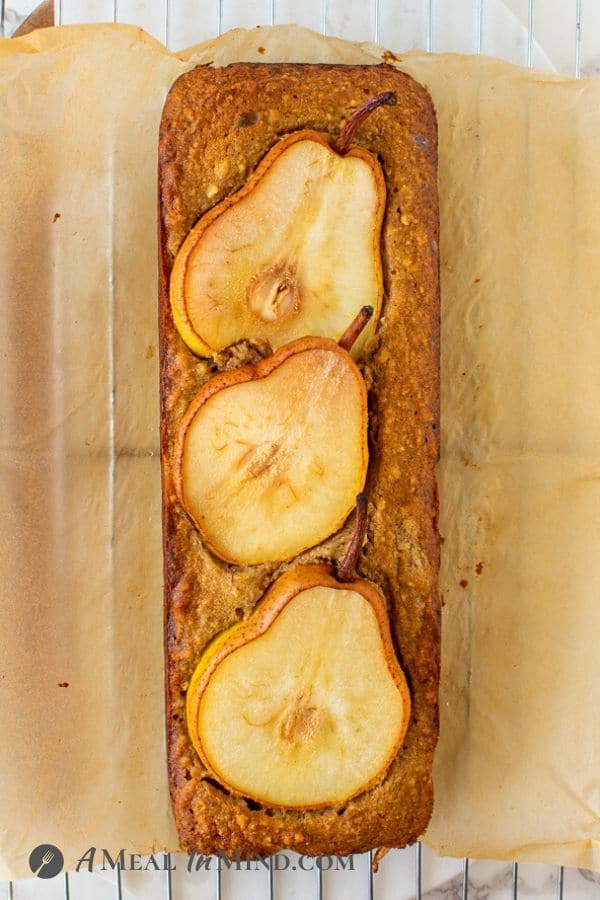 Also, note that I have reduced the sweetness of this bread considerably from the recipe that inspired me. The original contained three times as much sweetener in the form of coconut sugar. I've also changed the spices to ginger and nutmeg rather than cardamom, based on family feedback. Ginger and pears are perfect in our household!
Pin for later!
I hope you will enjoy this lovely bread as much as we do!
If you make this recipe, please share on Pinterest, Instagram or Facebook, and leave me a comment so that I know how it went!
Beth
Other recipes you may enjoy
Almond Flour-Carob Pinwheel Cookies
Apple Blueberry Crisp Paleo and Gluten-Free
Shop Walnut-Ginger Pear Bread
Links to products for purchase are affiliate links. If you click on a link and make a purchase, I may earn a small commission on the sale at no additional cost to you. This helps me with the costs of blogging, and I thank you! You can find my 'shop' page here.
Walnut-Ginger Pear Bread
This fragrantly spiced, nutty Walnut-Ginger Pear Bread is nutrient-dense and mildly sweet from the honey and the pears. Easy to mix up in the food processor, and gluten-free. Serve at your next brunch!
Ingredients
½

cup

8 Tbs pastured butter or ghee, at room temperature

¼

cup

honey

1

teaspoon

vanilla

2

eggs at room temperature

1

cup

walnuts

ground in food processor

½

cup

brown rice flour

½

cup

almond flour

1

tablespoon

ground flax seed

1

pinch

of salt

1½

teaspoon

baking powder

¾

teaspoon

ginger

¼

teaspoon

freshly ground nutmeg

1

teaspoon

cinnamon

3

pear slices

lengthwise
Instructions
Grind the walnuts in the food processor to form a fairly even meal, 1-2 minutes. Remove walnuts to a small bowl. 

Preheat the oven to 350 degrees F.

Grease a  5 x 7, 4 x 8 or 3 x 10 inch (which I happened to have) loaf pan and line it with parchment paper so the bread can easily be removed from the pan after baking. 

Beat the soft butter or ghee, the honey and vanilla together for 3-4 minutes in the food processor.

Add one egg at a time and beat (process) into the ghee mixture.

Mix the rice flour, almond flour, flax meal, baking powder, salt, ginger, cinnamon and nutmeg in a separate bowl, then add to the batter and process just until mixed. Remove the batter to a bowl. 

Stir the ground walnuts into the batter.

Evenly pour the batter into the greased, lined loaf pan, and smooth it until level. 

Rinse the pears and pat dry. Make 3 lengthwise slices to top the bread. You can slice them all from one pear, or for a fancier look (and if you have another use for the remaining pears) cut a center slice from each of three pears. Place each pear slice on the top of the bread batter, lining them up as you like, and press them gently down into the batter. Optional: sprinkle the pears with some large-crystal sugar, like Demerara. 

Bake for 60 minutes, or until a toothpick inserted into the loaf comes out clean. If the top of the bread is getting too brown before it is finished baking, cover it with foil and place it back into the oven until baked through.

Let the bread cool at least 10 minutes before removing it from the loaf pan. Slice and serve warm with butter! 
Notes
Based on a similar recipe by Kacey Perez on her blog, House of Perez. In our version we used slices of pear rather than her spectacular whole pears, reduced the sweetness and used honey, increased the walnuts and subbed flax seed for one of the eggs. Enjoy finding your preferred version!
Pin for later!