Need a German Apple Cake that is a little showy, fairly easy, not too sweet and that showcases fresh apples? The list of ingredients looks long but this is a quick and tasty recipe - and it's gluten-free.
Traditionally German apple cake is an afternoon cake to be enjoyed with tea - not too sweet or too highly flavored with spices, so that the apple flavor comes through.
This recipe works best with a slightly tart apple that doesn't get mushy during baking. It also needs to be firm enough to slice very thin. I prefer a red apple rather than yellow or green because I leave the peels on - but if you will peel the apples, the peel color doesn't matter.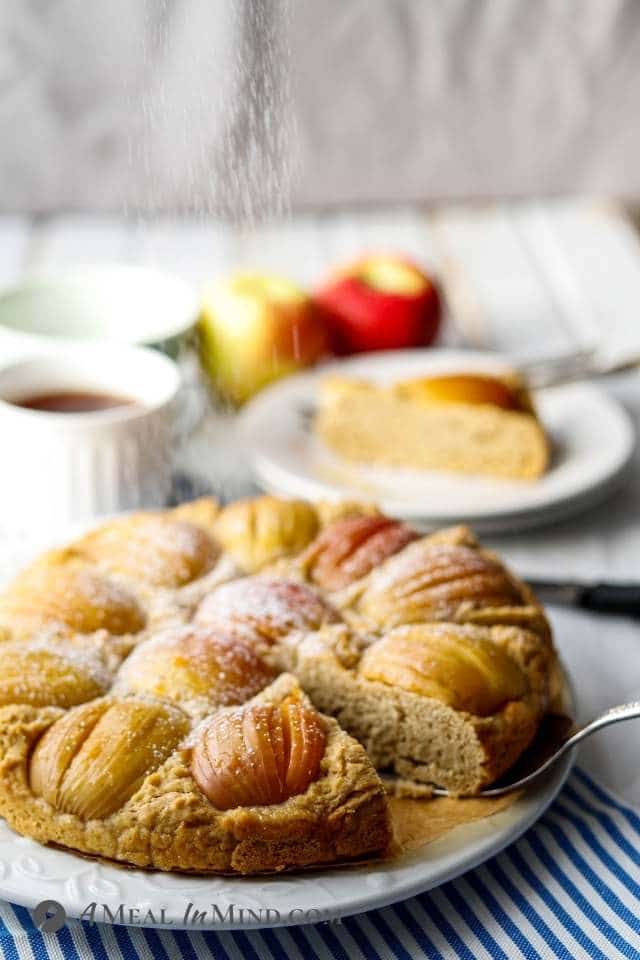 If you have a stand mixer, you can use it to combine everything, or stir them together by hand. In the last step the dough gets pretty thick, and I add just enough liquid to keep it stir-able and not so much that the cake needs a longer bake time.
Tips for making German Apple Cake - Gluten-Free
Choose a baking flour that is light (I had the best success with GF mixes that are mostly rice flours, like King Arthur 1:1) so that it rises easily around the apples. The xanthan gum helps the cake to hold together around the apples and to not get too crumbly.
What apples are best in German apple cake?
Jonathan or Jonagold - the perfect combination of tart and sweet with tender peels
Kanzi - a newer apple used here and also tart and sweet
Honeycrisp - if you can't find any of the above, a good baking apple
Winesap - these are a little harder to find but a delicious option
Cortland - mostly a fall apple
Granny Smith - may be more widely available but they are a little firm for this cake
How do I slice the apples for German Apple Cake?
First, core the apples and decide if you will peel them.
Then, slice the apples as thin as you can (at least ¼ inch thick but preferably closer to ⅛ inch thick) by cutting down through the peel and not quite through to the center.
I used my "tomato" knife, which is the thinnest one I have, and has a serrated blade that slices through the apple peel without crushing it. The thin slices of the apples will finish baking at the same time as the rest of the cake, and will give more surface for the flavorful apricot jam or honey/lemon mixture to drizzle through.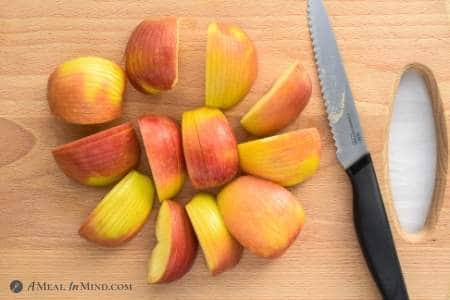 Don't worry about peeling the apples but you can if you want. If you can get good, small organic apples, you don't need to peel them unless the peels of the apples are very chewy.
I used small organic Kanzi apples, whose peels are very tender, compared to Braeburn, which were a little firm for this recipe.


Links to products for purchase are affiliate links. If you click on a link and make a purchase, as an Amazon affiliate I may earn a small commission on the sale at no additional cost to you. This helps me with the costs of blogging, and I thank you! You can find my 'shop' page here.
Is this German Apple Cake - Gluten-free healthy?
In the sense that this cake is gluten-free, yes. But you'll notice that I'm pretty careful about saying that a recipe is healthy. For one thing, "healthy" means different things to different people!
But, if you are watching your carbohydrate intake, you should consider this a treat to enjoy once in a while. Even with the small amount of coconut sugar we use, a slice of this cake still contains 12 grams of sugars (which of course include some natural sugars from the apples) and a fairly high carbohydrate: fiber ratio.
What can I serve with German Apple Cake?
Powdered sugar on top adds a small amount of sweetness and brightens it up. Whipped cream is delicious, or coconut yogurt.
Because this cake is not too sweet, it's delicious with tea or coffee. On a very cold day (well, maybe any day), I'd serve it with hot chocolate!
I shared this German Apple Cake on Fiesta Friday #364, hosted by Diann @ Of Goats and Greens and Petra @ Food Eat Love.
Other desserts you may enjoy
Plum Breakfast Cake with Plum Caramel Sauce; Paleo
Gluten-Free Plumcot-Raspberry Galette
Pumpkin Cookies with Apple Butter Thumbprint
If you make this recipe, please let me know! Leave a comment, rate it, and don't forget to tag a photo #amealinmind on Instagram. I'd love to see what you come up with. Thank you so much!!
Beth
German Apple Cake Gluten-Free
Need a dessert that is a little showy without being hard to make, that's not too sweet and that showcases fresh apples? The list of ingredients looks long but German Apple Cake is an easy and tasty recipe - and it's gluten-free. 
Equipment
Springform pan

Spatula

Mixer
Ingredients
1

pound

apples

3-4 organic small baking apples, such as honeycrisp

1 ⅓

cup

GF baking flour, like King Arthur

or a combination of GF and oat flours

2½

tablespoons

finely ground almond flour

½

teaspoon

xanthan gum

omit if baking flour has it

1¼

teaspoons

baking powder

reduce to 1 teaspoon for HA

¼

teaspoon

baking soda

7

tablespoons

unsalted butter

softened, plus more for the pan

¼ to ⅓

cup

coconut sugar

we use the smaller amount, see note

1¼

teaspoon

vanilla extract

½

teaspoon

sea salt

1

tablespoon

fresh lemon juice

Zest of one lemon

2

large eggs

room temperature

¼

cup

almond or oat milk - be prepared to increase to ½ cup if the cake is very dry and hard to spread into pan

see note

1

tablespoon

apricot jam - to spread on top of cake after baking

see note for a honey/lemon alternative

1

tablespoon

powdered sugar

optional
Instructions
Preheat oven to 350°F. Grease a 9-inch springform pan lightly with butter. Line with parchment paper and butter it.

Peel the apples if desired, or if your apples are not organically grown. Core the apples, then cut into quarters.. Slice each quarter into thin slices, not cutting all the way through. Tip: if your apples brown quickly, as with Granny Smith, sprinkle a little lemon juice over them while you are mixing the remaining ingredients. Or, wait to core and slice the apples until you have the dry ingredients and the wet ingredients in their separate bowls at step 5.

In a medium bowl, mix together the gluten-free flour, almond flour, xanthan gum if needed, baking powder, and baking soda. Set aside.

In the bowl of a stand mixer, in a mixing bowl with a hand mixer, or in a large bowl by hand, cream together the butter, vanilla, sugar, and salt until light and fluffy. Mix in the lemon juice and zest until just combined.

With the mixer on low, add the eggs, one at a time.

With the mixer still on low, add half of the flour mixture, followed by the milk, and then the remaining flour, mixing until all the dry ingredients are mixed in. If your flour is quite dry, continue to add the milk by tablespoonfuls - you may even need more than ½ cup total.

Pour batter in prepared pan, spreading it into an even layer with a spatula. The batter should be about ¾ inches thick. Arrange apples on top, nesting them close together into the batter. Bake the cake for 45-50 minutes, until the center springs back when poked with a finger and a toothpick comes out clean or with a few moist crumbs.

While the cake is still warm, brush apricot jam (or a lemon/honey mixture, see note) over the top. Let cool for a few minutes then release the cake from the springform pan. Let cool completely before sliding a knife under the cake to remove the springform bottom.

Optional step: Once completely cool, dust the cake with powdered sugar just before serving.
Notes
I've glazed this cake with a honey/lemon mixture as an alternative to the jar of apricot jam. Stir 1 tablespoon of honey with 1 tablespoon lemon juice until the honey is dissolved. Brush this onto the cake in place of the apricot jam.
We have reduced the amount of sugar from recipes we've tried. The ¼ cup of coconut sugar gives a very mildly sweet cake, even with the jam or honey brushed on top. Increase it if you prefer conventionally sweet baked goods.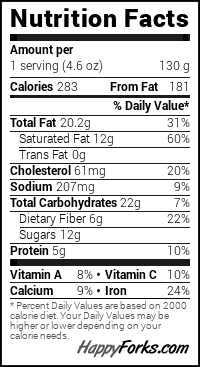 Please pin for later!