This sparkling Meyer lemon mocktail is a refreshing twist on lemonade prepared as a gentle sunrise drink. It's mildly sweet from simple syrup in both the lemonade and the grenadine. Garnish with pomegranate seeds for a festive pop of red to echo the rosy pink on the bottom.
A celebration for me!
This is my 100th recipe post! I thought that publishing that many would take me a year to accomplish, but my blog-i-versary is not until January. It's great to hit a goal early! I certainly appreciate subscribers and fellow bloggers who've encouraged me.
I thought I'd celebrate with a bit of bubbly. Woo-hoo! But this being a family blog, I went with a mocktail.
You could serve the mocktail as a holiday drink but it's easy enough to make for any time. Sparkling water like Pellegrino adds the sparkle and pomegranate arils the color. I often garnish with a few mint leaves for a refreshing touch of green, too.
A lemon-pomegranate mocktail in November?
Yes, and there are two great reasons.
One is that Meyer lemons are in season, fresh, juicy and abundant. They ripen in winter through early Spring. They were even for sale at Costco recently, in large bags of course!
And at the same time, pomegranates have appeared! And you know that grenadine is made from pomegranates, right? I only learned recently that the part of the pomegranate that we get the juice from is called the aril. The aril is the name for the red, juicy coating around the seed.
What is a Meyer lemon?
A quick Wikipedia search tells us that the Meyer lemon is a hybrid citrus fruit native to China. It is a cross between a citron and a mandarin/pomelo hybrid.
Meyer lemons are sweeter than "regular" lemons. They are thin-skinned, so easy to juice by hand. Their skin is also slightly golden.
Easy recipe steps
First, since nature has given us lemons, we make lemonade. Not too sweet, as the grenadine will add some sweetness. But enough so that the melting ice doesn't make the drink too weak.
Then, once the lemonade has chilled, pour it into your glass. Pour in a tablespoonful of grenadine, which will sink to the bottom, since it is denser than the lemonade. Float ice on top. Sprinkle on some fresh pomegranate seeds (oops, arils!) and serve the extras on the side. Easy breezy.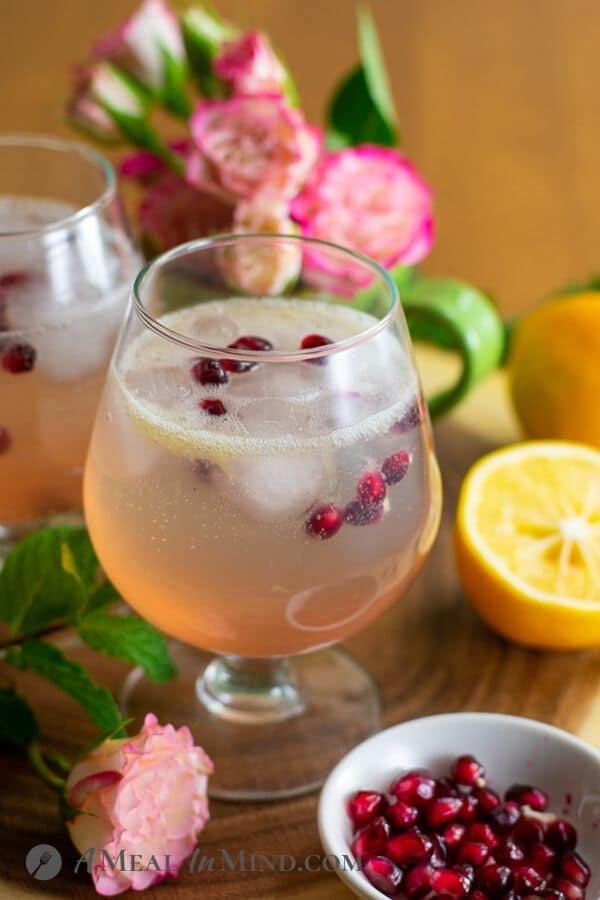 What sweeteners can I use for Meyer lemonade?
I chose cane sugar so that the subtle colors of the lemon juice and grenadine would shine through. Although cane sugar is considered a refined sugar, we use relatively little, and sometimes even less than given here, so don't feel too guilty.
Agave syrup would be a good choice, though I experience a slight aftertaste with it, as I do with corn syrup. If you love agave, it lets you skip the step of making the simple syrup. If you love maple syrup and don't mind your drink having a slight gold/brownish tone, use that.
Whichever sweetener you choose, stir it into the room-temperature lemon juice, then chill the mixture before adding your cold sparkling water.
Sip happily!
Pin for later!
If you make this recipe, please let me know what you thought by leaving a comment below.
Beth
Other recipes on A Meal In Mind
Peach-Raspberry Surprise Smoothie
Blueberry Lemon Almond-Flour Muffins
Shop Sparkling Meyer Lemon Mocktail
Links to products for purchase are affiliate links. If you click on a link and make a purchase, I may earn a small commission on the sale at no additional cost to you. This helps me with the costs of blogging, and I thank you! You can find my 'shop' page here.
Sparkling Meyer Lemon Mocktail
This mocktail is a refreshing twist on lemonade made as a gentle sunrise drink. It's mildly sweet from simple syrup in both the lemonade and the grenadine. Garnish with pomegranate seeds for a festive pop of red on top to echo the pink on the bottom. 
Ingredients
For the lemonade:
¼

cup

simple syrup

¼ cup of each of white cane sugar and water, warmed until sugar dissolves

¼

cup

Meyer lemon juice

about 1-2 large Meyer lemons

3 ½

cups

sparkling water

one 750 mL bottle unflavored Pellegrino or your favorite
For the sparkling mocktail, per glass:
1 to 1 ½

cups

of sparkling Meyer lemonade

depending on the size of your glasses (fill to about 1 inch from the rim)

1-2

tablespoons

grenadine

5

small ice cubes

1

tablespoon

pomegranate seeds
Instructions
For the lemonade
1. To make the "simple syrup", place the sugar and water in a small saucepan and bring to a low simmer. Stir so that the sugar dissolves completely, about 5 minutes, and remove from heat.

2. While the simple syrup is heating, juice the lemons. Depending on the size of the lemons, 1 to 3 of them should be enough for ¼ cup of juice.

3. Pour the juice and the simple syrup into a serving pitcher. Allow to chill before adding the Pellegrino. This will keep the Pellegrino from losing as much fizz when it's poured into the lemon/simple syrup mixture. 

4. Pour the Pellegrino into the lemon juice/simple syrup mixture and taste. Remember that the grenadine will sweeten it a bit, and when you add ice, it will melt and naturally dilute the lemonade. This mixture is to our taste. If the lemonade is a little sweet for your taste, add a little more straight lemon juice to it.

4 Chill: Refrigerate 15-20 minutes.
For the mocktail
Pour the cold lemonade into the glass.

Pour the grenadine into each glass - it will sink to the bottom.

Add the ice cubes carefully so as not to stir up the grenadine layer from the bottom.

Sprinkle pomegranate seeds on top of the ice cubes (some will sink). Enjoy!
Notes
Grenadine is pomegranate juice, sometimes with other juices, combined with sugar or simple syrup. It is denser than the lemonade because the sugar concentration is higher. You can add more to make a more intensely sunset-like drink, but remember that it will then be sweeter, too.
Pin for later!