Whether your plan is to see out a new year or ring in a new one, this refreshing Rosemary-Grapefruit Paloma Mocktail is mildly sweetened and simple to make. A lower-sugar simple syrup lets rosemary and the season's pungent grapefruit take center stage in this recipe.
We made two versions of the Paloma Mocktail. In our New Year's version above, we used organic sugar, which has just a very faint tan tinge so that the mocktail turned out very close to the color of the grapefruit juice.
For Christmas, we made a Paleo version using coconut sugar. The coconut sugar gives the drink a molasses flavor and a browner undertone as you can see below, but you can taste the grapefruit just fine too.
Links to products for purchase are affiliate links. If you click on a link and make a purchase, as an Amazon affiliate I may earn a small commission on the sale at no additional cost to you. This helps me with the costs of blogging, and I thank you! You can find my 'shop' page here.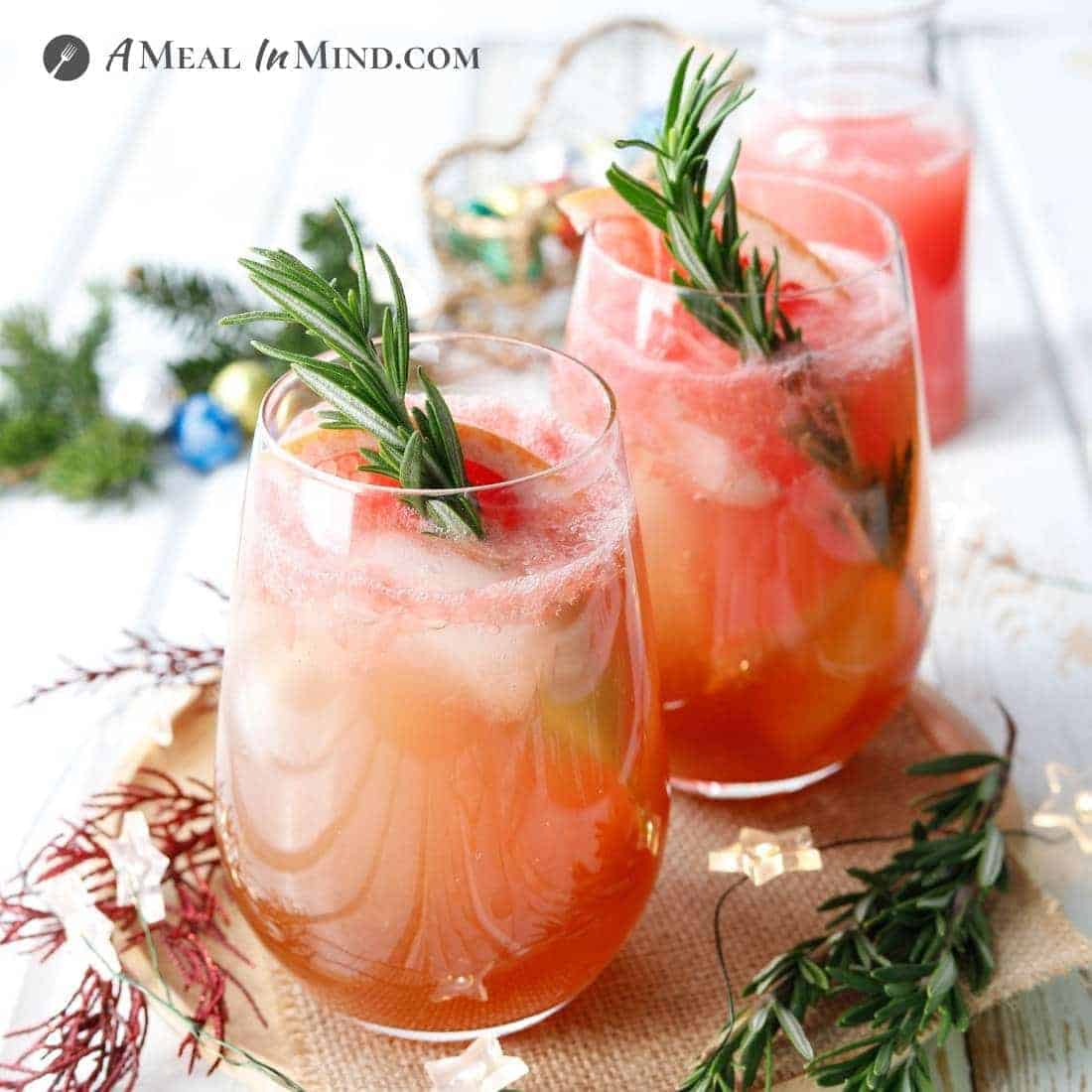 It's very simple to customize the Rosemary-Grapefruit Paloma Mocktail as you wish. Just make the simple syrup with whichever sugar you choose, infuse it with chopped fresh rosemary, chill, and mix up the drink to your taste.
For an adult beverage, add a splash of prosecco or sparkling white wine to your drink.
What is a Paloma?
According to Wikipedia, "The Paloma is a tequila-based cocktail. This drink is most commonly prepared by mixing tequila, lime juice, and a grapefruit-flavored soda such as Fresca, Squirt, or Jarritos and served on the rocks with a lime wedge. Adding salt to the rim of the glass is also an option."
Wikipedia also points out that Paloma means "dove" in Spanish. I have done my best to make my garnishes look like the tails of doves, and they do, right?
There are lots of variations on the Paloma, including this one which is sans tequila, and uses lime perrier and grapefruit juice instead of the lime juice and grapefruit soda.
We opted not to rim the glass with salt, but if everyone in your house enjoys that, rim away. Or try a mixture of sugar and salt to rim your glass.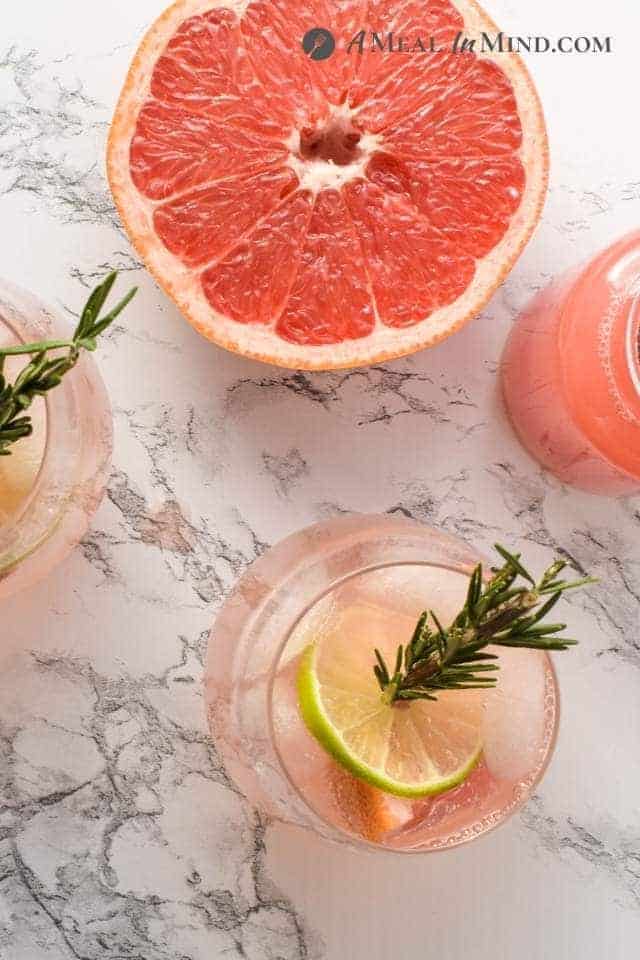 Why make the Rosemary-Grapefruit Paloma Mocktail in the winter?
The winter is the best season in the US for enjoying citrus. We learned this one year when we lived in a house with an old Navel orange tree in Riverside, California. We'd take a few oranges off the tree for Christmas stockings, but if you left the rest on the tree, they'd get sweeter and sweeter into January and February.
Same is true of grapefruit, though if you don't have your own tree, or know a grower, it can be hard to tell when the fruit were harvested. The ones that are sold right around Christmas tend to be larger and sweeter, though, and we look for those from Texas.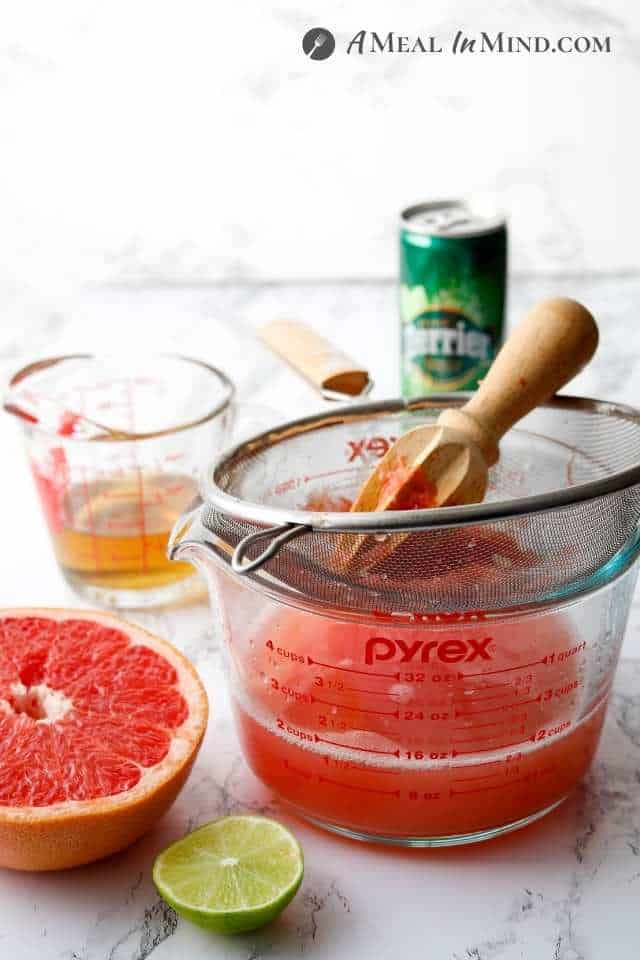 How do you prepare your rosemary for this paloma mocktail?
Rosemary adds its sharp, fresh flavor to this drink and it doesn't take much if you let it infuse into your simple syrup. Don't boil the rosemary, or you'll drive off more of its essential oils than infusing does, but chop it and add to the hot, dissolved sugar-water mixture.
Once your simple syrup has cooled, strain off the rosemary and place the simple syrup into the refrigerator to chill until you are ready to make the drinks.
Then you will want a sprig of fresh rosemary for each glass, as well as a slice of grapefruit and perhaps of lime.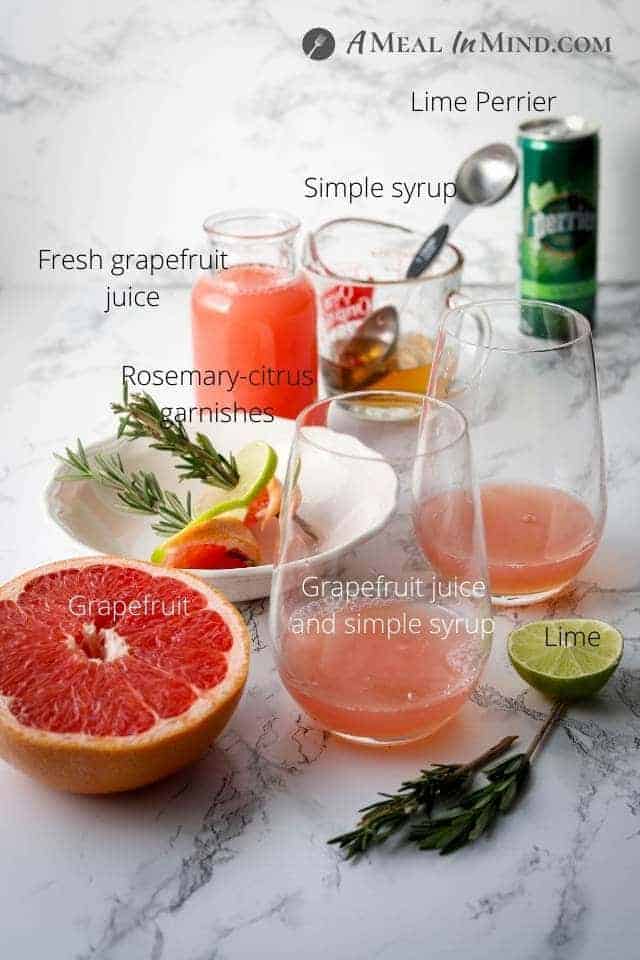 How is this lower-sugar Paloma made?
It's simple (sorry for the pun) because you just make your simple syrup with less than a 1:1 ratio of sugar to water. You'll use ⅓ cup of either the coconut or the organic sugar to ½ cup of water to make 4 glasses of beverage. You can always add less simple syrup to each glass, too - that's what I do.
It's better not to reduce the sugar much more in the simple syrup, though you certainly can, to reduce the sweetness still more. Two tablespoons of simple syrup will give you 20 grams of sugar for the drink according to my nutrition calculator, which is still a lot, and is why I don't put as much of the syrup in mine.
The more you reduce the sugar, the less the simple syrup will sink to the bottom of a beverage. But that's less important for this drink as it is for one like this Meyer Lemon Mocktail.
Now go out and find those great grapefruit, and enjoy!
Beth
Other recipes you may enjoy
Sparkling Peach-Ginger Limeade Mocktail
Sparkling Meyer Lemon Mocktail
If you make this recipe, please let me know! Leave a comment, rate it, and don't forget to tag a photo #amealinmind on Instagram. I'd love to see what you come up with. Thank you so much!!
Rosemary-Grapefruit Paloma Mocktail - Paleo
Whether your plan is to see out a new year or ring in a new one, this refreshing rosemary-grapefruit Paloma mocktail is mildly sweetened and simple to make. A low-sugar simple syrup lets rosemary and the season's pungent grapefruit take center stage in this recipe. 
Equipment
Saucepan

Strainer

Pitcher

Reamer
Ingredients
For the Rosemary Simple Syrup:
⅓

cup

coconut or organic sugar

½

cup

water

2

sprigs fresh rosemary

coarsely chopped
For each Drink:
¼

cup

pink grapefruit juice

fresh

2

tablespoons

rosemary simple syrup

⅔

cup

lime sparkling water

1 slim can Perrier

Rosemary sprig for garnish

Grapefruit and lime slices for garnish

Ice
Instructions
Add water and sugar or coconut sugar to a small saucepan. Bring to a simmer and cook until all sugar is dissolved, about 3 minutes. Remove from heat.

Add the chopped rosemary and allow to steep for at least 30 minutes, preferably 3 hours while the simple syrup cools. Strain into a small container. Let cool completely.

Juice the grapefruit and strain if preferred. Prepare your garnishes.

Pour grapefruit juice and simple syrup in a tall (mine hold 2 cups with about a half inch of space at the top) glass.

Stir to mix or choose to leave the syrup more concentrated at the bottom (see note). Add 4-5 cubes of ice and top off with lime perrier.

Garnish with a sprig of rosemary and a slice of grapefruit and/or lime.
Notes
For an alcoholic version, a shot of prosecco or sparkling white wine poured into the drink is a perfect combination without being too strong. 
To make your mocktail so that it gets sweeter as it's sipped, don't stir the grapefruit juice and simple syrup together. Instead, gently add your ice and then your garnishes. Once your audience has oohed and aaahed over the drink they can stir it up with a straw or rosemary sprig if they want. 
Coconut sugar used for the Paleo version of the simple syrup will make the drink look a bit browner at the bottom than the lighter-toned organic sugar. Coconut sugar also has a stronger flavor of molasses. Note that at 20 grams of sugar this lower-sugar version still plenty sweet, and I recommend starting with 1 tablespoon of the simple syrup. You can always add more. 
I enjoyed reading over these similar recipes from Tablespoon.com and LMLD.org. 
Nutrition
Serving:
1
cup
|
Calories:
86
kcal
|
Carbohydrates:
22.4
g
|
Protein:
0.4
g
|
Fat:
0.3
g
|
Saturated Fat:
0.1
g
|
Potassium:
96
mg
|
Fiber:
1.3
g
|
Sugar:
20.7
g
|
Calcium:
54
mg
|
Iron:
1
mg
Please pin for later!