Pesto Meatballs and Alfredo Sauce is a pesto-lover's dream comfort food, with pesto in the meatballs and in the dairy-free Alfredo cream sauce. With a gluten-free pasta, it's also gluten-free. A healthy and delicious dinner recipe! Whole 30 compliant with zoodles.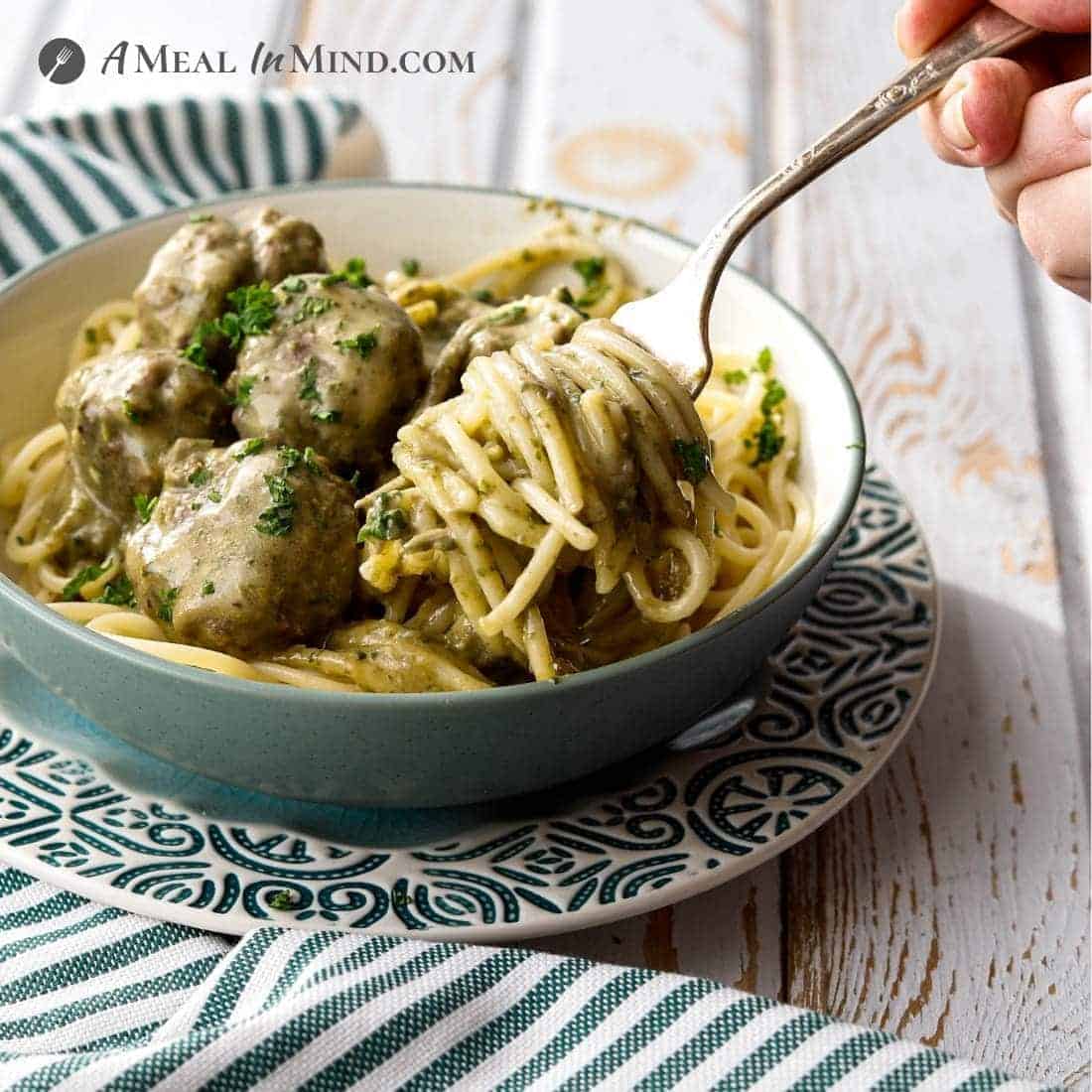 In this recipe, first you make the meatballs with pesto, mixed right into the beef and other seasonings. After searing, you then simmer them in pesto alfredo cream sauce. Serve on chickpea pasta (for gluten-free) or on zucchini noodles (for Paleo).
When my younger son was growing up, he preferred white (alfredo) sauce to red sauces. We bought jars of Costco's Alfredo sauce until one day we had run out - and we had already started cooking the pasta!
Rather than shlep the 7 miles to Costco and toss out that pasta, I looked up the ingredients and learned there are just four - cream, butter, parmesan cheese and garlic - which we just happened to have. It was so easy and so addictive, I don't think we ever used purchased sauce again.
Fast forward to today - he can still eat that sauce but his wife eats dairy-free. We all like this dairy-free version that subs coconut milk for the cream and nutritional yeast for the parmesan. Full-fat coconut milk will give a creamier sauce than low-fat, and I recommend Thai Kitchen brand.
What is alfredo sauce?
Alfredo sauce is a simple white pasta sauce of butter and parmesan, named for Alfredo di Lelio, a chef in 1914 Rome. Alfredo made pasta with butter and parmesan for his wife when she was suffering from nausea during pregnancy.
In Italy it's only known as "Alfredo sauce" in Alfredo's original restaurant - it's really just buttered pasta, after all - but the name caught on when the recipe came to the US (more about this on the Menuism Blog). The dish is best known as Fettucine Alfredo but of course it's good on any pasta.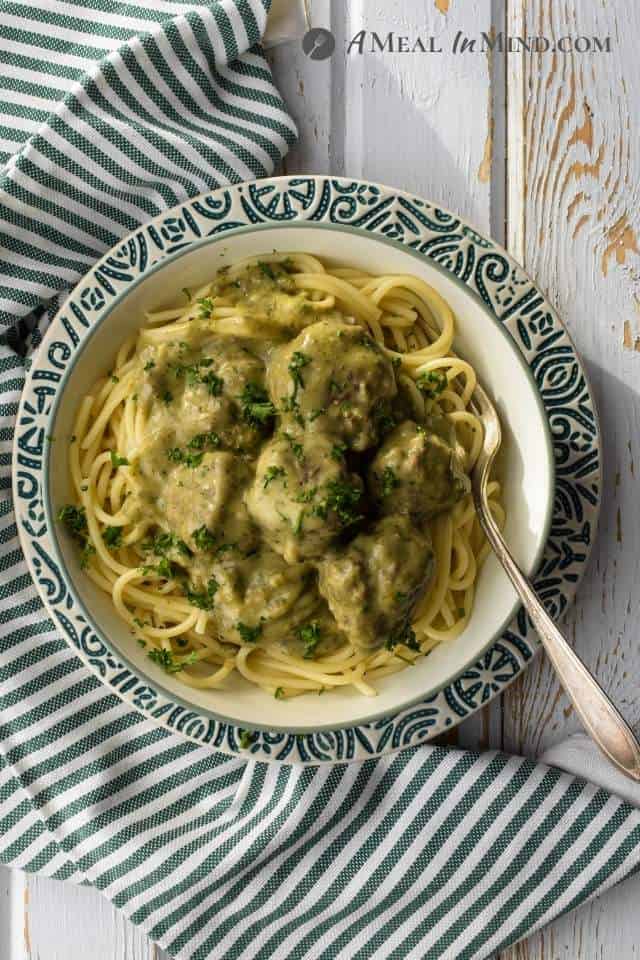 What makes this Alfredo sauce cheesy?
The real trick for the sauce's appeal is to find a flavor similar to the parmesan. Of course, cheeses have such complex umami, that can be tricky to do!
If you are lactose-intolerant, dairy parmesan may already have a low enough amount of lactose from the normal cheese-making process. If you are allergic to dairy or if you need even a lower amount of lactose, try this dairy-free vegan parmesan from Thrive Market.
Both this sauce and the pesto contain nutritional yeast, a brewer's yeast supplement with a cheesy flavor, and you can experiment with the amounts to your taste. Adding garlic and garlic powder boosts the cheese flavor, too.
Links to products for purchase are affiliate links. If you click on a link and make a purchase, as an Amazon affiliate I may earn a small commission on the sale at no additional cost to you. This helps me with the costs of blogging, and I thank you! You can find my 'shop' page here.
Can I use a food processor to make these meatballs?
I don't recommend a food processor for mixing meatballs, much as I love my food processor! I've made that mistake and won't make it again. The food processor makes the mixing easy but the cleanup more work - and most importantly, it breaks up the fibers of the ground beef, resulting in rather dry, tough meatballs.
Be sure to mix the meatballs with your hands. If you don't like the feeling of the beef mixture, you can wear dishwashing gloves like I do. As I roughly form each meatball I plop them onto a plate, then I wash off and remove the gloves.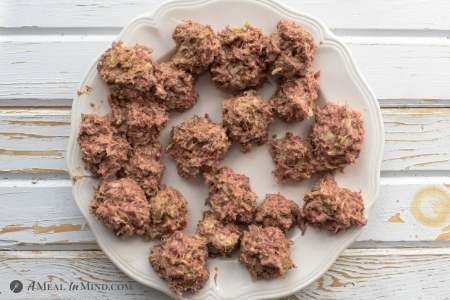 To get nice round meat balls, gloves or not, coat your hands/gloves in a little olive or avocado oil before forming blobs into smooth balls. In this step the meatballs don't stick at all.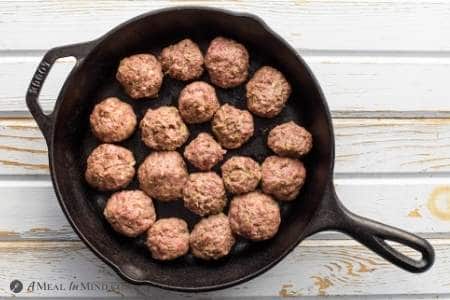 Should I sear meatballs before adding the sauce?
Searing the meatballs in a hot pan results in meatballs that stay moist inside and develop a flavorful, crusty outside. And then they are already in the skillet where you can just pour the sauce over them.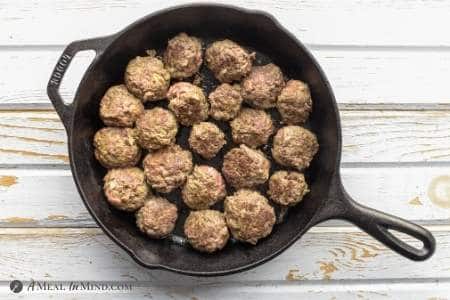 Once the meatballs are seared, pour the dairy-free pesto alfredo sauce over them and simmer until they are done. The amount of time this takes will depend on how done they are after searing, how big the meatballs are, your altitude, and how done you like them.
Can I bake the pesto meatballs instead of frying them?
I don't recommend baking a Paleo meatball. I've tried that with this recipe and the meatballs came out quite dry and chewy, whereas when sauteed they are very tender and moist. I have a very good meatball recipe, which is actually my meat loaf in mini-loaves, that I bake successfully, but it's not Paleo.
What do I serve these pesto meatballs and alfredo sauce on?
The meatballs and sauce are great on any pasta, noodles, zoodles, etc. I like the color, flavor and consistency of Banza chickpea pasta, which is what I prepared here.
Pesto meatballs would be great in a meatball sandwich, too, on your favorite gluten-free bread, though I suggest serving most of the sauce on the side so it doesn't get too soggy.
I serve extra pesto on the side of this meal, and everyone at the table adds more, including the toddler.
Great side dishes to serve with pesto meatballs and alfredo sauce
Southwestern Roasted Sweet Potatoes; Paleo
Roasted Sweet Potato Fries with Sriracha-Lime Mayo
Beet-Feta Salad with Garlicky Crispy Walnuts
If you make this recipe, please let me know! Leave a comment, rate it, and don't forget to tag a photo #amealinmind on Instagram. I'd love to see what you come up with. Thank you so much!!
Paleo Pesto Meatballs and Pesto Alfredo Sauce
Pesto Meatballs and Alfredo Sauce is a pesto-lover's dream comfort food, with pesto in the meatballs and in the dairy-free Alfredo cream sauce. With a gluten-free pasta, also gluten-free; Paleo with zoodles. A healthy and delicious dinner recipe!
Equipment
Cast Iron Skillet

Food Processor

Soup Pot

Spaghetti Server
Ingredients
For the non-dairy pesto:
2

cups

packed fresh basil

large stems removed

3

tablespoons

macadamias

pine nuts or walnuts, (if nut-free, try a 1:1 mixture of pumpkin and sunflower seeds, see note)

3

large cloves garlic

peeled and sliced or pressed

3-4

tablespoons

nutritional yeast

½

teaspoon

sea salt

more to taste

4-6

tablespoons

extra virgin olive oil
For the meatballs
1

pound

lean ground beef

1

medium shallot or half a medium onion

minced or grated (about ½ cup)

1

egg

3

tablespoons

almond

or quinoa flour, if not Paleo

2

tablespoons

pesto

1

teaspoon

dried oregano

½

teaspoon

dried parsley

½

teaspoon

granulated garlic

½

teaspoon

pink sea salt

¼

teaspoon

baking soda

⅛

teaspoon

freshly ground black pepper
For the Pesto Alfredo sauce
1

can full-fat coconut milk

½

cup

broth

5

teaspoons

tapioca starch

3

cloves

garlic

pressed

1

teaspoon

salt

¼

teaspoon

pepper

2

tablespoons

nutritional yeast

optional

½

cup

vegan pesto or more to taste

4-5

basil leaves

julienned

Non-dairy Parmesan-type cheese

for garnish
Instructions
For the pesto
Blend all ingredients in food processor until they form a paste. Refrigerate until needed. If you will not be using the pesto right away, drizzle a little olive oil over the surface to keep the pesto from darkening.

Makes about ¾ cup.
For the meatballs
Place all ingredients in a large bowl and mix with your hands (see note) until all the ingredients are evenly distributed.

Form the mixture into balls of about 2 tablespoons each, using an ice cream or cookie scoop or your hands. I usually dollop them onto a plate first. You should have 20-24 meatballs.

Then, put a little olive oil on your hands and roll each of the meatballs smooth. The olive oil keeps the meat mixture from sticking while you are rolling them.

In a cast-iron skillet, sear the meatballs until browned on 2 or 3 surfaces and partly cooked through. You don't need for them to be completely cooked because you will be simmering them in the pesto alfredo sauce until they are done. But searing them seals in the juices and flavor.
For the pesto alfredo sauce
In a saucepan, stir the coconut milk, the broth and the tapioca starch together until the starch is dissolved.

Add the garlic, salt and pepper and bring to a low boil, stirring, until the tapioca starch has dissolved and the sauce thickens. Turn down to a low simmer and add the nutritional yeast and pesto. Stir until the pesto and yeast are incorporated and the sauce is completely mixed.

Pour over the seared meatballs in the skillet. Simmer the meatballs in the sauce while you are cooking the pasta.

Serve over cooked pasta, spaghetti squash noodles or zoodles. Garnish with julienned basil and Parmesan.
Notes
To use sunflower or pumpkin seeds, soaking the seeds for at least an hour and preferably 4 hours will make the pesto blend more smoothly in the food processor.
Pesto with nutritional yeast will be less salty than pesto with parmesan cheese, so be sure to provide sea salt on the table for anyone who doesn't find it salty enough. Serve grated parmesan on the side, non-dairy, dairy or both. 
Be sure to mix the meatballs with your hands. 
I wear my dishwashing gloves to make cleaning my hands easy, but the meatball mixture sticks to them, so once I have made the basic meatballs and washed the gloves, I oil my hands and roll the meatballs into, well, balls. 
To keep the meatball mixture from sticking to your hands, and to get nice round meat balls, gloves or not, coat your hands/gloves in a little olive or avocado oil before forming the mixture into balls. 
Searing the meatballs in a hot pan, then simmering them in a sauce, results in the moistest meatballs. 
Kw: pesto meatballs and pasta, pesto beef meatballs and pasta, ground beef pesto meatballs, meatballs no breadcrumbs, what to do with pesto
The meatball recipe is adapted from one on Gluten Free on a Shoestring. 
Non-Dairy Pesto:
Pesto Meatballs:

Pesto Alfredo Sauce
https://glutenfreeonashoestring.com/paleo-meatballs/
The meatball recipe is adapted from one on Gluten Free on a Shoestring.
Please pin for later!