Easy with just 3 ingredients, these fudgy macadamia nut"ella" brownies use homemade macadamia nut nutella, gluten-free flour and eggs or flax eggs.
In just about half an hour, you can have a batch of easy, gluten-free brownies coming out of the oven. You only need three ingredients, one of which is your own homemade nutella from macadamia nuts.
I used King Arthur flour to make these brownies gluten-free. They are dairy-free too, and you can make them vegan by using flax eggs as I've shown here.
Use homemade or packaged nutella spread
You can use packaged Nutella spread, or for a less-sweet brownie, make your own as I did, with macadamia nuts, honey, cacao powder and a few other ingredients (see this post).
Tips for macadamia nut"ella" brownies
Once you have your homemade macadamia nut nutella, you only need gluten-free flour (I used King Arthur) and eggs or flax eggs. Stir the ingredients together and you're ready to put the batter in the pan.
Here I've shown the flax egg mixture, and if you haven't used that before and want to make your brownies vegan, here are some tips about making the egg substitute here.
If the mixture seems very thick, depending on your nutella or flour, add a little coconut milk to make it easier to spread.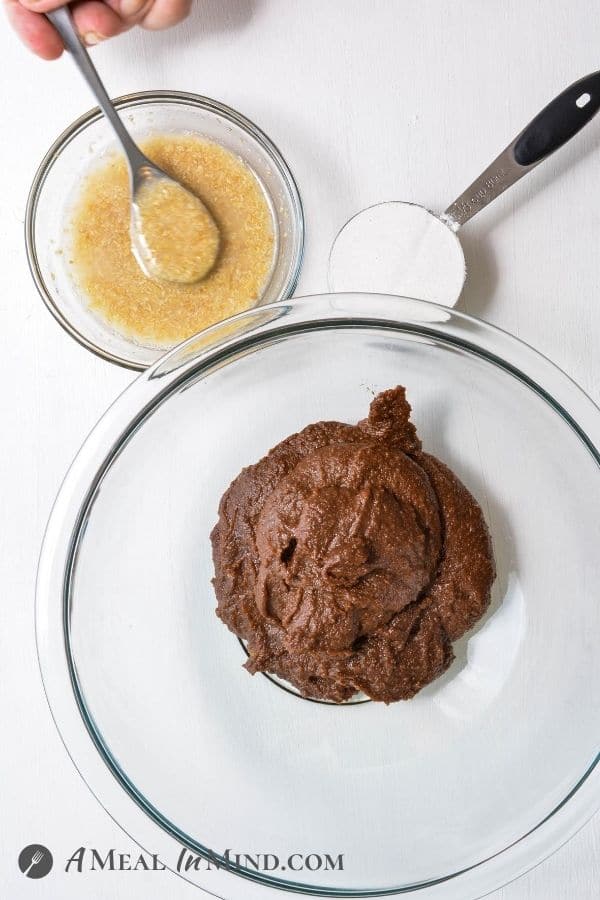 Spread the brownie batter into an 8 x 8 inch baking pan. Garnish with extra macadamia nuts, if you like. We like how the mac nuts get a little toasted on top.
You can just sprinkle the nuts on or create patterns - I played around a bit and did diagonals, and a star-swirl.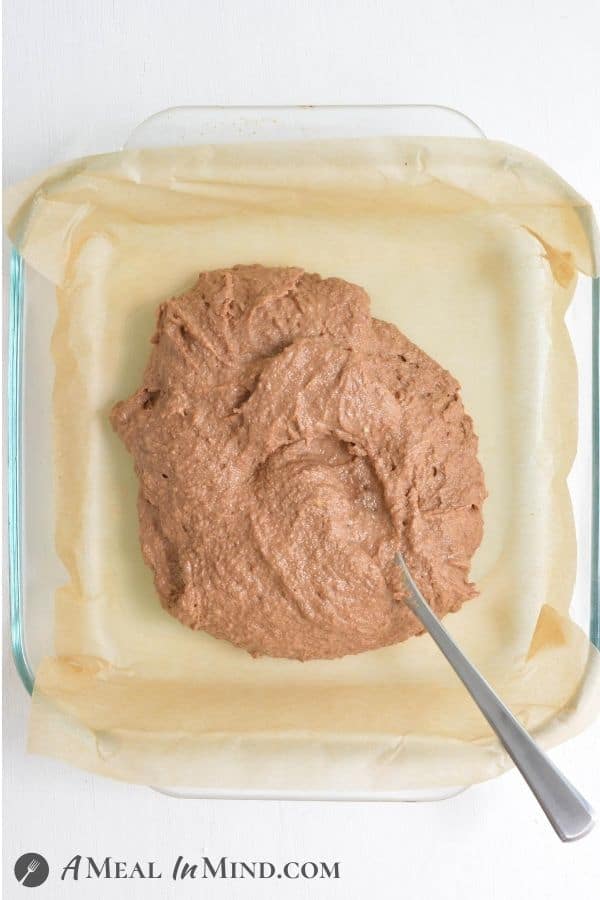 The brownies came out just a bit lighter when I used hemp seed instead of macadamias in my "nutella". See the post on making nutella for more on using hemp for a nut-free spread.
You can also use a 7 x 11 inch baking dish for slightly shallower brownies with a rectangular shape.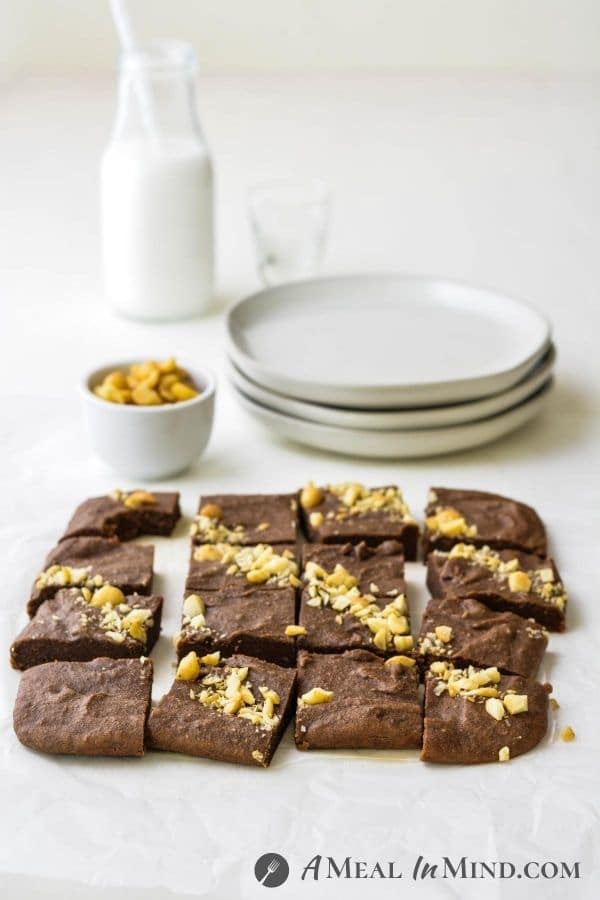 If you have a chance to make these macadamia nut"ella" brownies, please leave me a comment so that I know how it went!
Beth
Other recipes you may enjoy
Pecan Almond Flour Red White and Blue Cookies
Almond Flour-Carob Pinwheel Cookies
Almond Flour Dark Chocolate Chip Cookies GF
Pumpkin Cookies with Apple Butter Thumbprint Paleo, Vegan
Shop macadamia nutella brownies 3 ingredient
Links to products for purchase are affiliate links. If you click on a link and make a purchase, I may earn a small commission on the sale at no additional cost to you. This helps me with the costs of blogging, and I thank you! You can find my 'shop' page here.
Macadamia Nut"ella" Brownies  - Just 3 Ingredients
Easy and quick with just 3 ingredients, these fudgy macadamia nut"ella" brownies use homemade macadamia nutella, gluten-free flour and eggs or flax eggs. They're a great, only slightly sweet yet filling snack!
Instructions
Preheat the oven to 350 degrees F

Grease and line an 8 × 8-inch square baking pan with parchment paper and set aside.

In a mixing bowl, add the gluten-free flour, Mac Nut"ella" and eggs or flax eggs. Stir well until thoroughly combined. If the batter is very sticky, depending on your flour, add 2-3 tablespoonfuls of coconut milk. 

Transfer the batter into the prepared pan and smooth the top with a spatula.

Bake for 20-25 minutes or until you see some small cracks on the top or a toothpick inserted comes out almost clean. Don't overbake! 

Allow the brownies to cool completely before slicing.

Cut into 9 pieces for larger brownies or 16 for smaller ones.
Notes
Your batter may be very sticky depending on what GF flour you choose and how thick your nutella spread is. Add a little (like 2 tablespoonfuls) coconut milk or water to help it spread more easily.
Please pin for later!