This easy low-sugar combination of strawberries, tart rhubarb and mint is delicious and colorful, whether used in a pie, cobbler, crisp or parfait. Rhubarb is simmered gently in just a little water, then cooked for a few more minutes with chopped strawberries, mint and maple syrup. A strawberry-rhubarb-mint compote couldn't be easier!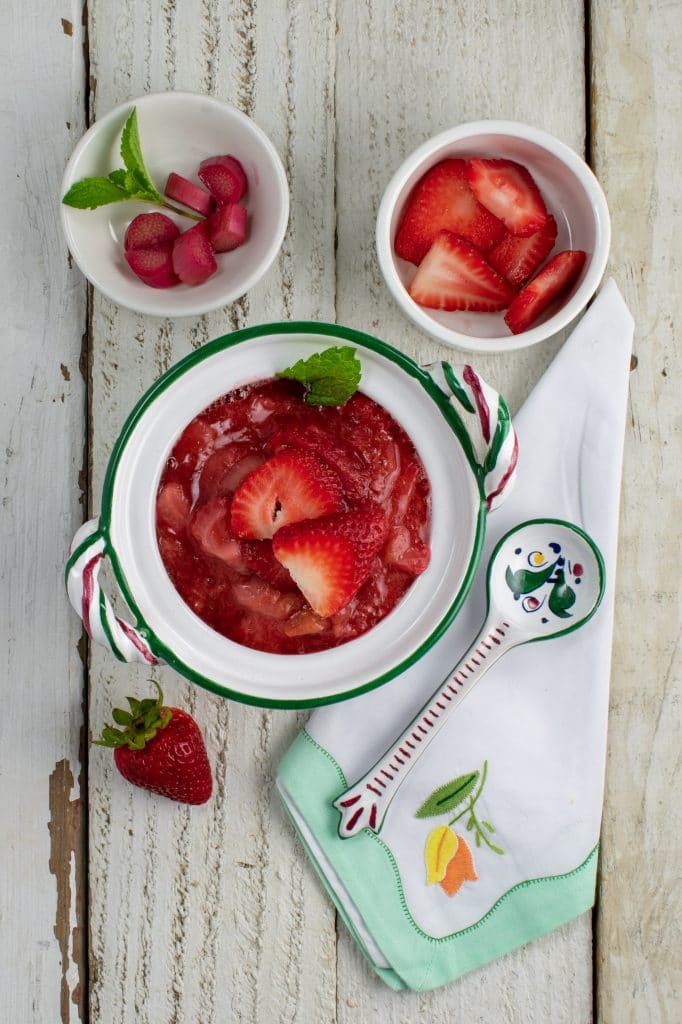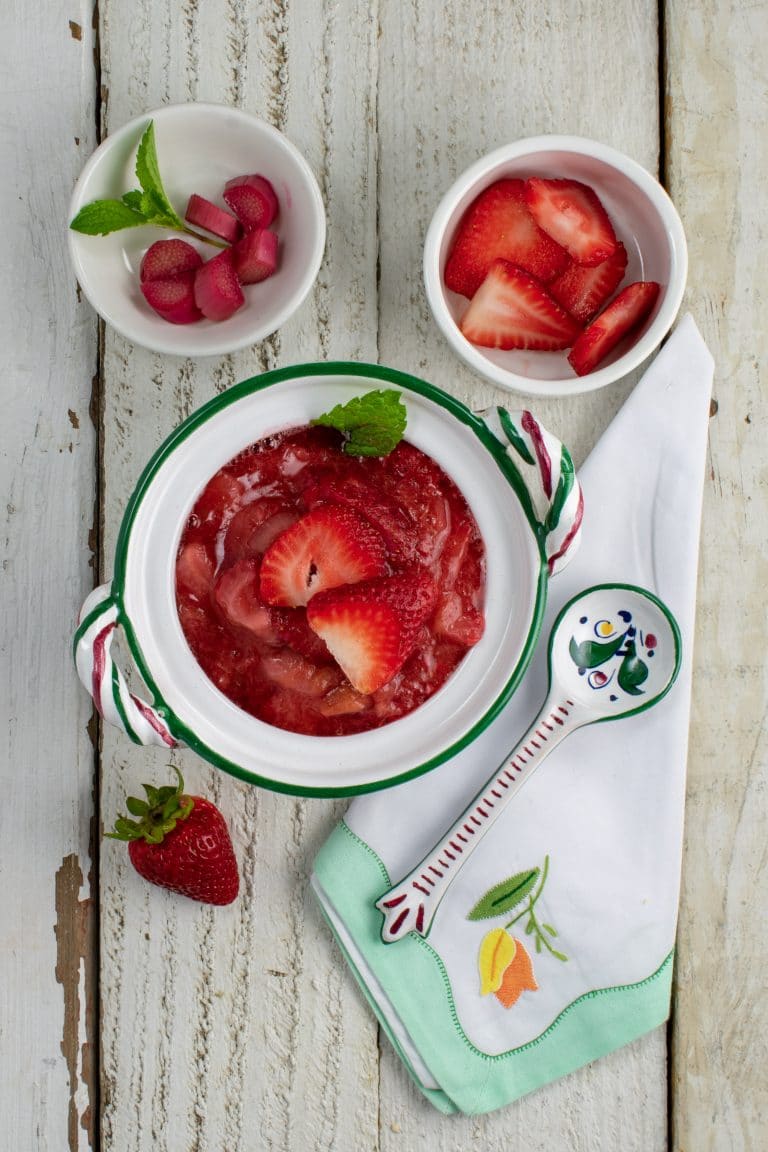 What is a
compote
, anyway?
Turns out it means fruit preserved or cooked in syrup. This can mean lots of sugar is added. I have had rhubarb cooked that way, especially if it's the only fruit in the compote or pie filling.
But one of my culinary goals is to reduce my sugar intake without using artificial sweeteners. Enter the wonderful strawberry, which adds sweetness to the mix without overwhelming the rhubarb flavor. This way the amount of maple syrup can be very small.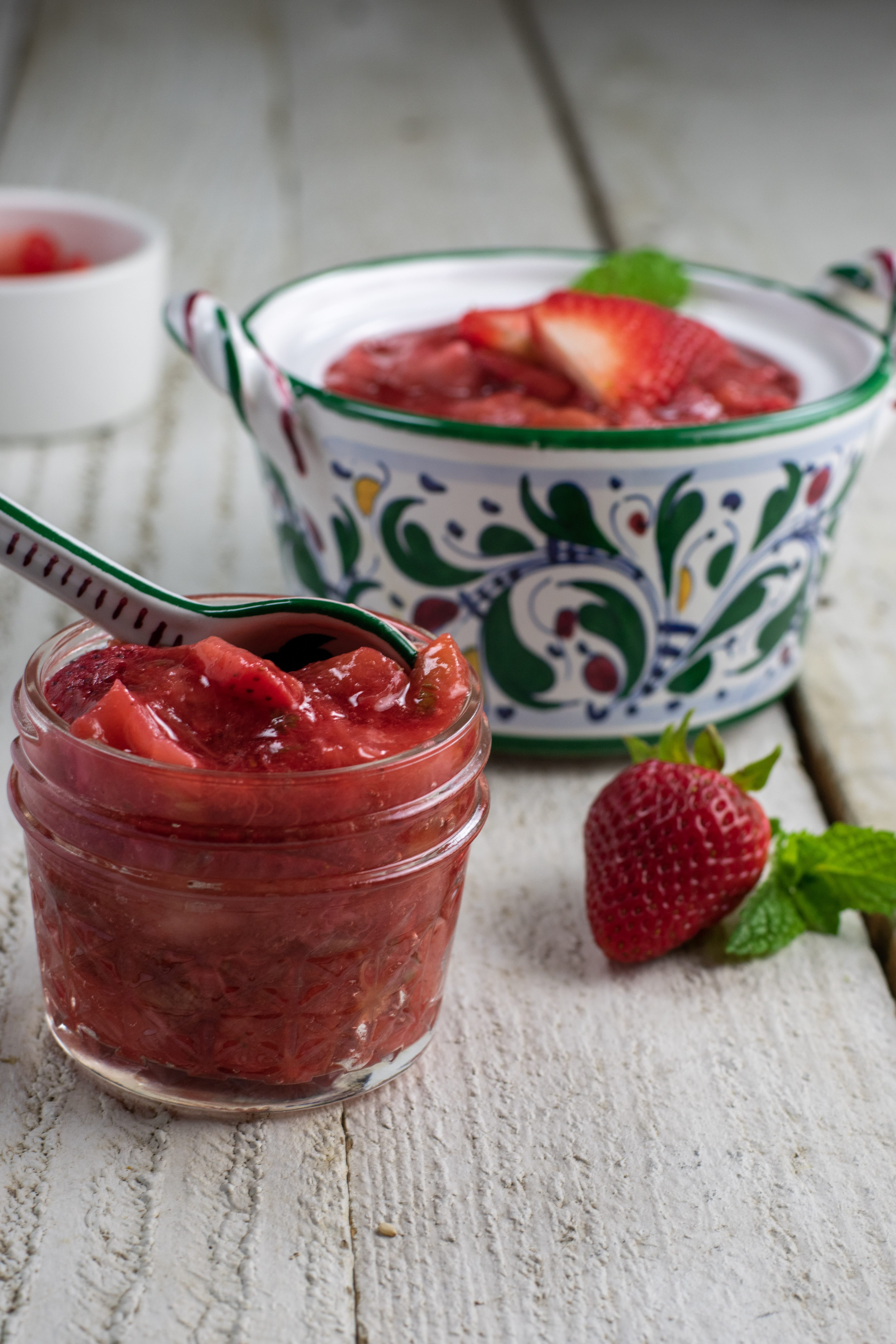 Why Rhubarb is Sour
I love the tartness and unique flavor of rhubarb. It's tart because it contains oxalic acid, which can be irritating if eaten uncooked. The leaves contain more oxalic acid than the stems, which is why they are usually not eaten. Other plants that contain oxalic acid are spinach and taro.
If you've ever felt stickiness on your teeth after eating raw spinach, that's the oxalic acid. And raw or undercooked taro can give you a sore throat! (1)
Rhubarb for Spring Baking
Rhubarb is in season in Colorado from May to September, so I look forward to being able to make this compote for that whole time. I'm dreaming of so many baked goods!
Mint is flourishing in our yard too, and it adds a wonderful freshness to this mix. It doesn't take very much, and the trick is to chop it very fine. The fine chopping releases the mint oils and keeps the diner from finding any tough leaves in their dessert.
How else can I use this compote?
Once your compote is finished you have so many choices! You could:
Use it as the filling in a crisp like this Apple Blueberry Crisp; Paleo and Gluten-Free
Layer it in these Strawberry-Rhubarb Mint Parfaits
Just have it with some yogurt, mmm.
Kitchen items used in this recipe
You will need a soup pot or Dutch oven with a good cover to make this strawberry-rhubarb-mint compote. I like being able to see through the glass lid of this Cooks Standard pot, plus that it's 18/10 stainless steel and has a layer of aluminum in the base for even heating.
Also, since you need so little maple syrup, invest in good quality. We used to buy only Grade B Maple Syrup because it contained the most minerals. Now that grade is sold as A and labeled "previously Grade B". I also prefer to purchase items packaged in glass, which Coombs Family does.
Links to products for purchase are Amazon affiliate links. If you click on a link and make a purchase, I may earn a small commission on the sale at no additional cost to you. This helps me with the costs of blogging, and I thank you!
Strawberry-Rhubarb-Mint Compote
This easy low-sugar combination of strawberries, rhubarb and mint is a delicious and colorful one, whether used in a pie, cobbler, crisp or parfait. Rhubarb is simmered gently in just a little water, then cooked a little more with chopped strawberries, mint and maple syrup.
Ingredients
2-3

cups

about 1 pound rhubarb stems, leaves removed, ends trimmed, sliced into ½ inch pieces

2

– 3 cups sliced strawberries

about 1½ pounds

½

cup

water

2-3

tablespoons

maple syrup

or to taste

1

tablespoon

spearmint or peppermint

chopped fine
Instructions
Combine the rhubarb, maple syrup, and water in a pan. Cover and simmer gently until the rhubarb starts to fall apart, between 7-10 minutes.

As the rhubarb simmers, each time you remove the cover to check it, discard any water that has collected in the lid of the pan.

Next, add the strawberries and cook 5 minutes more.

Add the mint and cook a few minutes longer.

Cool and taste to decide if it's sweet enough for your preference.

Use as a topping for a cheesecake, layer in a parfait, bake it into a crisp or dollop onto yogurt or granola.
Information about the oxalates in rhubarb was derived from this article.