These easy coconut yogurt fruit popsicles show off summer's fresh blueberries and strawberries and are lightly sweetened with maple syrup. They are refreshing and colorful – a fun red white and blue dessert! And you get a few probiotics to boot.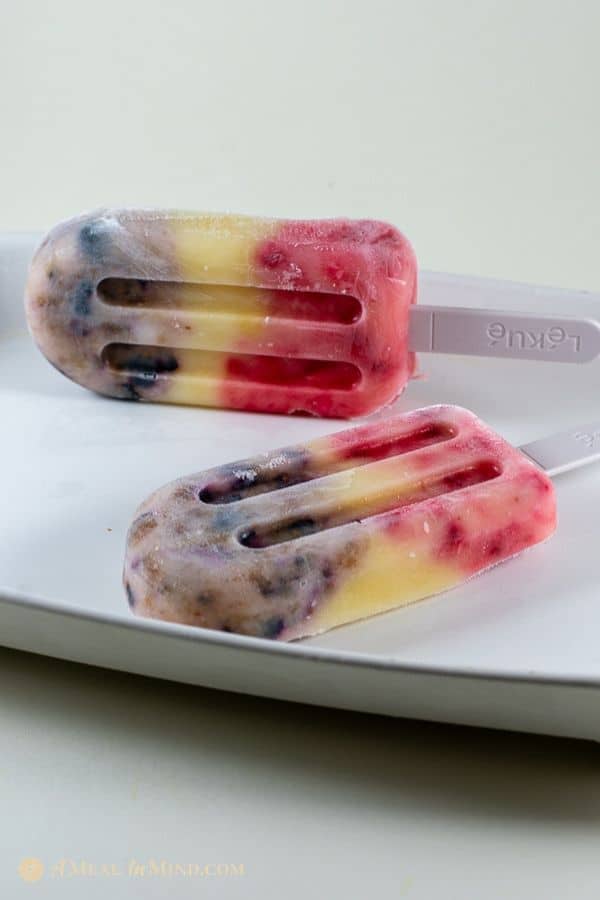 Two factors will affect the texture of the popsicles. One is the amount of sweetener; see note in recipe. In general, a sweeter popsicle will be a bit softer.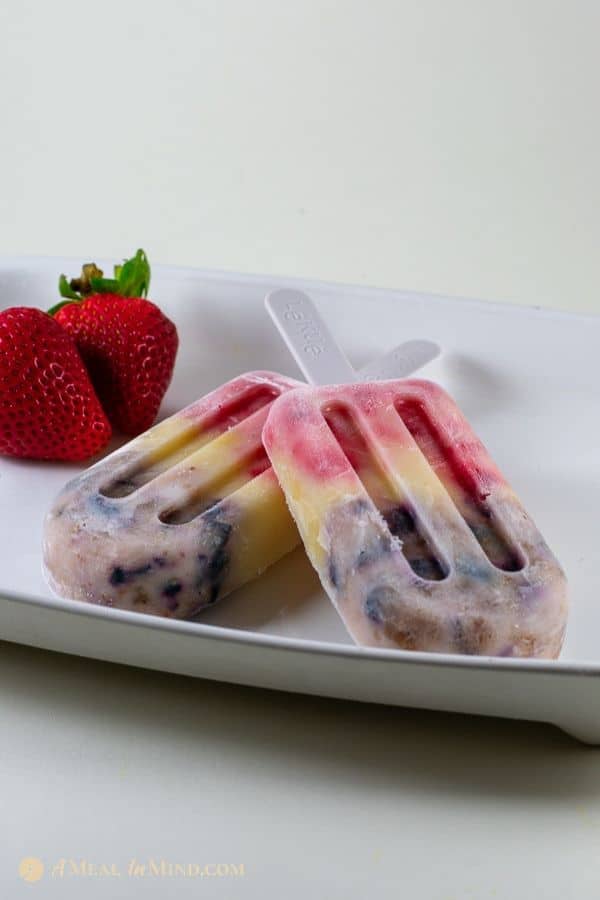 The second factor is the type of coconut yogurt. The ones shown here used So Delicious brand, which can be easier to find than CoYo. We like both, but tend to find CoYo creamier.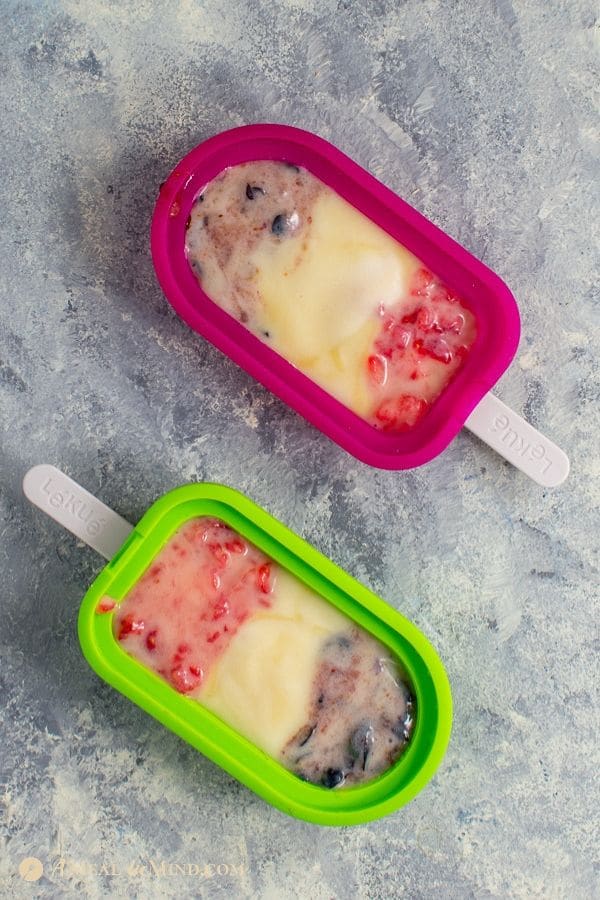 I use Lékué silicone molds to hold and freeze the popsicle mixture. They are a little pricier than plastic popsicle molds. But I figure that we will be making use of them over and over for a long time.
Making the effort to put foods in silicone or glass is important to us, as we move toward putting as little of our food in plastic as possible. That can be tough when you have to buy so many items in plastic to start with!
As the molds are horizontal, I form the layers by spooning in the fruit-yogurt mixtures at the ends, then add the sweetened yogurt in the middle. Each one comes out slightly different. Also be aware that the maple syrup will make the coconut yogurt layer slightly golden.
Each of the Lekue molds holds just about ⅓ cup. This recipe makes 6 popsicles.
If you try these popsicles, please leave me a comment and let me know how it went in making them!
Beth
Other desserts and treats on A Meal In Mind
Easy Coconut Milk Tapioca Dessert
Strawberry-rhubarb-mint parfaits
Patriotic Fruit Tray with Spiced Yogurt Dip
Mouthwatering Peach-Plum Cobbler with Almond-Oat Crust, GF, V
Shop Fruit Coconut Yogurt Popsicles
The Lekue popsicle molds are available in sets of four or three. They have different-shaped molds if you want something other than a basic rectangle. All are really easy to use and to clean.
I have gone through a lot of mashers and like the sturdiness of the Henckels masher. It's sold as a potato masher but has lots of uses, as for these treats.
I buy maple syrup in glass containers rather than plastic, and look for the most economical container I can find given that. This Coombs brand is consistently flavorful and smooth.
Links to products for purchase are affiliate links. If you click on a link and make a purchase, I may earn a small commission on the sale at no additional cost to you. This helps me with the costs of blogging, and I thank you!
Print
Coconut Yogurt Fruit Popsicles – Dairy Free
Author:

Prep Time:

15 minutes

Cook Time:

0 minutes

Total Time:

15 minutes

Yield:

6

popsicles

1

x

Category:

Dessert, treat

Method:

Freezer

Cuisine:

American
---
Description
These easy coconut yogurt fruit popsicles show off summer's fresh blueberries and strawberries and are lightly sweetened with maple syrup. They are refreshing and colorful – a fun red white and blue dessert! 
---
Scale
Ingredients
1 cup

coconut yogurt

1 1/2 tablespoon

maple syrup, or to taste (see note)

½ cup

fresh strawberries, chopped and mashed

½ cup

fresh blueberries, mashed
---
Instructions
Mix the maple syrup into the coconut yogurt. 

Stir about ¼ of the coconut yogurt mixture into the blueberries and ¼  into the strawberries in small dishes. 

Spoon the three mixtures, starting with a generous tablespoonful of each fruit-yogurt mash into the bottom and top of each popsicle mold, then filling in the middle with the yogurt-maple syrup mixture. Place the covers carefully onto the popsicle molds. 

Freeze for at least 6 hours or overnight until solid.

To remove popsicles from the mold, flex gently until the popsicle comes loose from the mold. It may take 15 seconds or so, or you can warm the mold with your hands.  

Eat immediately, or place popsicles in a covered glass container in the freezer until ready to be eaten.
---
Notes
The goal of these popsicles is to enjoy fresh fruit and coconut yogurt in a fun way, without adding too much sweetener. Be aware that the amount of sweetener affects the texture of the popsicle. At the level I have given here, the popsicle will seem a little icy, especially in the middle. If you want a softer popsicle and don't mind them sweeter, add up to 3 tablespoonfuls of maple syrup. If you are not striving for a vegan dessert, you can use honey instead.
Keywords: fruit popsicles, coconut yogurt popsicles, easy popsicles, summer dessert, fresh fruit, berries, dairy free, gluten-free, maple syrup