Easy Colorado Peach Pie filling is gluten-free, with a few simple ingredients that enhance the ripe Colorado peaches. Add to the fun with cutout stars as an alternative to a lattice, especially when using a gluten-free crust. 
Pie crust shown is my Coconut Oil Pie Crust. Both are gluten-free and vegan!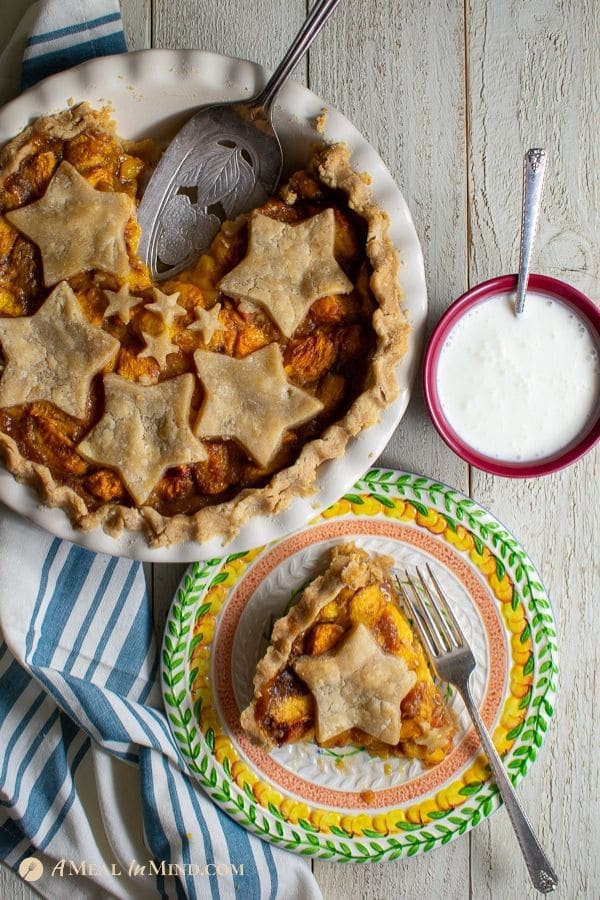 When you mention peach season in Colorado, people get dreamy looks on their faces. If you've tasted the fresh peaches, you know there is something magical about them. That sweet aroma, slightly tart-sweet fruit with the peach umami. Sounds like a reason for a visit in the summer, maybe? 
I buy from Ela Family Farms, at their booth at the Farmer's Market on South Pearl in Denver. All their produce is organically grown and it's always delicious. They pick the fruit ripe, so it's perfect the minute I get it.
And then the race is on to inhale as many as possible while they are fresh. We bake our favorite dishes with what we can't eat raw.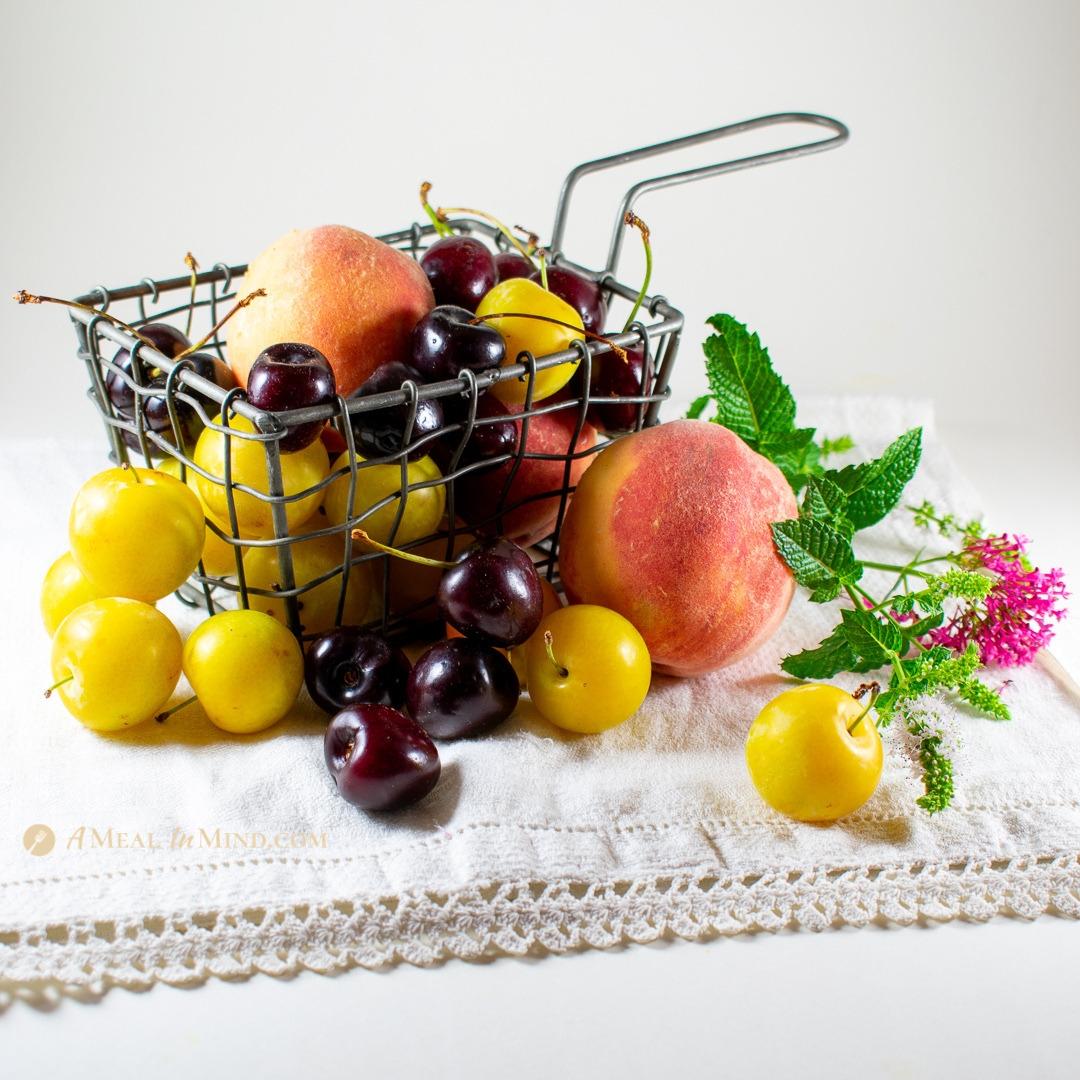 As you know, sometimes I wake up with a meal in mind, hence the name of this blog. Well, in this case I woke up with pie crust stars in mind. I tried four different pie crusts in search of a gluten-free crust that held together well enough to come out of the little cookie cutters without breaking.
And here's the result.
Do you have to peel the peaches?
You really don't need to, especially if, like me, you have bought organically-grown fruit and have little concern about pesticides in the skins. Peach skins become very tender when baked, and it's hardly worth the effort to peel.
That said, though, my peaches probably only had about a third of their skins left by the time I had my 5 cups for the filling. The variety of peach I used was not completely free-stone, so I held them in one hand while hand-dicing with the other. In that process, a fair amount of the skin peeled off naturally. 
How many peaches make 5 cups?
My peaches were each about 2½ to 3 inches in diameter. With paring off of the soft bits, I used 9 peaches for the pie pictured here. 
An easy assembly
Once you have peeled and diced the peaches, you only need to stir them (gently) with tapioca flour (to hold the filling together), cinnamon and some coconut sugar to your taste. We prefer coconut sugar in our baking and tend to use fairly small amounts. If your peaches are more sweet than flavorful, a couple of teaspoons of lemon juice will bring out their flavor.
I used little Linzer cookie-cutters for these shapes, plus a larger star cookie cutter. The bottom crust is pre-baked, while the little stars go on top just before putting the filled pie in the oven. The hearts were practice for another day!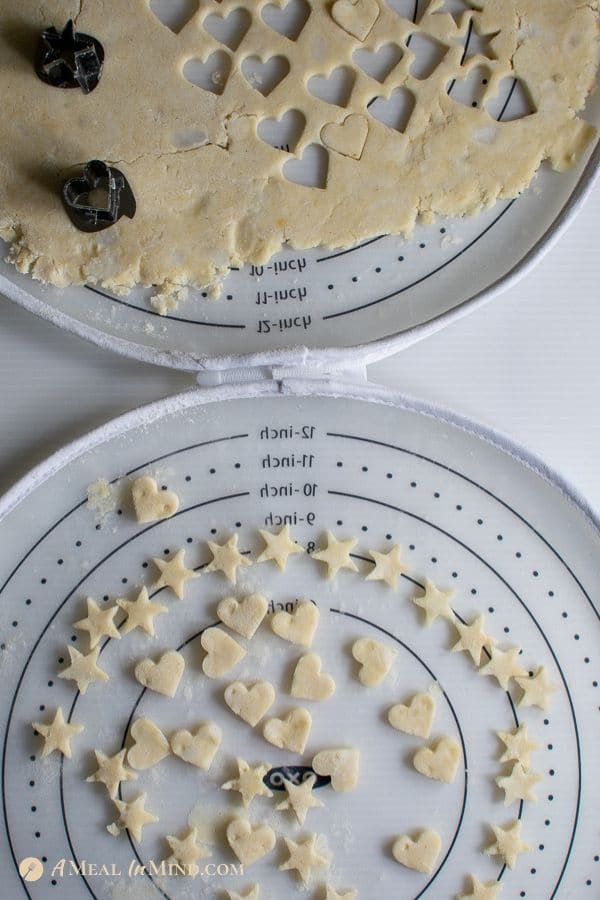 As always, if you make this recipe, please leave a comment and let me know how it turned out!
Beth
Other desserts on A Meal In Mind
Apple Blueberry Crisp Paleo and Gluten-Free
Strawberry-rhubarb-mint parfaits
Peach Oatmeal Breakfast Clafoutis
Pumpkin Cookies with Apple Butter Thumbprint Paleo, Vegan
Shop Easy Colorado Peach Pie
Links to products for purchase are affiliate links. If you click on a link and make a purchase, I may earn a small commission on the sale at no additional cost to you. This helps me with the costs of blogging, and I thank you!
Print
Easy Colorado Peach Pie 
Author:

Prep Time:

20 minutes

Cook Time:

40 minutes

Total Time:

1 hour

Yield:

6

servings

1

x
Category:

Dessert

Method:

Oven

Cuisine:

American
---
Description
Easy Colorado Peach Pie filling is gluten-free, with a few simple ingredients and ripe Colorado peaches. Add to the fun with cutout stars as an alternative to a lattice, especially when using a gluten-free crust like my Coconut Oil Pie Crust. 
---
Scale
Ingredients
 1 recipe gluten-free coconut oil pie crust, prebaked

 1/3 to 1/2 recipe unbaked pie crust for top cutouts (see note)

 5 cups fresh peaches, peeled (optional) and diced

½ cup

coconut sugar (use less if peaches are very sweet)

½ teaspoon

ground cinnamon

2 teaspoon

s lemon juice, optional if peaches seem not very tart

4 tablespoon

s tapioca flour
Non-dairy kefir, for topping, optional
---
Instructions
Preheat oven to 425°F.

Use prepared pie crust that has been pre-baked and allowed to cool (see Coconut Oil Pie Crust) and shapes that you've cut out of the extra, unbaked pie crust. 

Carefully stir together peaches, coconut sugar, cinnamon, optional lemon juice and tapioca. Pour into prepared pie shell.

Place stars or other cutout shapes in a design of your choice on top of the filling.

Optional: Place a pie shield around the edge of the pie. See note.

Place the pie on a cookie sheet. 

Bake for 10 minutes at 425° then lower the temperature to 350°F and bake for about 30-40 minutes, or until the filling is bubbly and the crust is baked through and slightly golden.
---
Notes
With my gluten-free coconut oil crust I didn't need to use a pie shield to prevent browning. 
I usually make the recipe-and-a-half of pie crust to have enough for a full bottom crust and the rest for the cutout toppings. Probably one-third extra is enough but it might be a little tight to cut out the larger star shapes
Keywords: peaches, peach pie, easy pie filling, Colorado peaches, tapioca, gluten-free, dairy-free, fresh fruit