Here's a coconut oil pie crust that is flaky, tasty, gluten-free and vegan and easy to manage. You can even cut out shapes from it with cookie cutters! Use it for sweet or savory pies.
I tried four different gluten-free pie crust recipes, and this was the best among them. In my kitchen, anyway!
In the photo here you can see all the little thumbprints and nudge marks. This is to encourage you, if you are like me, and NOT the most experienced pie crust baker!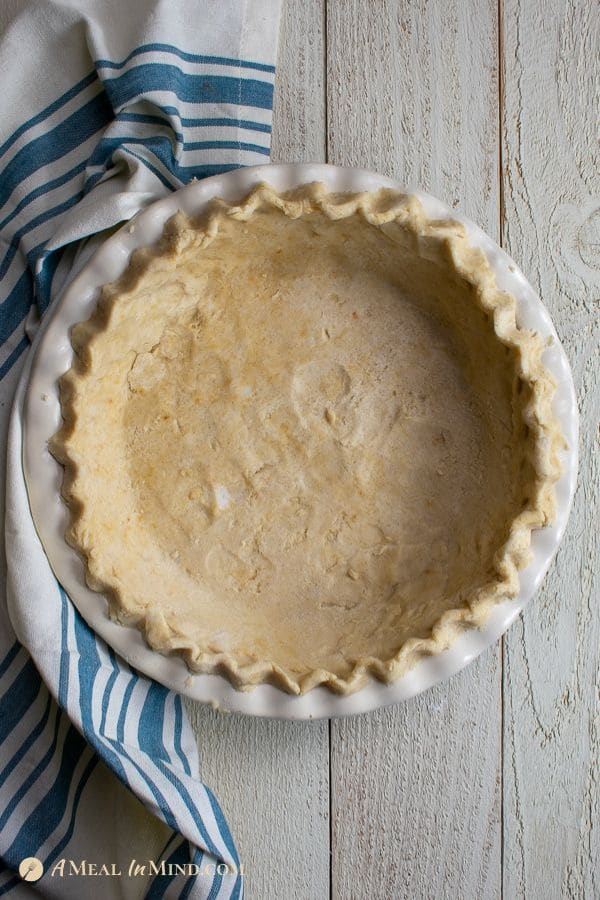 The hunt for a pie crust recipe
My recipe search reminded me of a pie-crust-making session with my mother-in-law, probably 30 years ago (!!). She swore by lard as the shortening for pie crust. It was a recipe she'd grown up with in a large farming family and made at least six pie crusts at a time. And then she'd freeze them, which lard does quite well. 
I wasn't quite ready to try the lard crust these days, if only because I want a vegan recipe, but I do remember those crusts being very flaky! The key to flakiness is to divide the shortening into small, pea-sized bits that will then form layers with the flour. That's true for a gluten-free crust too.
Recipe trials
They varied according to the types and amounts of various gluten-free flours, the type of fat, whether the fat should be warm or cold, and the recommended amount of cold water.
One highly-recommended recipe (mostly oat flour) was so crumbly it wouldn't hold together when I used a cookie cutter to cut out shapes. That one had to go! Another was exceptionally oily. And a third (a blend of rice flours) was so crunchy we couldn't cut the crust to slice the pie. The recipe I've included here behaved very well with cookie cutters, even my tiny Linzer cutters! 
Some important steps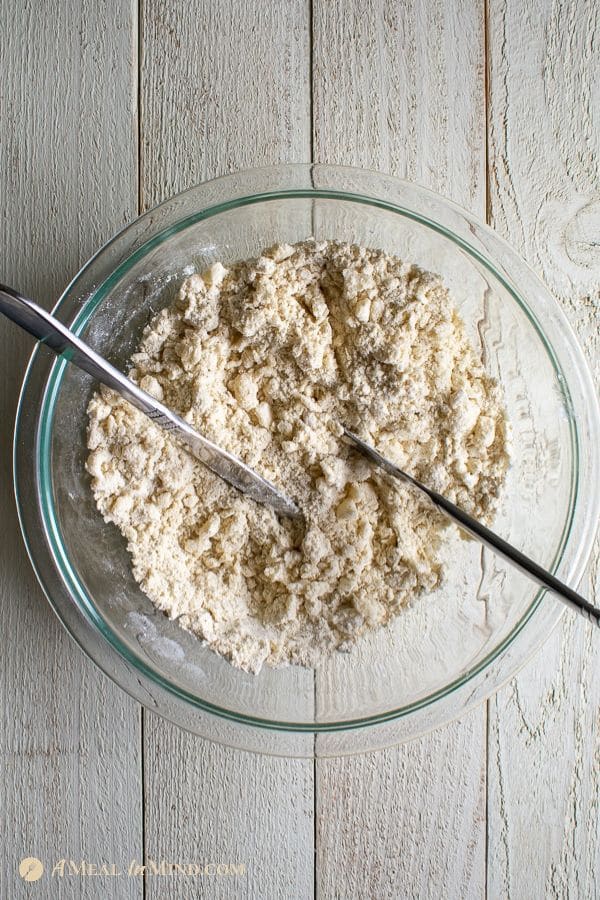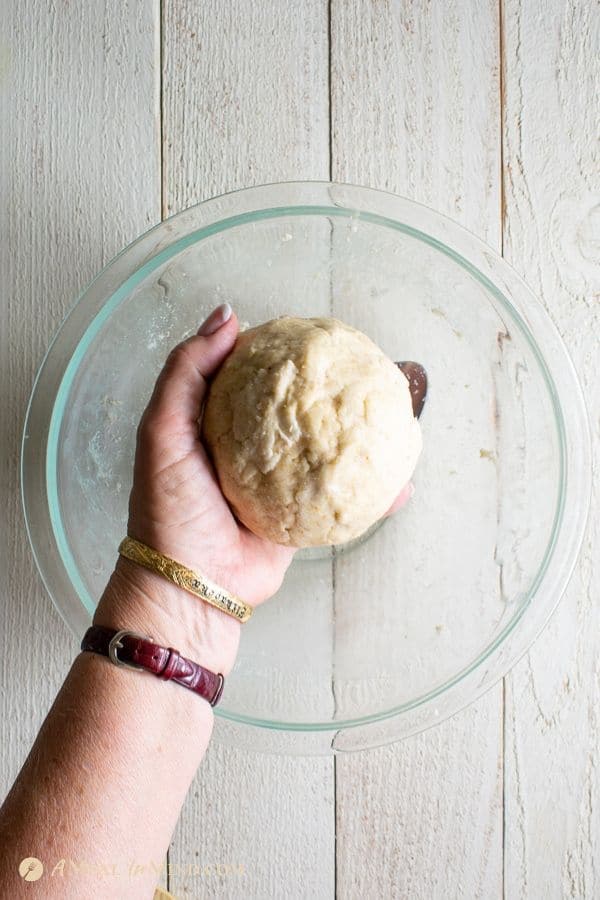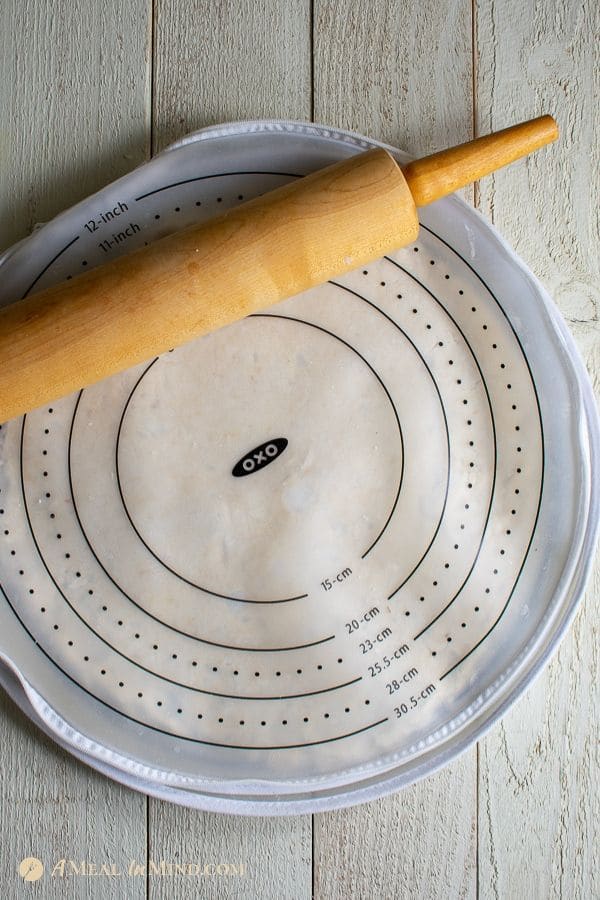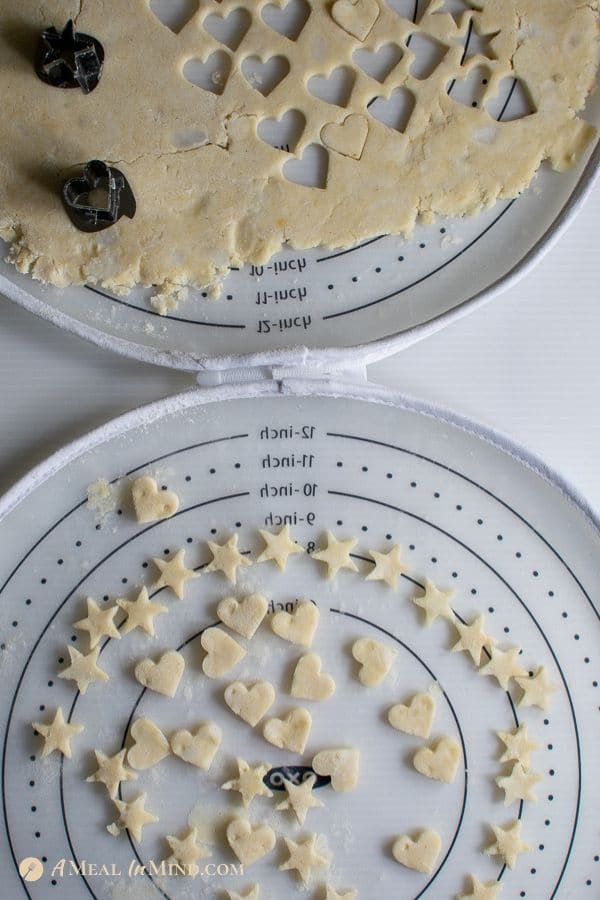 Customizing the recipe
The crust is very close to the recipe by Allergy-Free Alaska (it's a wonderful blog to visit)! I made two changes that made it work better for me. 
I reduced the millet flour and increased the sorghum flour. Millet, which I love as a whole grain, can sometimes be gritty to my taste in baked goods. 

I used coconut oil rather than palm shortening. I buy it in bulk and usually have good results with it in baking. Be aware, though, that coconut oil makes the crust crisp, so don't overbake when you pre-bake your crust. It also doesn't brown as much as with butter or palm shortening.

I liked that I was able to use the coconut oil at cool room temperature (about 70 degrees F) rather than chilling it. (I did try one batch with chilled coconut oil, which was VERY hard to work with. Room-temperature coconut oil was easy to cut into the flours. 
How much crust to make?
If you are making an open-top pie, use the recipe for the single crust. If you want extra crust to use for decorations but not to cover the top completely, use the recipe-and-a-half. 
As always, if you make this recipe, please leave a comment so I know how it went!. 
Beth
Other desserts on A Meal In Mind
Apple Blueberry Crisp Paleo and Gluten-Free
Strawberry-rhubarb-mint parfaits
Almond Flour Dark Chocolate Chip Cookies GF
Raw Date-Apricot-Almond-Butter Bites
Links to products for purchase are affiliate links. If you click on a link and make a purchase, I may earn a small commission on the sale at no additional cost to you. This helps me with the costs of blogging, and I thank you!
Shop Coconut Oil Pie Crust – Gluten-free and vegan
This Farberware Pie Plate is a little showy, especially if you plan to take your pie to a potluck or someone else's home – but easy to work with at the same time. I use glass dishes too, sometimes, but the ceramic ones are easier to keep clean. Maybe this is just because the white color shows any remaining food better.
The OXO Silicone pie crust bag contains all the scraps, provides a clean work surface and keeps me from using up lots of parchment paper. I like that it is silicone so that I am not using plastic wrap, another suggestion I saw in recipes. I enjoy not having to clean the rolling pin – lazy me, but sometimes it's tricky to get those floury bits out of the roller part.
The flours I use are from Bob's Red Mill, including the 1:1 flour that I use for dusting the pie crust bag.
Xanthan gum takes the place of gluten to hold the other ingredients together. You need very little in a recipe, so even though this package by Anthony's costs more per ounce than some of the larger packages, it also takes up less space in the baking cupboard.
Last is the coconut sugar that I add to the crust for a sweet pie. It adds a maple-like flavor too, and I use it in most of my baking.
Print
Coconut oil pie crust – Gluten-free and Vegan
Author:

Prep Time:

30 minutes

Cook Time:

10 minutes

Total Time:

40 minutes

Yield:

1

crust

1

x
Category:

Dessert

Method:

Oven

Cuisine:

American
---
Description
Here's a pie crust that is flaky, tasty, gluten-free and vegan and surprisingly manageable. You can even cut out shapes from it with cookie cutters! Use it for sweet or savory pies.
---
Scale
Ingredients
One single pie crust 
1/2 cup

sorghum flour

3 tablespoon

s millet flour

1/3 cup

arrowroot starch or tapioca starch

1/4 cup

brown rice flour

3/4 teaspoon

xanthan gum

1/2 teaspoon

sea salt (or a bit less if low-salt)

1 tablespoon

coconut sugar, optional, for a sweet pie

1/2 cup

coconut oil

1 1/2 teaspoon

s apple cider vinegar

3

–

5

tablespoons cold water
gluten-free flour to dust the pie crust bag (I used Bob's Red Mill 1:1 flour)
One single crust + enough for cut-out shapes
3/4 cup

sorghum flour

1/4 cup

millet flour

1/2 cup

arrowroot starch or tapioca starch

1/3 cup

brown rice flour

1 teaspoon

xanthan gum

1/2 teaspoon

sea salt plus a pinch

1 1/2 tablespoon

s coconut sugar, optional, for a sweet pie

3/4 cup

coconut oil 

2 teaspoon

s apple cider vinegar

5

–

7

tablespoons cold water – used 7
gluten-free flour to dust the pie crust bag (I used Bob's Red Mill 1:1 flour)
---
Instructions
In a large mixing bowl, whisk together the sorghum flour, millet flour, arrowroot starch, brown rice flour, xanthan gum, and sea salt.

Cut in the coconut oil until the mixture resembles coarse crumbs. I used two knives which was very easy with the relatively soft coconut oil – but you could use a pastry cutter. 

Add the apple cider vinegar and water, and stir gently until the mixture comes together to form a dough. I used the larger quantity of water, see note.

Form the dough into a ball. Cut out one third of it, then form each section into a ball and flatten each ball into a disk.

To roll the dough, it's really fun to use a pie crust bag as I did. Don't have a pie crust bag?  Lay a piece of parchment paper on a work surface and lightly sprinkle with flour. Place the disk of dough in the middle of the parchment paper, sprinkle the disk with flour. Place another sheet of parchment over the disk. Roll the dough into an 11-12 inch round starting from the middle and working out towards the edges. 

Gently lift off the top sheet of parchment paper or pie crust bag.

Place your pie dish upside down over the rolled-out crust. Carefully invert the entire pie crust over the top of the pie plate (say a little prayer), hopefully centered and in one piece. Gently peel off the parchment paper or pie crust bag.

Press the dough evenly into the bottom and sides of the pie pan (if there are tears in the crust, which there will be, simply wet your fingers and try to smooth them out as best as you can). Use overhanging bits of dough to fill in edge areas that got less. Add any remaining pieces of dough to your smaller dough ball. 

Trim down the edges of the pie crust leaving about 1/2 an inch of excess dough. Fold the excess dough underneath and crimp the edges.

If your pie recipe calls for pre-baking, bake it for 10 minutes at 350 degrees F.
While it's baking, roll out your second disk of dough and cut your cookie-cutter shapes. A thin spatula can be helpful to lift these off the parchment paper or pie crust bag and onto the filling for your pie.

Let crust cool, then fill and bake as desired.
---
Notes
I assume that the amount of water to add depends on what flours you've chosen and how dry they are. I keep mine in the freezer, which dehydrates things, and we live in very dry Denver. So I'm not surprised to need the larger amount of water of the range.
Keywords: pie crust, gluten-free, vegan, coconut oil, coconut oil pie crust, pie crust bag